When I tested the Bonn Shirt and Dress by Itch to Stitch, I wrote in my blog post that I needed to make many more Bonn shirts and dresses. It took me nearly a year, but here is my second attempt to make a Bonn – this time a dress with elbow-length flare sleeves.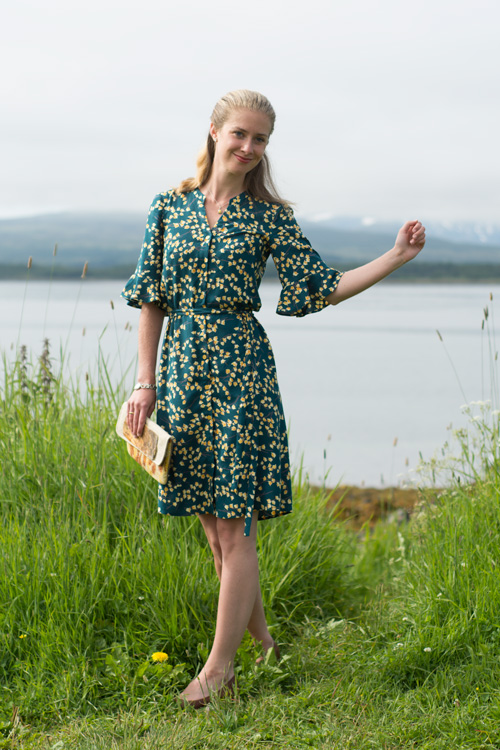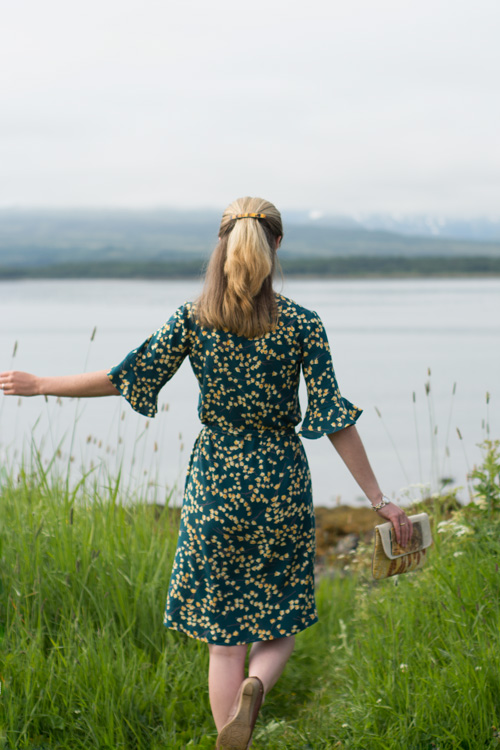 One of my favourite features of the Bonn was (and still is) the slim collar and the neckline. It's so flattering! So when I bought this pretty rayon fabric from Indiesew and thought about what to make with it, I quickly decided that a Bonn Dress would be perfect. I had to choose between short sleeves, flared sleeves, 3/4 sleeves and long sleeves. Since this rayon is so soft and flowy and has such a playful print, i thought the flare sleeves would be the best match.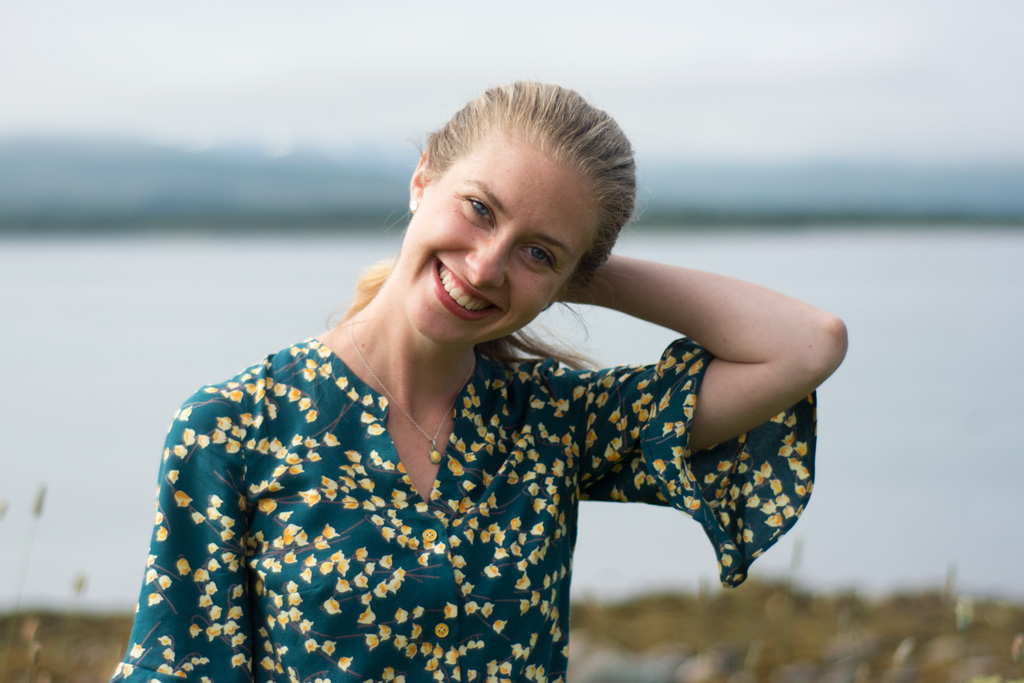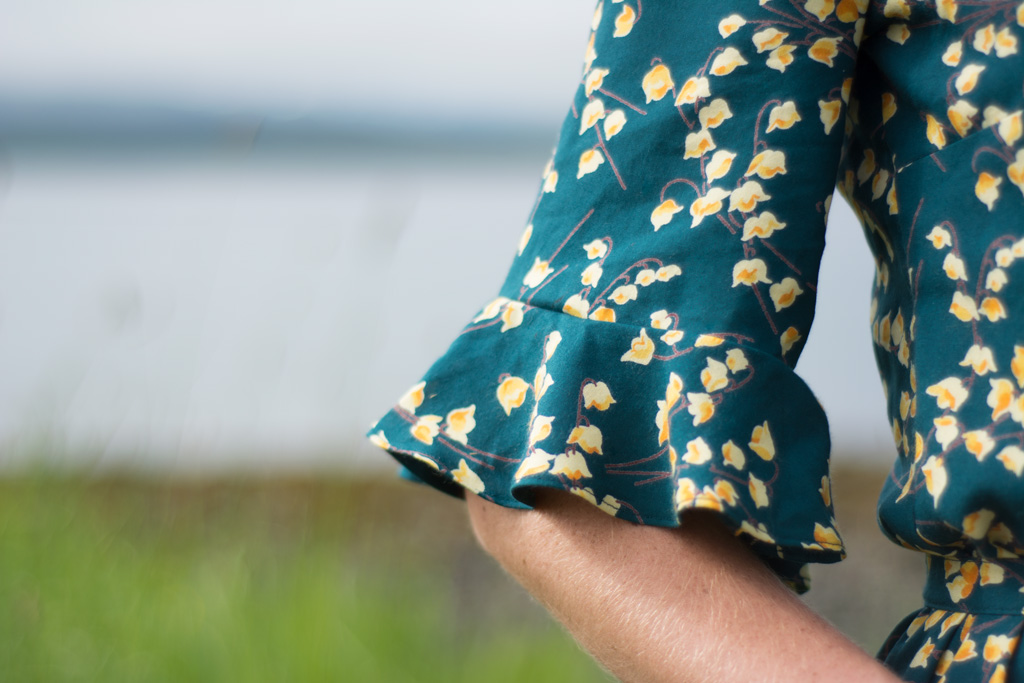 I ordered 2 yards of this rayon, which is sadly sold out now, and it was just enough for this slightly lengthened dress. I wouldn't have had enough fabric for pattern matching, but luckily this print is too busy and small to require matching.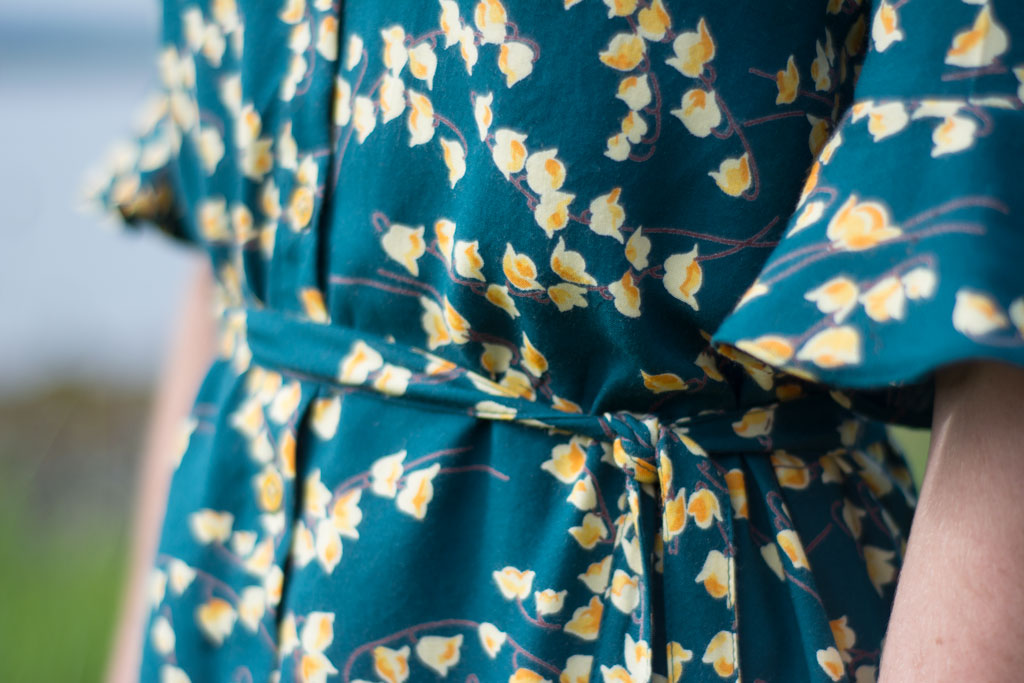 After taking another look at my first Bonn Shirt and the changes I made, I decided to widen the shoulders by 1 cm / 3/8″ and to lengthen the bodice above the waist by about 1 cm, below the waist by about 1 cm and 1 cm at the hem. These were changes similar to those I made to my shirt, too. But when looking at my blog pics I could see that my bust dart was way too high – I have no idea, why I didn't fix that after making my testing muslin. So for this dress, I lowered the end of the dart by approximately 7 mm / a little more than 1/4″ and by letting the dart start just a tad lower than marked on the pattern piece.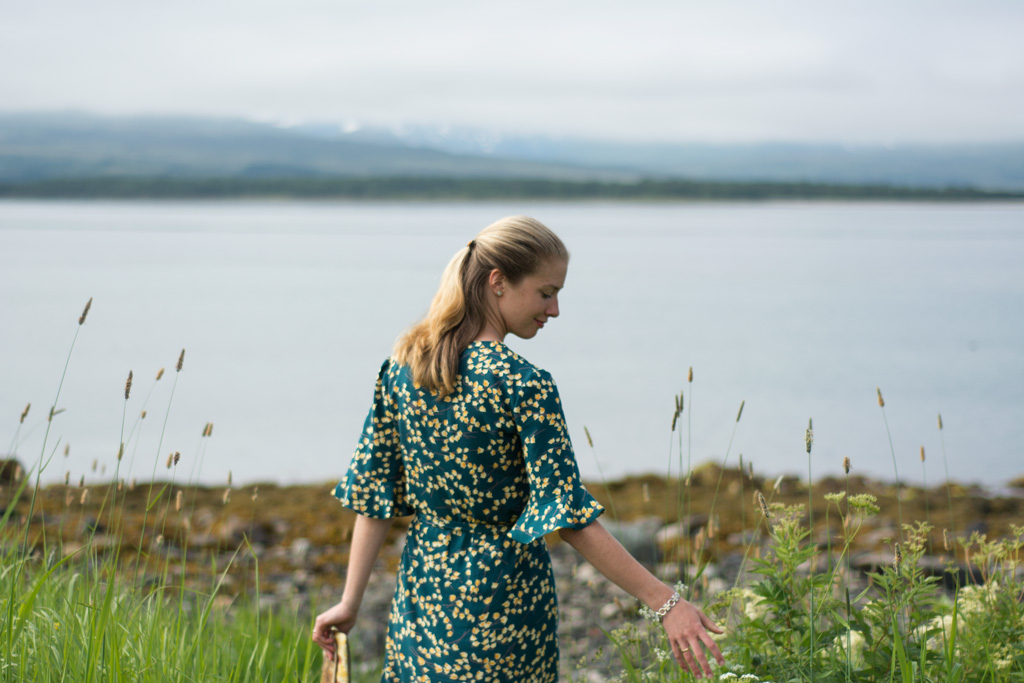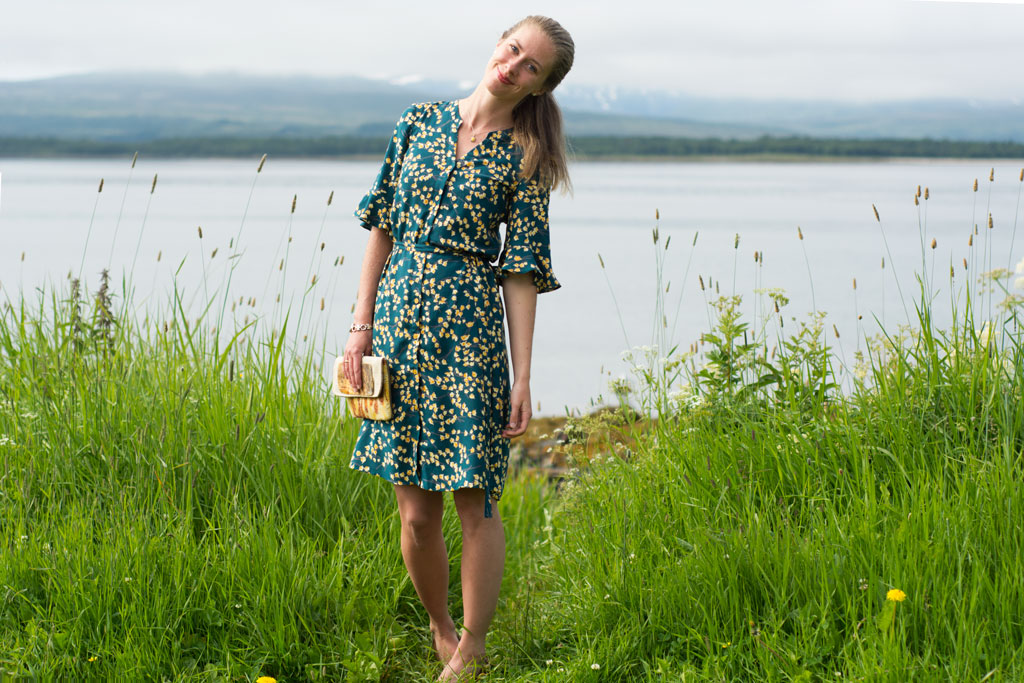 Sewing the Bonn Dress (or Shirt) is pretty easy, compared with a shirt with full collar and cuffs. The button band is easily made by folding the edges of the fabric and the collar band is easier to sew than a full collar. I can remember, too, that the long sleeves weren't that complicated to sew, and the other sleeves are even quicker to sew. The flare sleeve I sewed is basically a circle sewn to the sleeve, hemmed with a tiny rolled hem or a tiny folded hem. I tried my rolled hem food when hemming my sleeve, but the curve was a little too much for my skills. So I went with the tiniest double-folded hem I could make.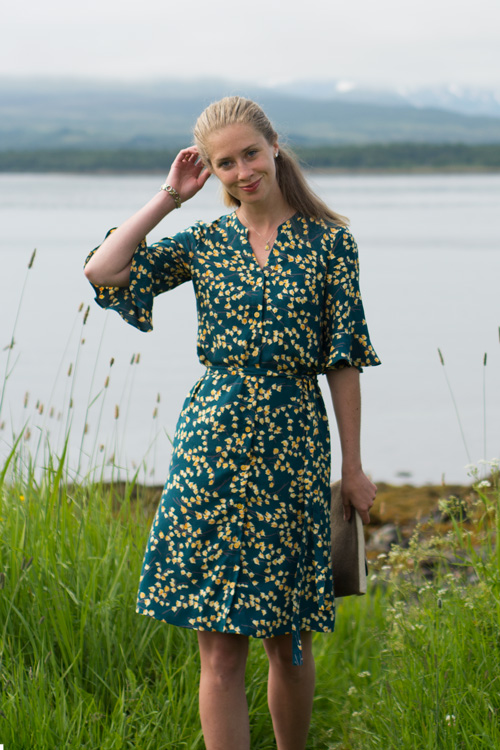 Since I love a clean finish, I chose to use French seams wherever possible – at the shoulders, the side seams, the sleeves and at the seam between the regular sleeve and the flared part. I wouldn't recommend this for heavier-weight fabric, but it worked nicely for my Bonn Dress and I love how clean it looks from the inside.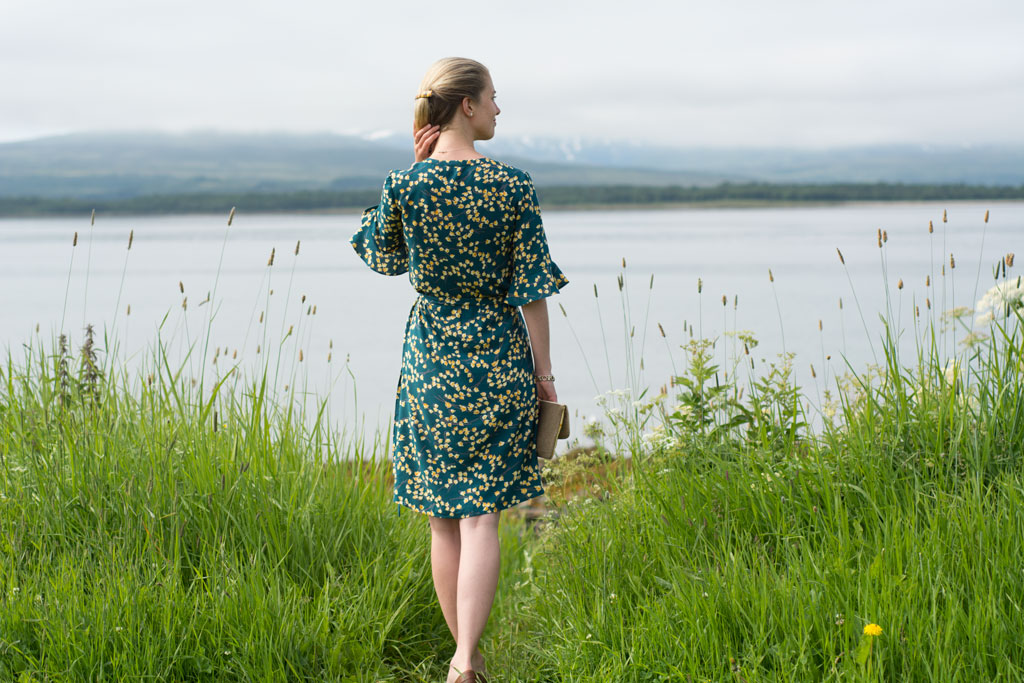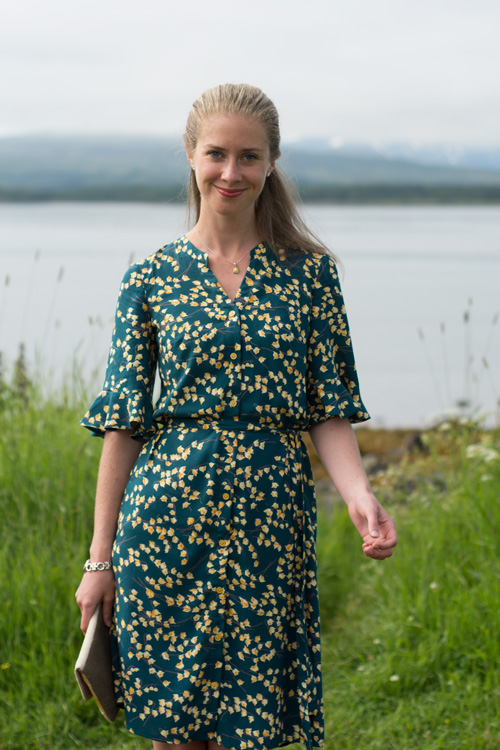 Have you noticed the perfect yellow buttons? They have the exact same colour as the darker flowers and they look a little retro to me, making them perfect for a shirt dress. The yellow flowers really inspired me while styling the dress (and myself…) for the photo shoot. I have a pretty clutch that I got while travelling in Haiti (you can read more about this clutch in this blog post) and I found a silver and golden watch that I haven't been wearing for years. To be honest, it needs a new battery, but it was the perfect accessory for this dress.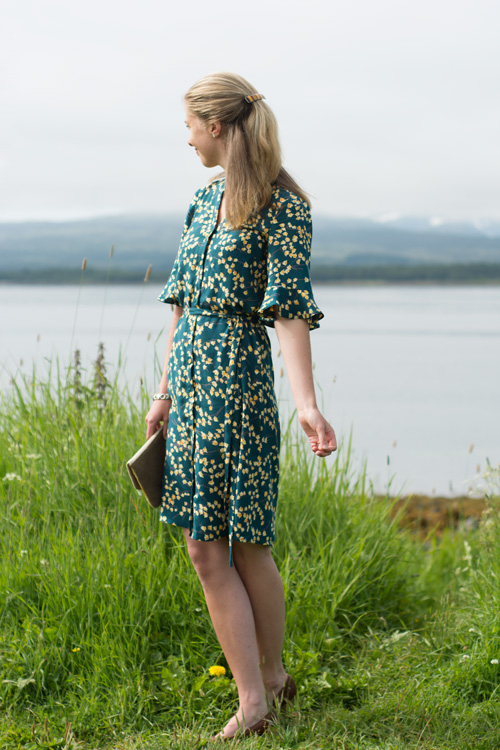 Last but not least I found a hair slide made of amber in different colours and a little necklace, made of amber, too. My grandparents were living in East Prussia until WW II, when this previously German region became part of the Soviet Union. If I remember correctly this necklace was given to me by my father after he visited the area with my grandmother a couple of years before she died. Most of the amber in the world is found in this region and I like how this necklace reminds me of my family's history. And it doesn't hurt that it matches the colour of the flowers on my fabric!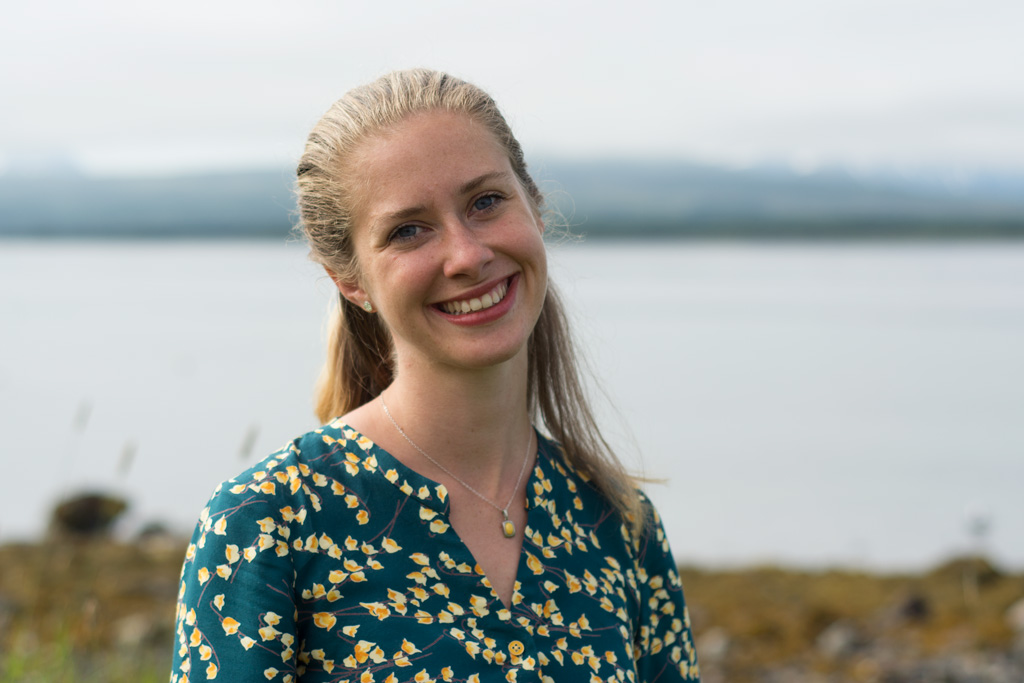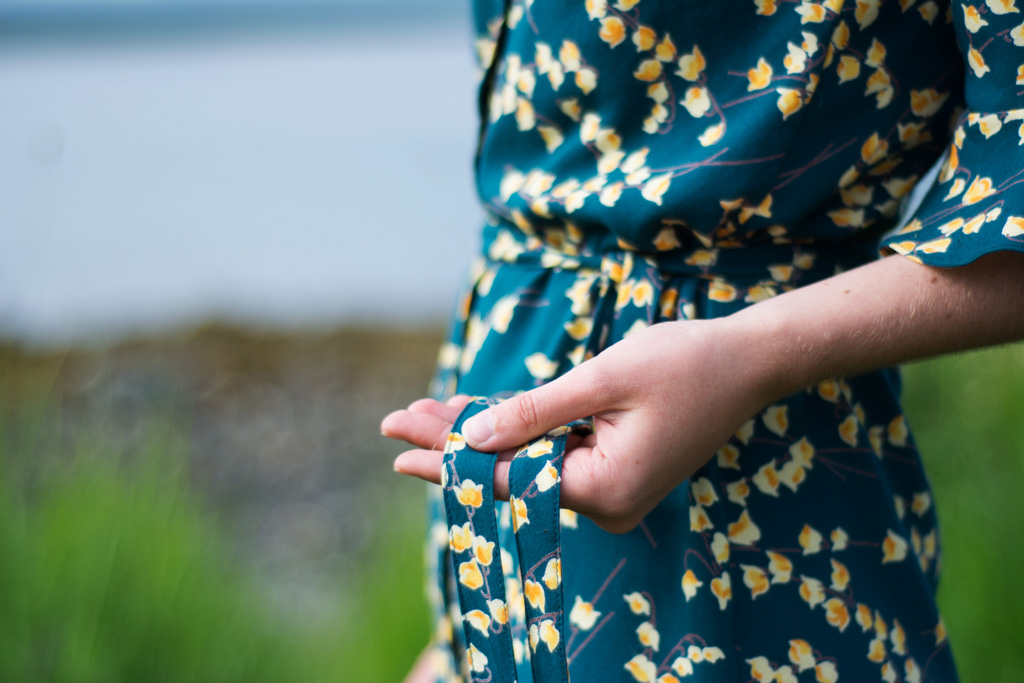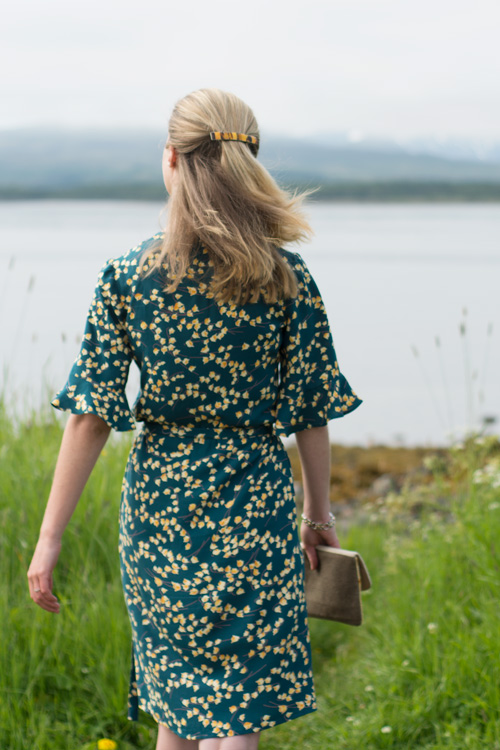 All in all I felt extremely good while wearing this outfit, and I can imagine wearing this exact outfit many times! You can buy your copy of the Bonn Dress here and check out the available Indiesew fabrics here!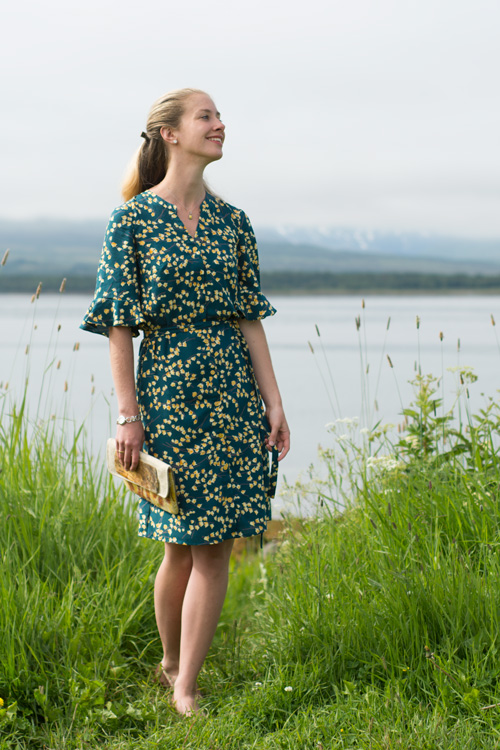 – As a part of the Indiesew Blogger Team I received the fabric for this make for free. However, all opinions are, as always, my own. –