There is a new knit blazer pattern in the indie sewing community – the Blixen Blazer by Wardrobe By Me. There is coming another blazer pattern soon, too, and I tested them both. Simultaneously. Today I'll show you the Blixen Blazer, next week I'll show you the other blazer, and in the end I'll write a little round-up post, comparing the two jackets.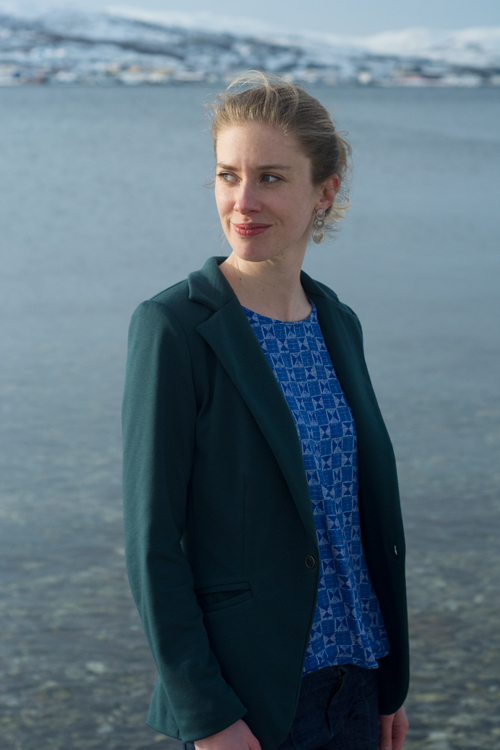 In my opinion, the Blixen Blazer is the closest to a "real" blazer pattern on the indie market. It has a lot of features you can find when looking at classic rtw blazers. It is pretty long, with a slim and flattering shape. It's lined, has welt pockets, it has a facing and even shoulder pads to give it a nice shape at the shoulder seam. Looking at this blazer I have to think of these pinterest pics, showing long-legged ladies in high heels, slim fit jeans, sun glasses, a coffee in one hand and a nice hand bag in the other and, of course, a blazer. And this is that blazer, at least in my opinion.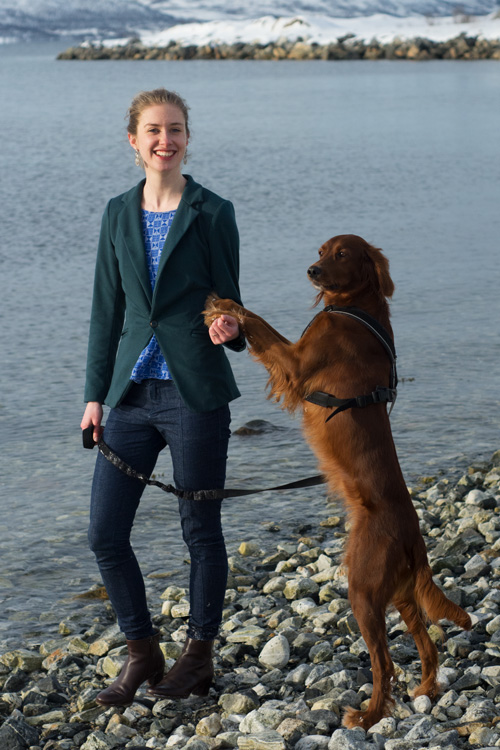 There are a few options to choose from when making the Blixen Blazer: You can choose to make 3/4 sleeves or long sleeves, and you can choose to make a straight back (as I did) or add a waist seam and make a peplum blazer.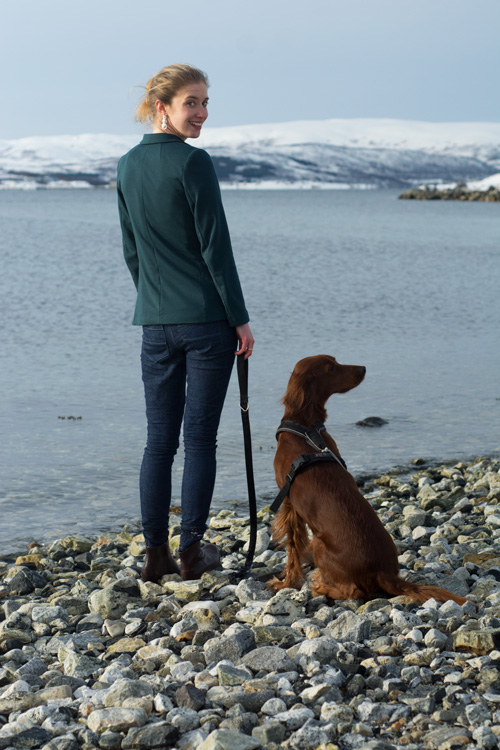 Before writing a little more about the sewing process and my fabric choices, I'd like to tell you a little about why the blazer is called Blixen Blazer, since I have actually been complicit in giving the blazer that name. Christina, the designer behind Wardrobe By Me, is Danish, and when I was testing the Asta dress she wrote that she'd like the pattern to have a traditional Danish name. One of the things I really connect with Denmark in my head is the author Karen Blixen. Do you know her? The film "Out of Africa" is based on her life and she wrote "Babette's feast". I've been watching the 1987 movie "Babette's feast" several times as a child and I really love it. I can't really go into the details of why this is such a great story, but watch it, if you can! It's about a French woman working as a servant in a very traditional, protestant home in Denmark in the 19th century, and how she makes a real French luxury dinner for twelve silent and conservative people, getting everyone to open up and to be a little more lively. Trust me, it's definitely worth reading/watching! And Karen Blixen wrote other short stories, too – I analyzed a few of them at university and was really fascinated by them. I suggested to pick a name from the Blixen universe, since Karen Blixen was a strong and unusual women and a blazer deserves a strong name. Christina had the great idea of calling the blazer Blixen Blazer, which I find perfect, since it's both ultra Danish and strong.
I bought this forest green ponte knit from Fabric Godmother, and although it's a poly-rayon mix, it does have the perfect weight for this pattern, and it was easy to work with. I found the perfect lining in my stash (colour-wise), bought a year ago at Stoffe.de. Unfortunately it's a poly fabric, too, but it's super slippery and has 1% elastan, making it a great option for a lining. So for once I actually have a garment sewn mostly of poly, and I have to say that I can feel it when wearing it, it's just a little bit more clamp. It's still fine to wear but I do think given the choice I'd prefer a ponte made of viscose and an acetate or cotton lining.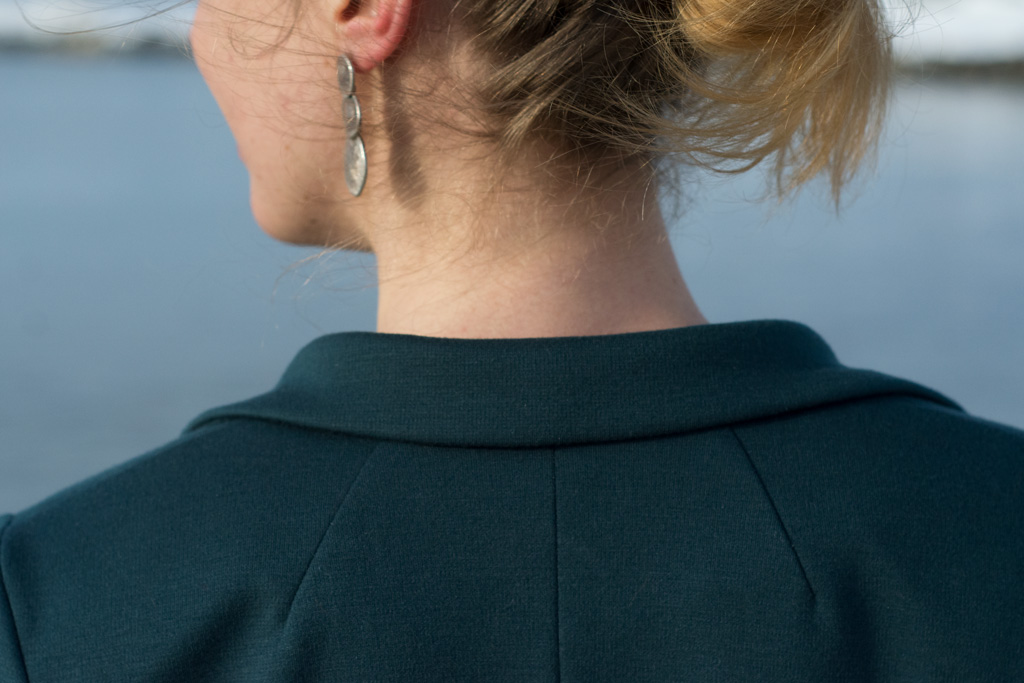 Christina's drafting is, as always, spot on, there wasn't any need to change the pattern pieces while testing, other than making the peplum a little bigger. Christina has tons of experience, and she does expect the people sewing her patterns to know a thing or two about sewing, too. Her instructions are good, but they do expect you to know how to understitch, how to press darts, how to sew a ladder stitch and so on.
I didn't need to change a lot to make the Blixen Blazer fit, I only lengthened it a little more than 3/8″ / 1 cm above the waist and widened the shoulders a tiny bit. And I learned a few new things while testing! Christina taught me that your torso is about a quarter of your total height, so if you're 5 cm taller than the height the pattern is designed for (as I am), you add 1/4 of 5 cm above the waist and 1/4″ below the waist. The rest of your height is in your legs and doesn't have anything to say for a jacket or a top. At least if you don't have an extraordinary long or short torso – in that case your need of adding or subtracting length might change. I added the needed amount of fabric above the waist to make the waist hit at the right spot, but omitted lengthening below the waist, since I didn't want the blazer to be too long.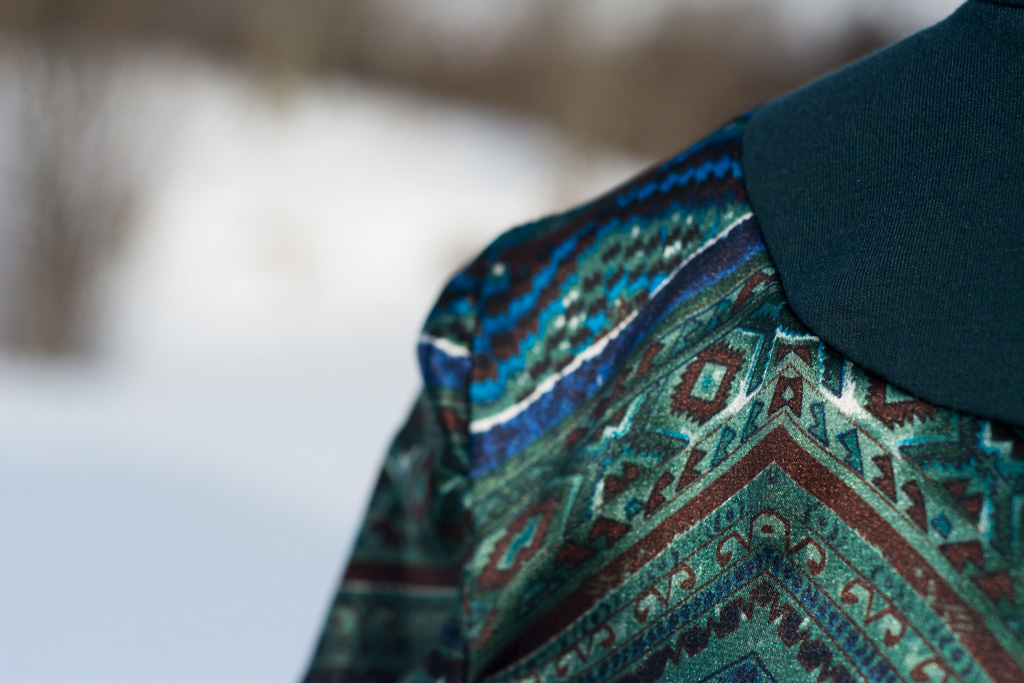 Another important thing I learned was how to attach shoulder pads – I've never worked with shoulder pads before! You're basting the middle of the shoulder pad to the shoulder seam, aligning the straight edge of the shoulder pad with the seam allowance (not the seam!) of the armscye seam. I was a little sceptical about adding shoulder pads, but I have to say that I rather like it. I chose slim pads and they give me a nice shoulder shape. So – try it!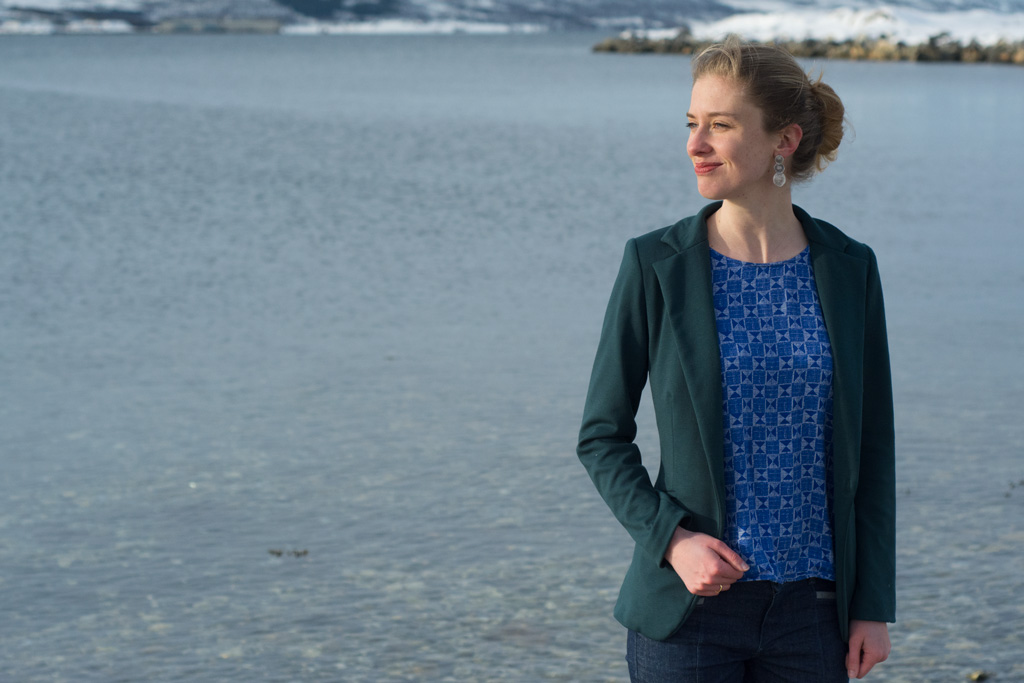 I also learned that button holes on jackets are supposed to be horizontal, not vertical. Everyone else probably knows that, but I didn't. (But it's mentioned in the instructions now!) I made a vertical button-hole, and according to Christina that is causing the drag lines on my blazer when I have the blazer closed. So – sew your button holes horizontal!!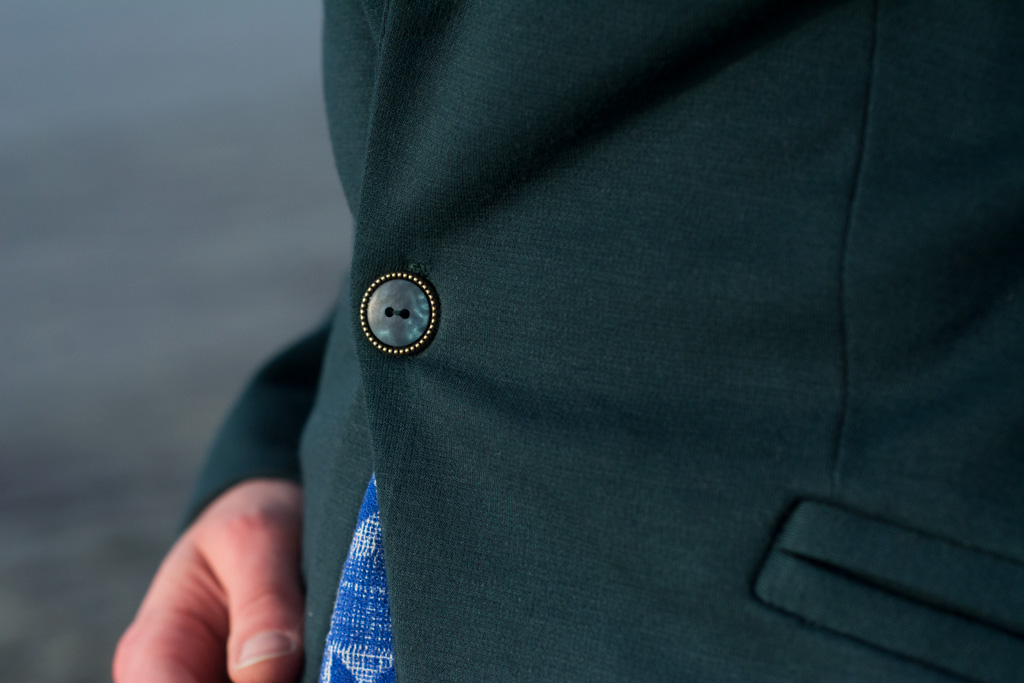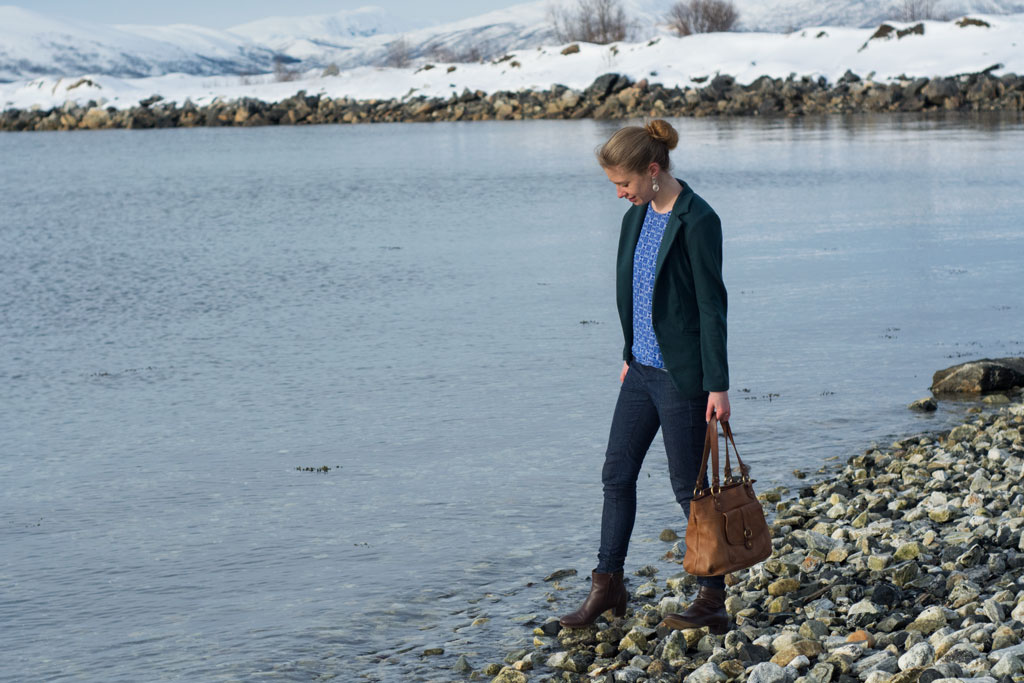 My husband wasn't in town when I had to take these pics, so my good friend Marie stepped in. And I think she did a great job! She is very crafty, too, sewing, knitting and embroidering all the time. Right now she's actually sewing a jacket for her national costume – by hand, since that's even more traditional. It really makes me want to sew my own Norwegian national costume, too! Although I might not sew everything by hand…
By the way – I'm wearing my Blixen Blazer paird with the Santa Fe Top by Hey June and my Jamie Jeans by Named Patterns!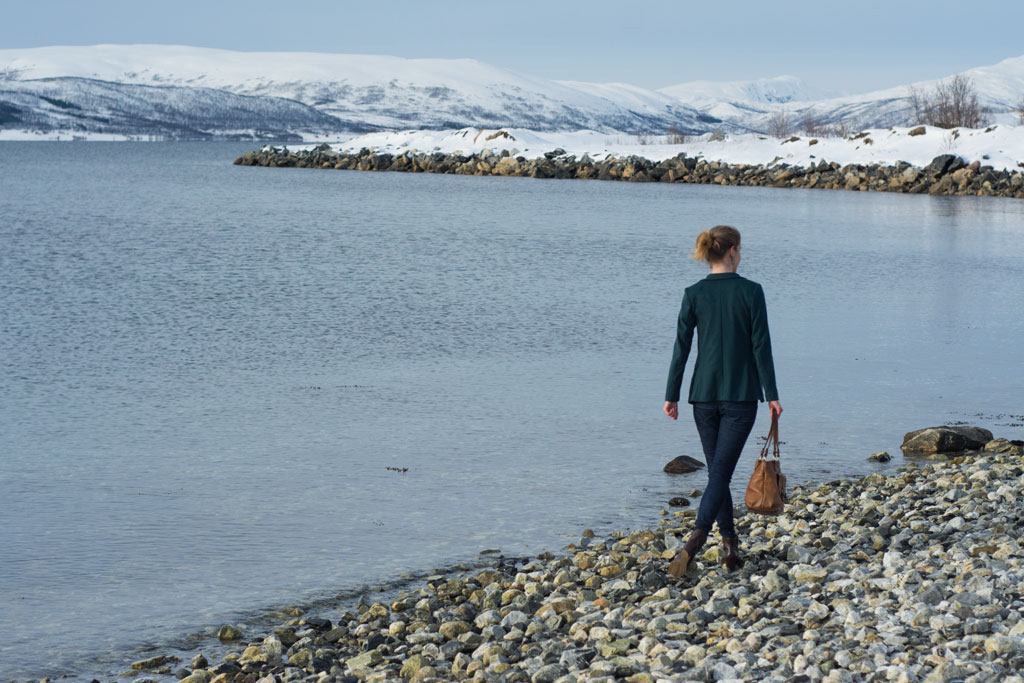 So that was today's lecture about sewing, combined with a little literature and culture – I just can't only keep to sewing… 😉 You can buy your copy of the Blixen Blazer here – it's on sale for a week.
– This blog post contains affiliate links to the Blixen Blazer. However, all opinions are, as always my own. The blog post is linked to the German blogger party RUMS.-