Helen from Helen's Closet took the pdf pattern community by storm when releasing her first pattern, the Winslow Culottes. And I think there's a good chance for her new pattern to do the same thing! During the last weeks we have tested the new Blackwood Cardigan – well, not that there was a lot to change, Helen's first version was pretty much perfect, she just shortened the sleeves a little. Well done, Helen!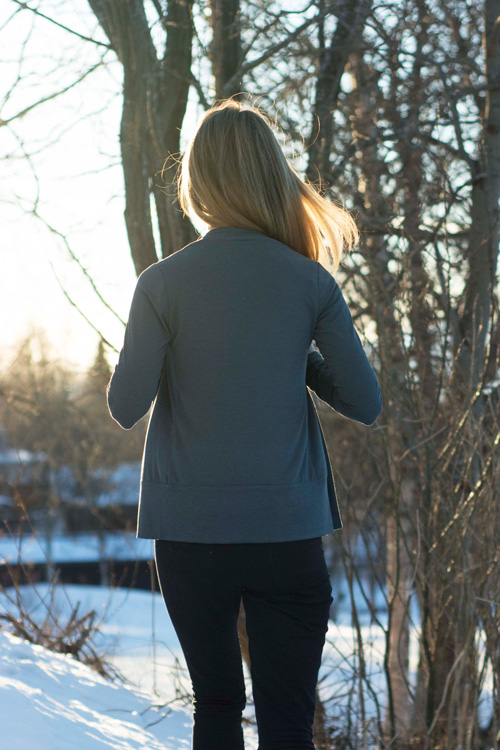 The Blackwood Cardigan is a simple cardigan designed for layering. I always want to show off the pretty tops and dresses I've sewn, but most of the time it's too cold for that in Northern Norway. But now the Blackwood Cardigan comes to the rescue! The Blackwood Cardigan is designed to be worn open, and the open front is open enough to be able to show off whatever you're wearing underneath – like this pretty (not me-made!) top that I really love and wanted to include into a blog post forever!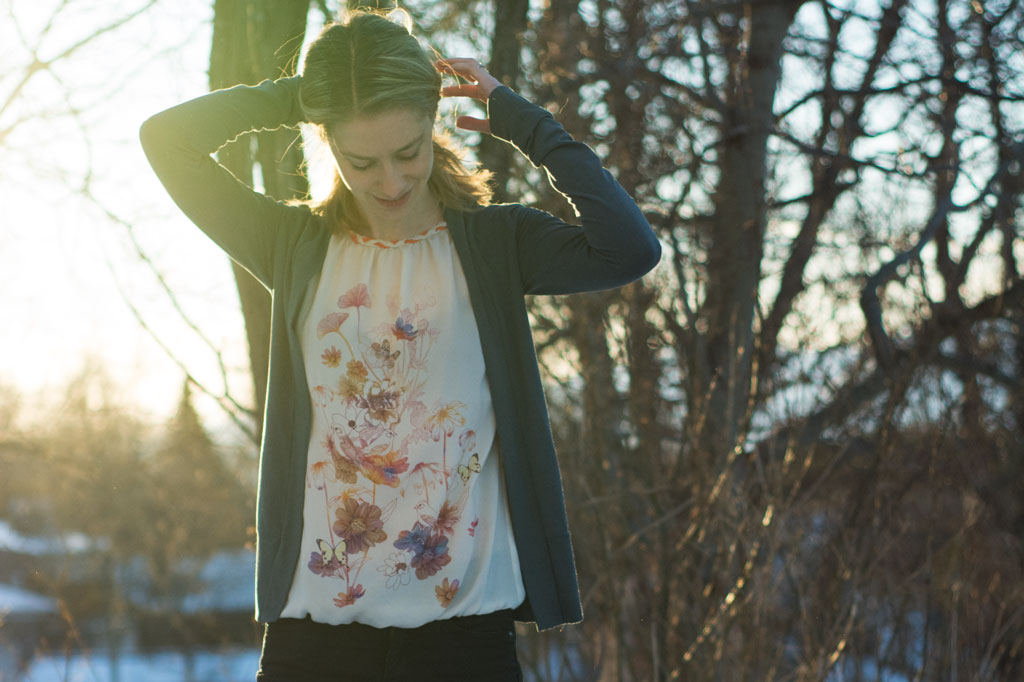 The cardigan comes in two different lengths – my version is the shorter one, the longer version comes with patch pockets, but is otherwise the same as the shorter one. Apart from the length, obviously. 😉 The sleeves are designed to be extra long, to be extra cozy when it's cold outside.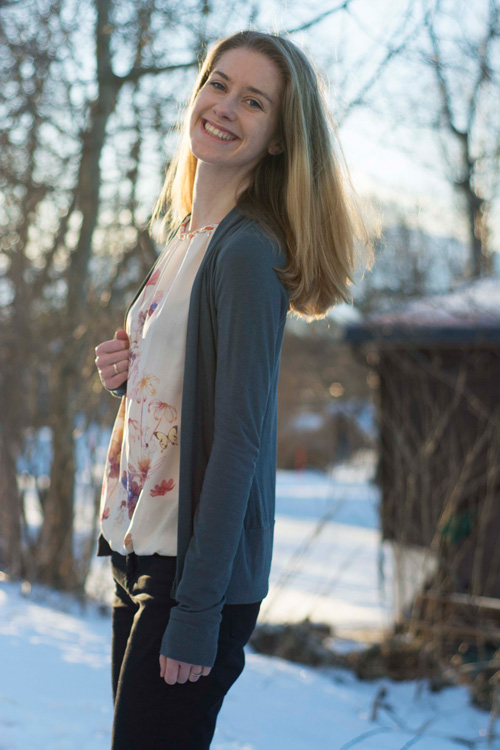 My Blackwood Cardigan is made of the same super soft viscose knit from 1000 Stoff that I used for my Versalette and my Drop Dress. I'm addicted to that stuff! It's so soft, drapey and has the perfect weight. I actually don't have anything of it left, so, Lara, if you read this – I need some more of your perfect fabric!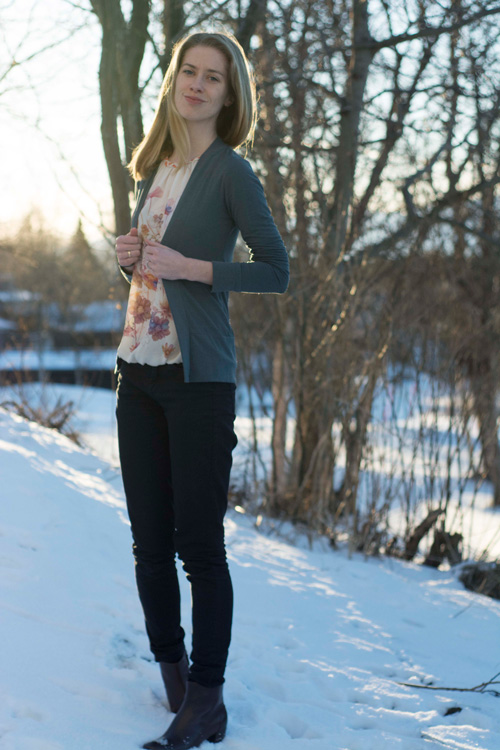 I made a size XS without any alterations, other than shortening the sleeves a little – something that's already included in the final pattern. The sleeves, the front/neckline and the bottom are finished with bands, wich makes for a really clean finish. At the same time I always find it easier to finish stretchy knits with bands, rather than folding the hem once or twice and topstitching it.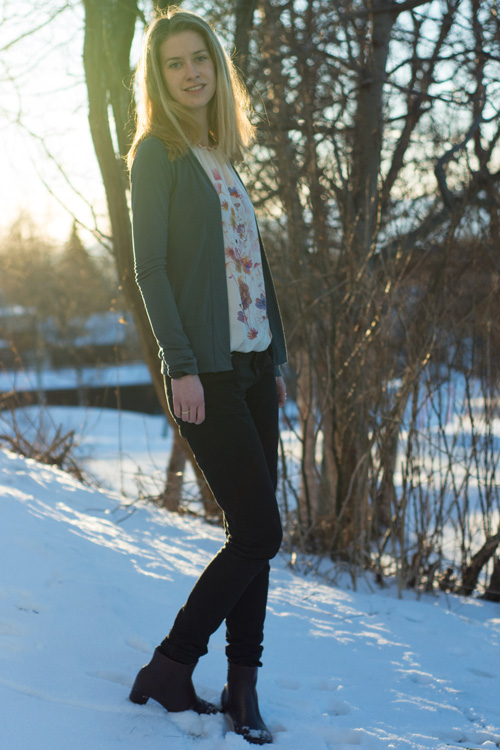 This is the only Blackwood Cardigan I made until now (I have so much on my plate!), but I'd love to make some more Blackwood Cardigans for my wardrobe  – especially one in a soft navy sweater knit!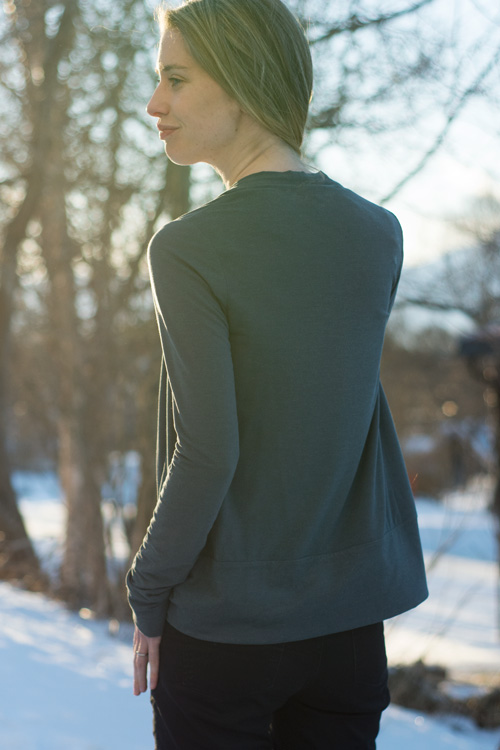 I had a lot going on this year, this is my 10th blog post in February (I'm always telling myself that two or three posts a month are enough!), and I didn't get the time for a "full" photoshoot this time. But hopefully these pics can still give you an impression of the great job Helen did with this pattern! You can buy your copy of the Blackwood here (it's on sale!), and don't forget to stop by Helen's blog to see the other tester versions. I promise you, they're beautiful!