A year ago I ventured into sewing garments for men for the first time. I was invited to join the Christmas tour from the German fabric shop "Stoffbüro", focusing on sweaters and shirts for men. After conferring with my husband, I finally made the hoodie PAlouis by the German pattern company Kibadoo (in English here), using sweat from Nosh. That was actually the first time I used fabric from Nosh, and my husband loved both the fabric quality and the hoodie itself.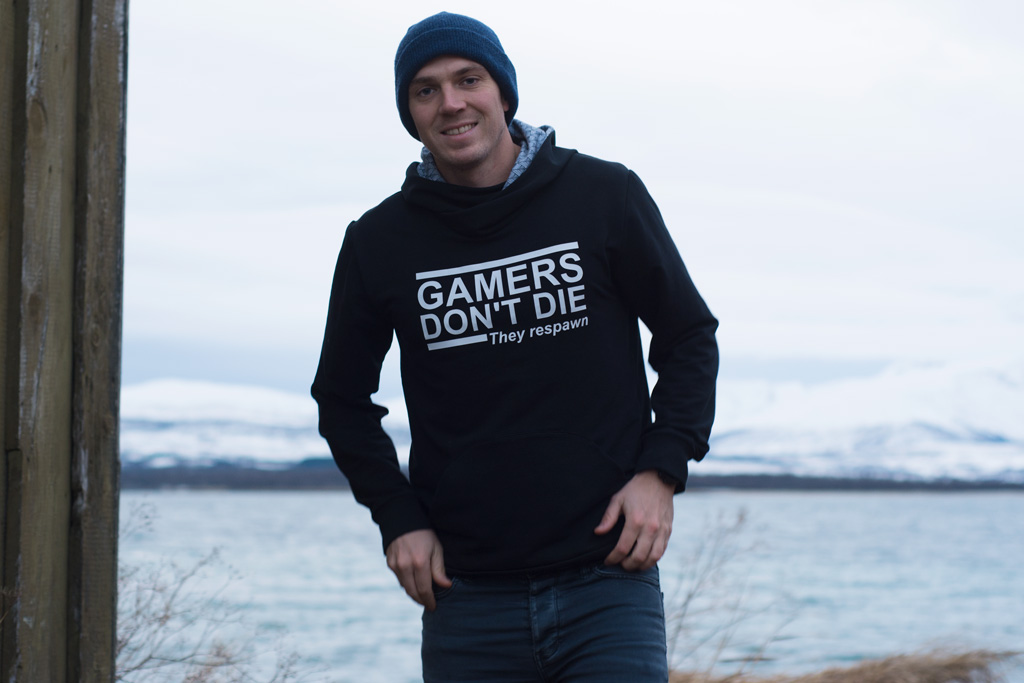 For his birthday in June, he wished for a new sweater with the print "Gamers don't die – they respawn" on it. He had seen sweaters and T-shirts like this online and thought his wife could do better. 😉 He loves strategic historically accurate games, something like leading vikings to victory against the British army, leading Caesar's army and founding an empire and so on. So there was no doubt that he needed a sweater like this.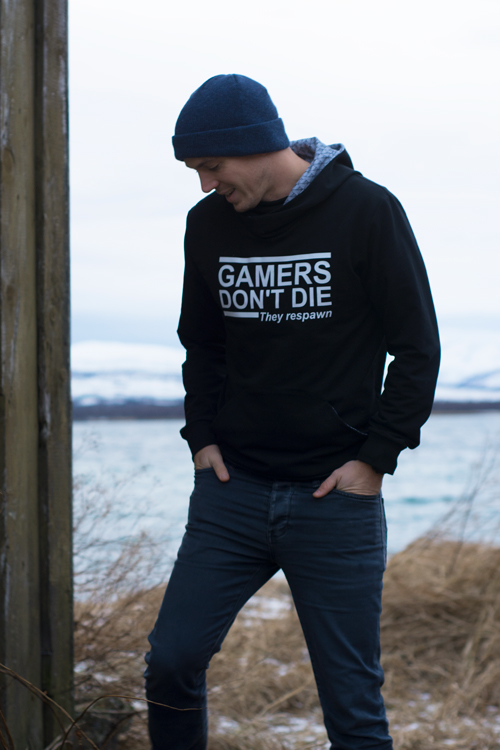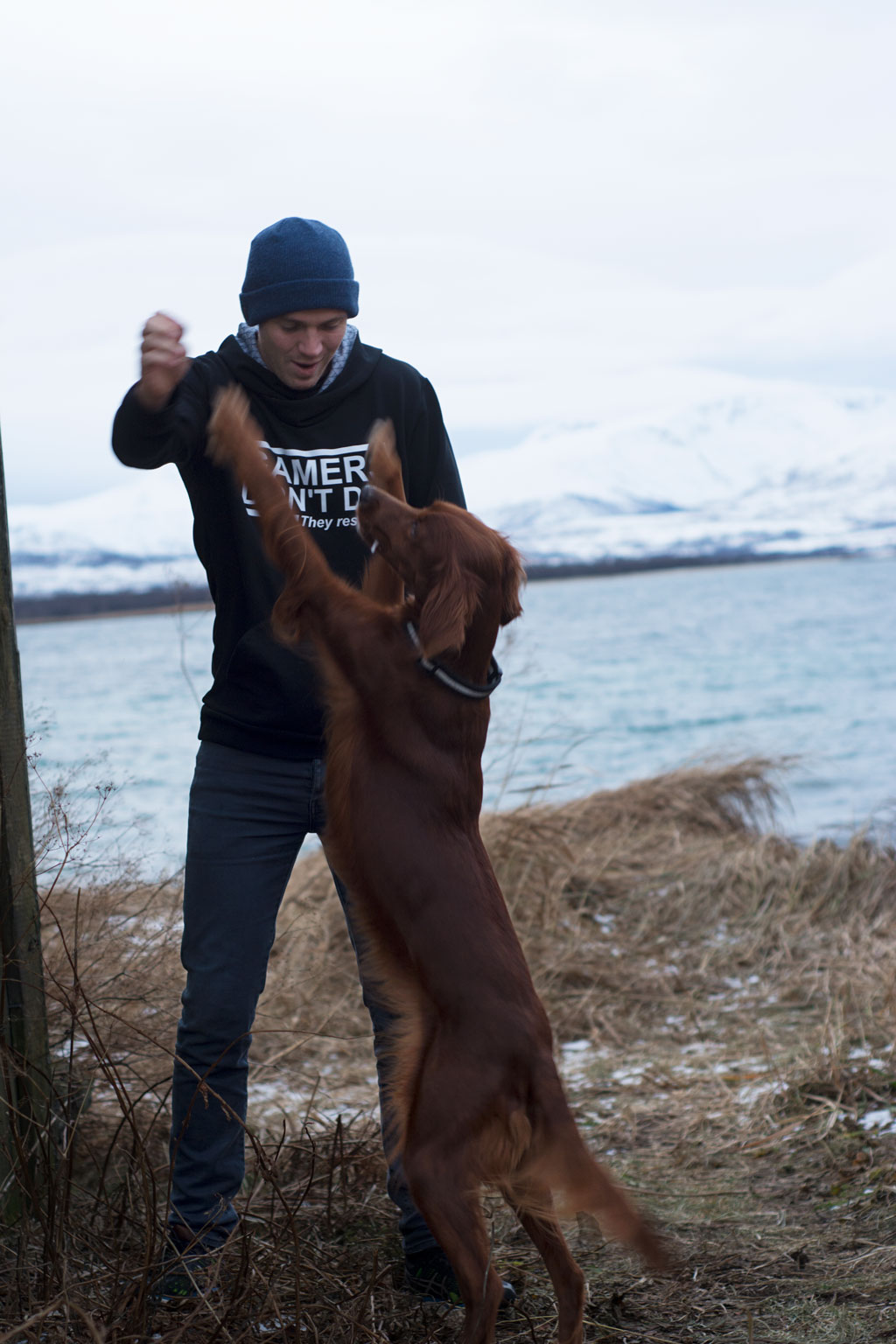 After  a lot of forth and back, my husband decided that he wanted the exact same fabric as for his first hoodie, and the exact same pattern as  last time – with a few tweaks to make it fit even better. He likes everything that's tried and true! So, PAlouis and Nosh it was. I don't have a Scancut, but the lovely Dominique from Kreamino made the print for me and sent it to me. She did an amazing job!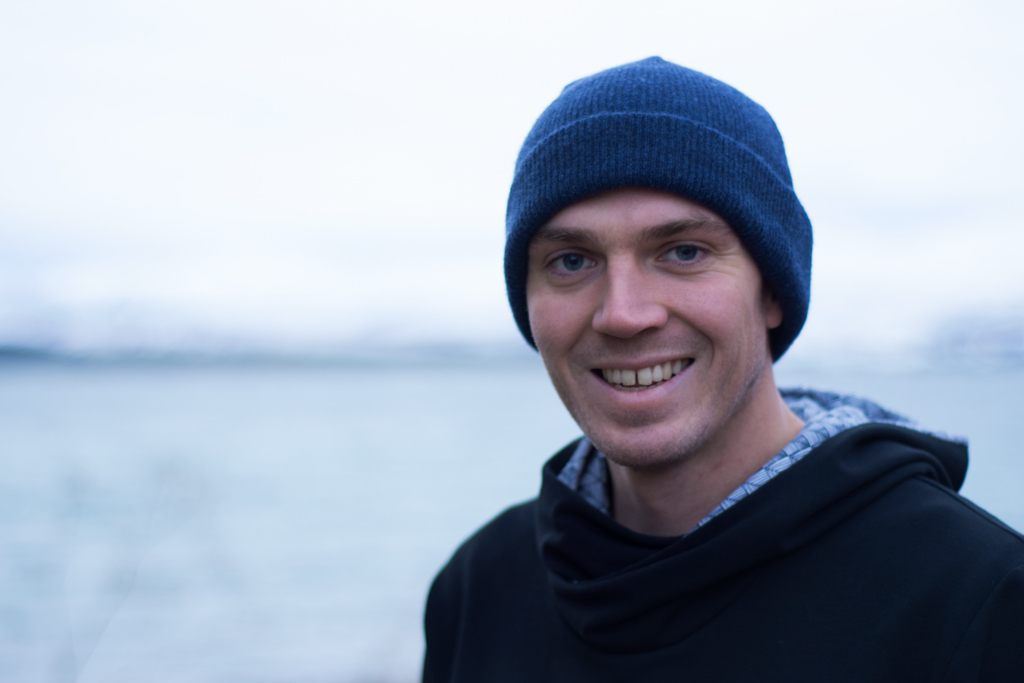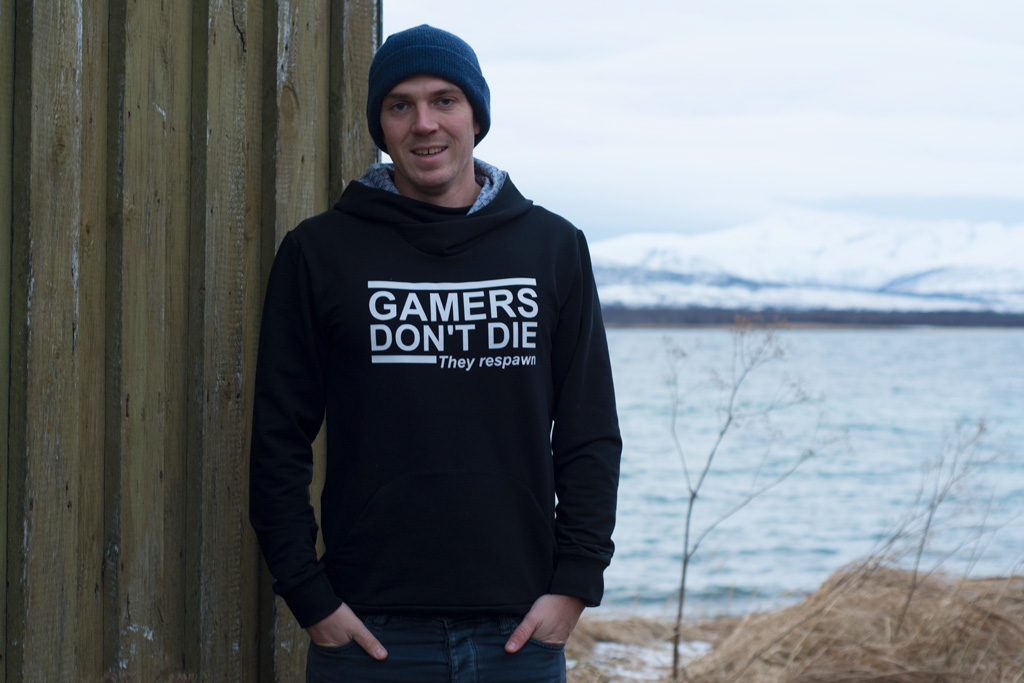 I needed some fabric for the hood lining and the pocket lining, and looking through my stash I found a little piece of cotton jersey from the latest Lila-Lotta fabric collection. It was just enough and was approved by my husband.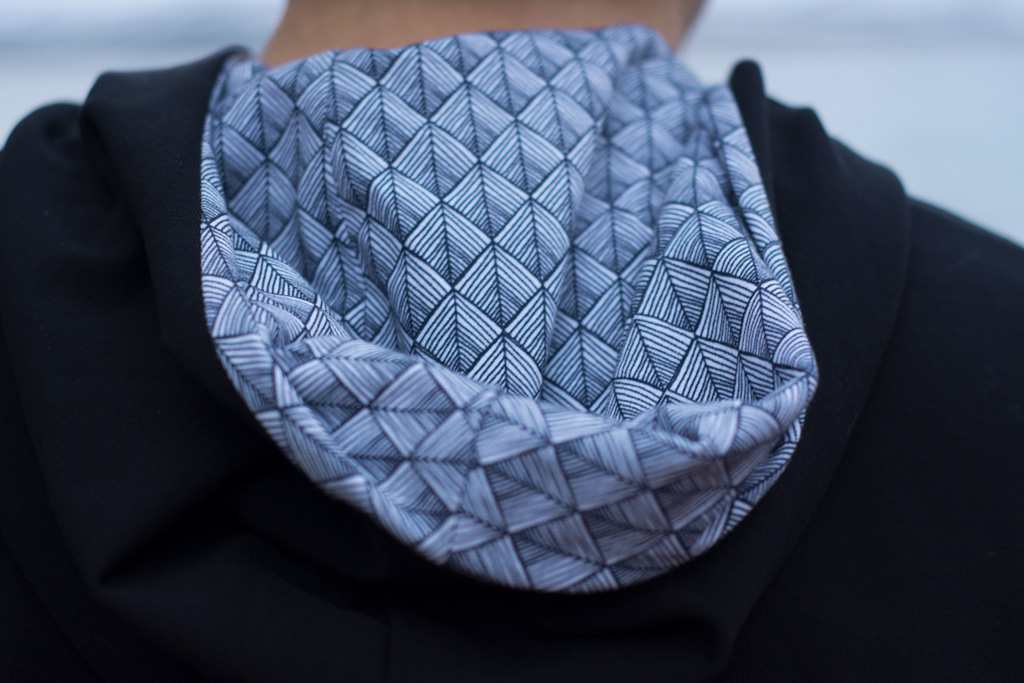 The sweater got a little delayed, since there was very little sewing and blogging going on during autumn, but two weeks ago I finally got around to sewing it. The only changes I made was to make the sweater a little more fitted and to use wide rib knit from Nosh instead of the main fabric for the hembands. I remember having issues with sewing the front pocket on nicely when sewing this sweater last year. This year I tried out wondertape for the first time, gluing the whole pocket edge to the sweater, omitting all pins. I also used my edgestitching foot to keep the same distance to the edge along the whole edge. And it worked so nicely! Wondertape for the win!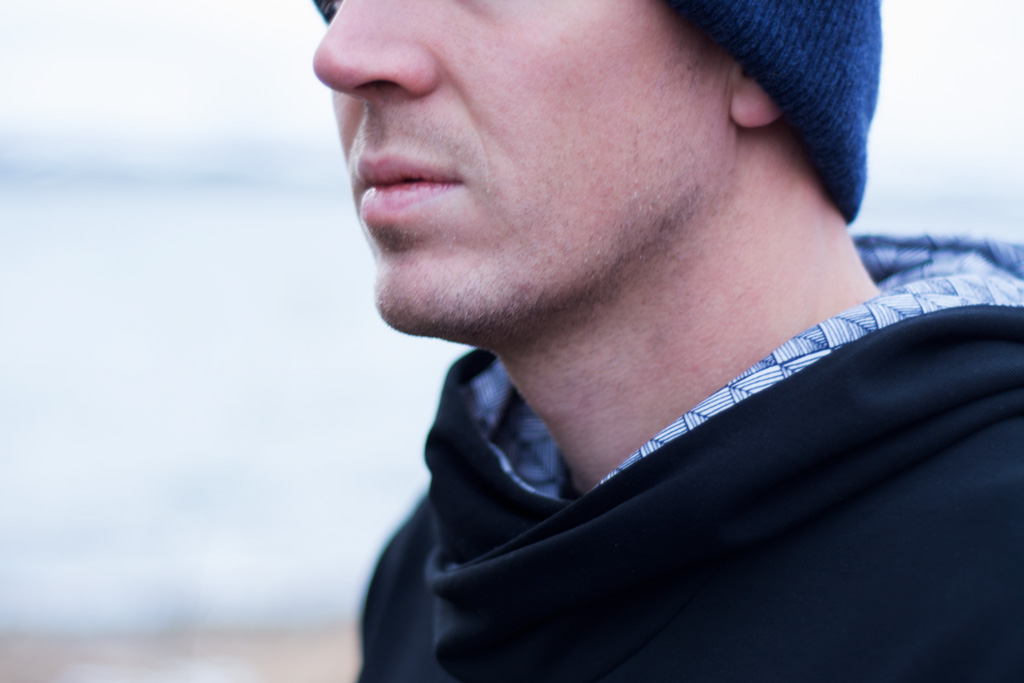 Sewing the hoodie was done quickly, especially since this time around I could sew everything with my new serger this time around. I don't like using my serger for very thin fabrics, but for projects like this using a serger is really a dream. Getting the print to stick to the sweater (and to get it lying centred!) wasn't the easiest thing, but it's basically all about applying enough pressure on a hard surface for a long enough time.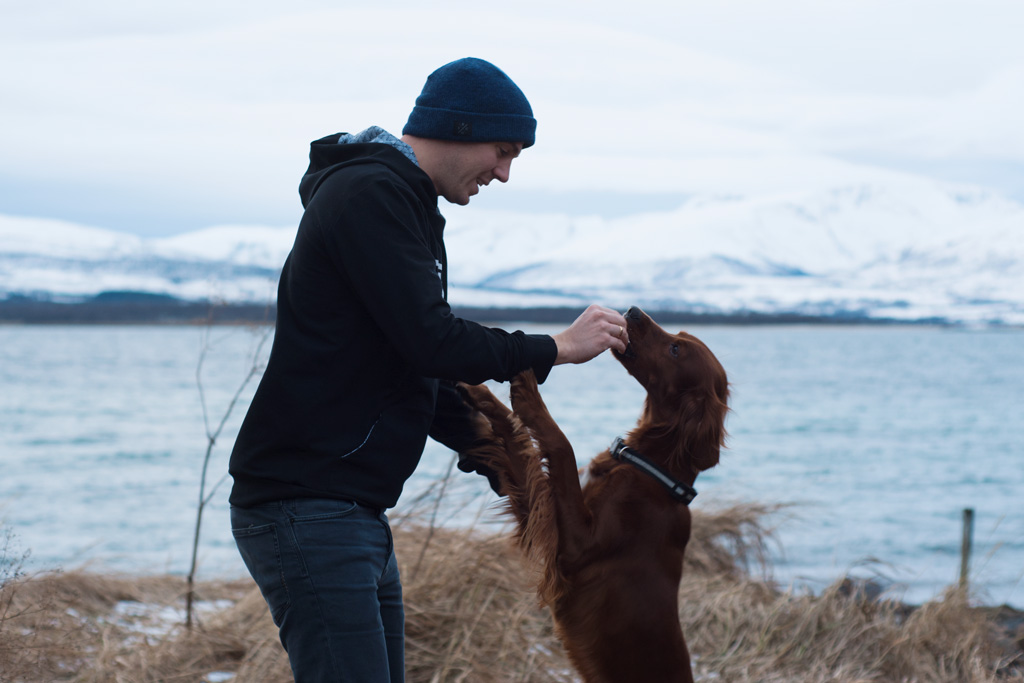 All summed up, I can say that my husband is delighted with his new sweater (although maybe not too much with taking pics while it's freezing!), I am delighted by the fact that it turned out exactly as I hoped it would and that I really think that I need to make him a shirt soon!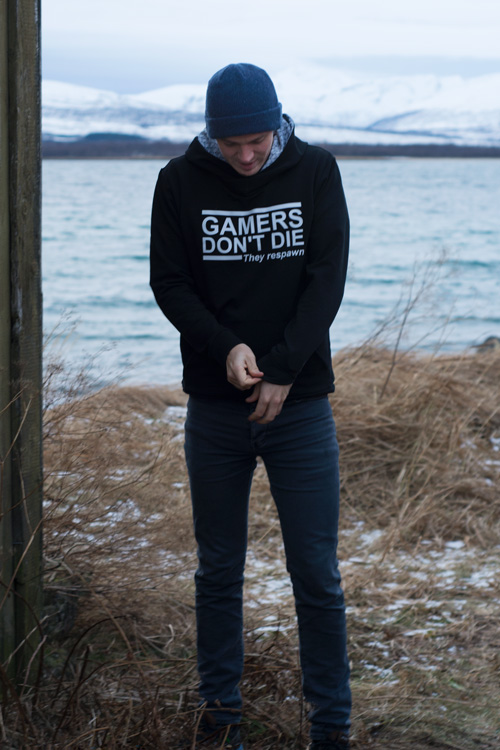 – I got the fabrics for this post for free from NOSH Organics and Lila-Lotta. Nevertheless all opinions are, as always, my own. –