I must say, I have been rather pleased with my sewing recently. I sew more, I blog more, I manage to take on some projects or tests – and I have been sewing a lot with fabrics from my stash. I have collected quite a lot of fabric during the last few years, and since I have to order most of my fabric, that's okay. I love being able to go through my stash and to find just the right fabric and the right amount, in my own little "store". But my stash has been growing a little too much. I sold a bit before moving, which felt really good. And most of my recent projects (like Engel im Schnee, Carvi, my new pillows or my oven mitts) have been made with fabric from my stash.
The present make, the Wren Blouse and Dress by Chalk and Notch, is no exception. I used to test quite a bit for Gabriela (the Fringe, here and here, the Waterfall Raglan, the Pony Tank and the Farrah), but lately it has never worked out. So when I actually had the time to join the Wren test, I gladly applied. And when I found the right fabric (and just the right amount of it!) in my stash, I was even happier. I bought this beautiful Nani Iro cotton sateen at Lilly Paris in Zurich back in 2017, when I was visiting some sewing friends and the Bernina headquarters. Ever since, it has been sitting patently in my stash, waiting for the right project. And here it was!
The Wren comes both as a short dress and as a blouse, with short sleeves and long sleeves. (And there's a Mini Wren for children, too!)  The main feature that combines the patterns are the gorgeous lantern sleeves, that can be found on both the short and the long versions. I haven't seen this kind of sleeve on any other indie pattern and haven't made lantern sleeves before, so this is really something different. The long sleeves have buttoned cuffs, while the short sleeves are finished with a band. All views have a lovely round neckline and buttons down the front. The dress has a ruffled skirt attached. The Wren comes with bust darts and optional darts at the back.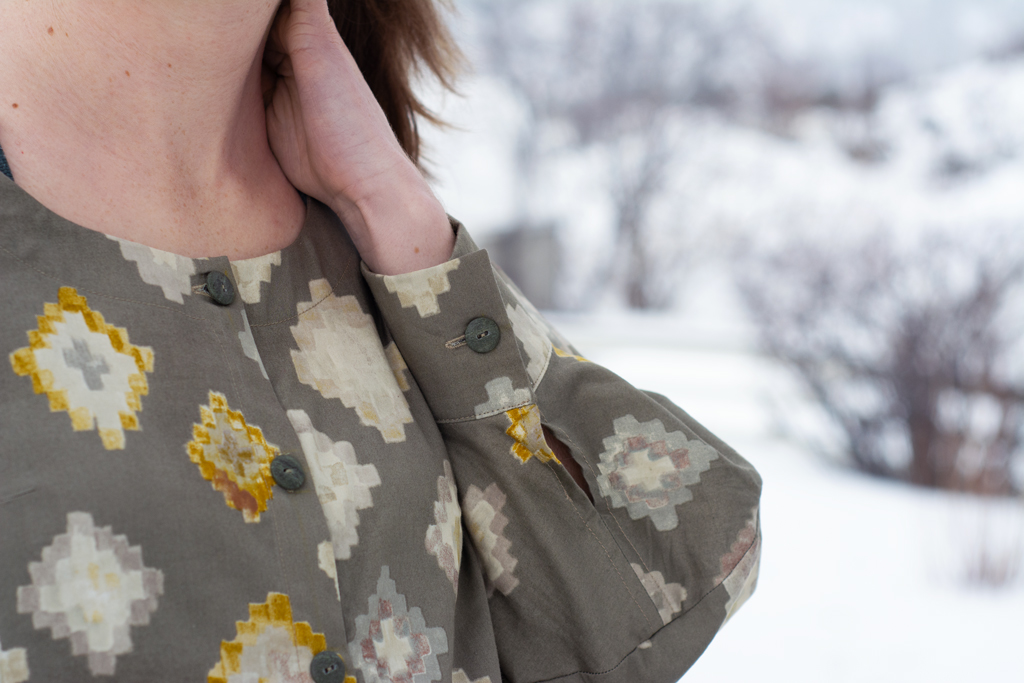 Depending on your choice of fabric, the lantern sleeves will look more or less poofy. I think mine is on the heavier side for this design – it works out, but the sleeves are quite pronounced and the blouse isn't draping as nicely as other tester versions have. I love Gabriela's dark blue version made from a loosely woven fabric. It seems to be perfect for this pattern!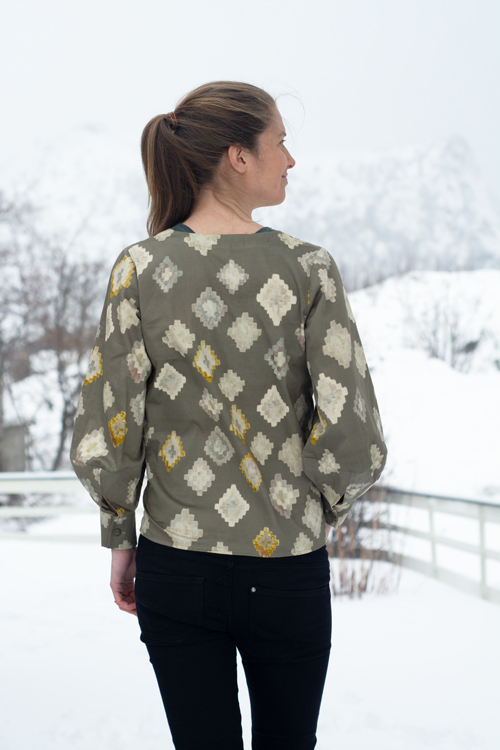 I made a size 2 with an A/B cup, lengthened by 5 cm/2″ – not only because I am taller than the height the pattern is designed for, but also because of my baby bump that needs some more room. I think I can't really wear this kind of blouse anymore right now – it's not super flattering. But the bump still fit in it while testing and the pics aren't that bad! I omitted the back darts for now to give me as much room as possible. However, I really like how the darts shape the back of the blouse/dress, so I think I will add them after my pregnancy.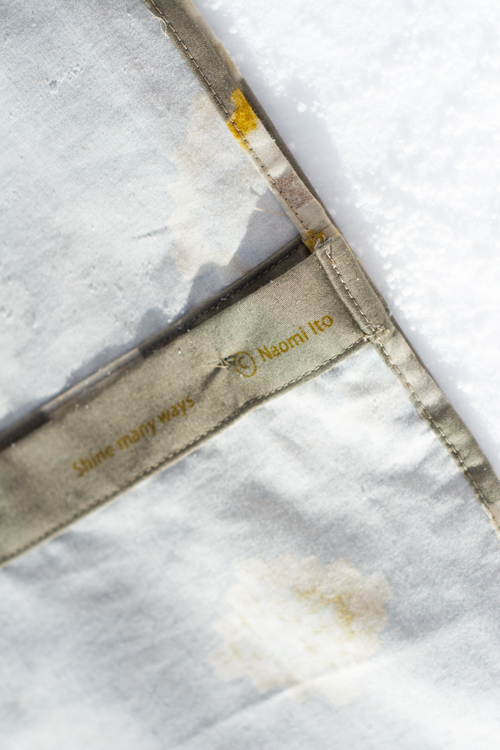 The Wren fits me pretty much as-is, other than needing some extra length. The  only other adjustment I made was moving the shoulder seams slightly towards the front – 1 cm at the shoulder tip, 0.5 cm at the neckline. The fit wasn't bad without that adjustment, it's simply even better afterwards. On RTW garments I wouldn't even notice if the shoulder seams were to be slightly too far towards the back, but making my own clothes has made me much more picky.
My go-to seam for beautifully finished woven garments is usually a French Seam. However, after sewing the bust darts I saw that my fabric was slightly too thick for that. It would have worked, but I was concerned that it would have been pretty visible on the outside. So, this time around I chose to serge the shoulder seams and the side seams separately and to sew them together with a regular straight stitch on my sewing machine. The lantern sleeve itself is designed to be sewn with a French Seam, simply to give it some extra poof. The rest of the blouse is beautifully designed to hide all raw edges. The slit along the lower sleeve is folded double towards the inside and topstitched down, the neckline is finished with a facing and the cuffs hide all raw edges, too. Thanks to my spool case from Mettler, I was able to match this rather unique brown-grey-beige colour rather well!
Even though this cotton sateen is slightly heavy, it has a big advantage: It's so easy to work with! Every edge is folded sharply (partly because Gabriela's instructions include adding a basting stitch along every edge that's going to be folded and topstitched later on) and with the help of my edge stitching foot every seam looks just as it should. I even remembered to add a label from Kylie and the Machine (from Hello Heidi Fabrics) to my blouse!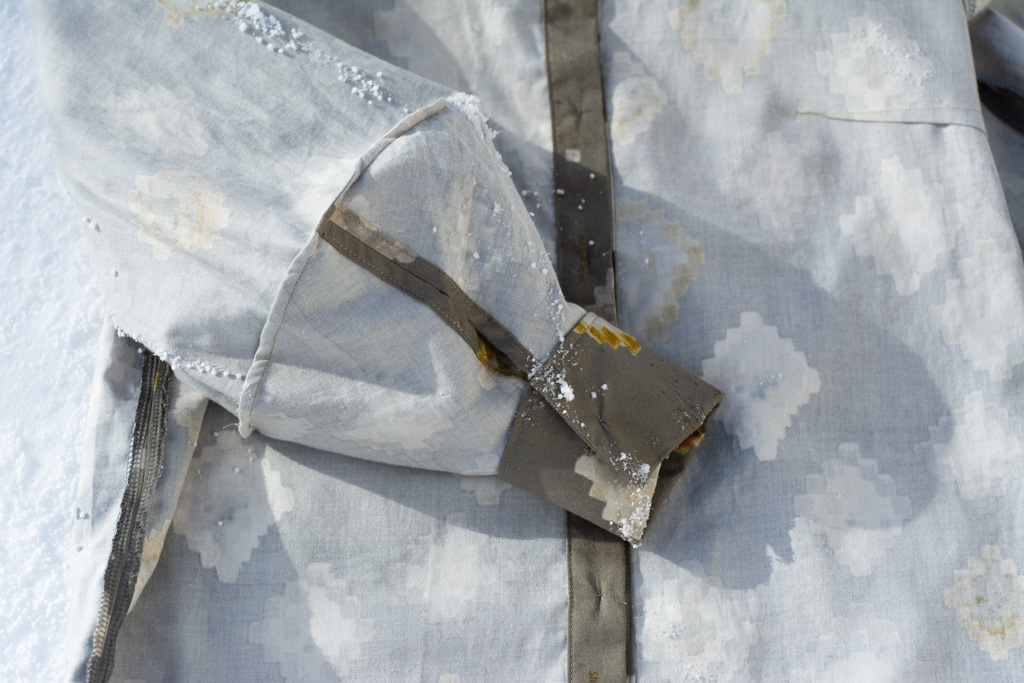 So – the pattern is great, the finish is great, my sewing is tidy and (more or less) perfect – but there is one slight "but": I do like the design of the fabric, but do I actually like the colour and the design on myself? It's not my usual colour and I am afraid it might wash me out a bit. And I am usually going for smaller and more organic prints, so the print isn't something you find in my closet very often, either. I think wearing this with a rather huge baby bump doesn't help, either – it's not a typical blouse that works for pregnancy. So I think I will put this blouse aside until July, when the baby is here, and try it on again – maybe sun-kissed skin and no bump will make all the difference!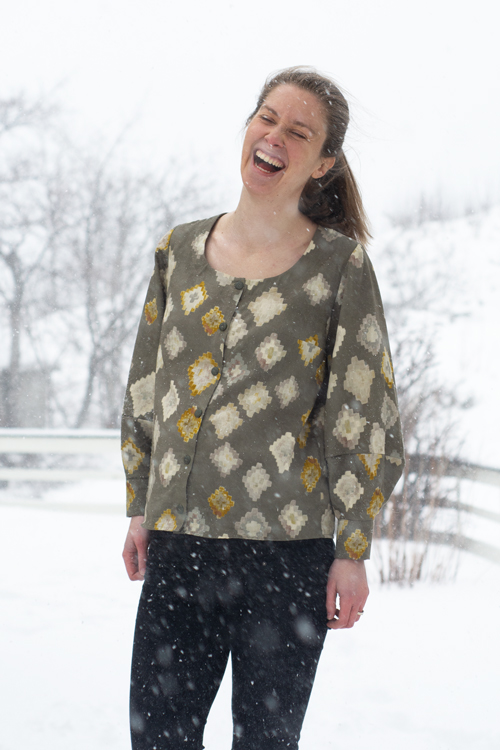 And I can't wait to make another version of the Wren, using a slightly softer fabric with less print! You can read more about the Wren here, see tester photos over here and get tips for your choice of fabric and adjustments here and here.
– The pattern was given to me for free for testing, not for writing a blog post. The thread is from Mettler and was given to me for reviewing purposes. –