It seems like I only get to blog once a month these days, and I guess that's okay. Life is busy right now and sewing and blogging has always been my creative outlet whenever I had the time. It's supposed to be positive and fun, and I never wanted it to add stress to my life. So even if I miss sewing, I try to focus on our child, our home, our relationship and my work, which seems to be more than enough right now.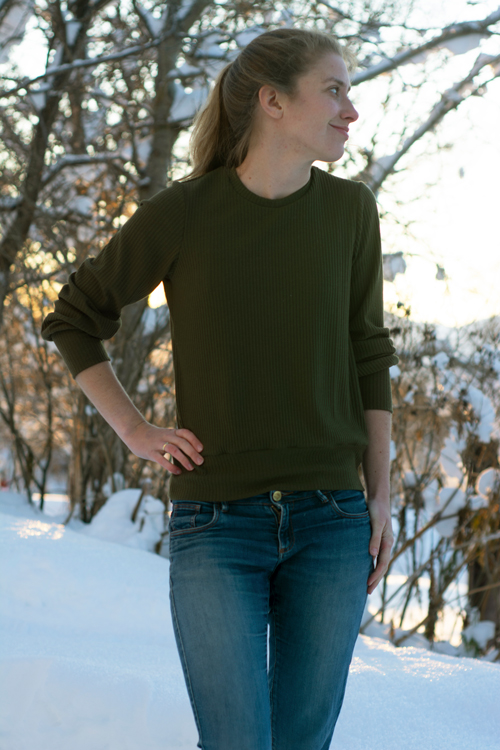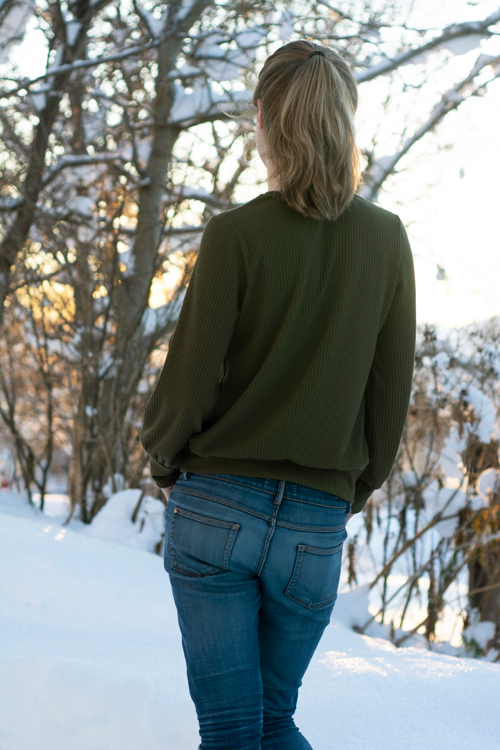 Hoewever, sometimes I can spare a litte time, and even fewer times that time coincides with a pattern test. I was thrilled when Adrianna sent the tester e-mail for the Sheridan Sweater. It's such a quick make and we were allowed a lot of time to test, so I gladly agreed to test it.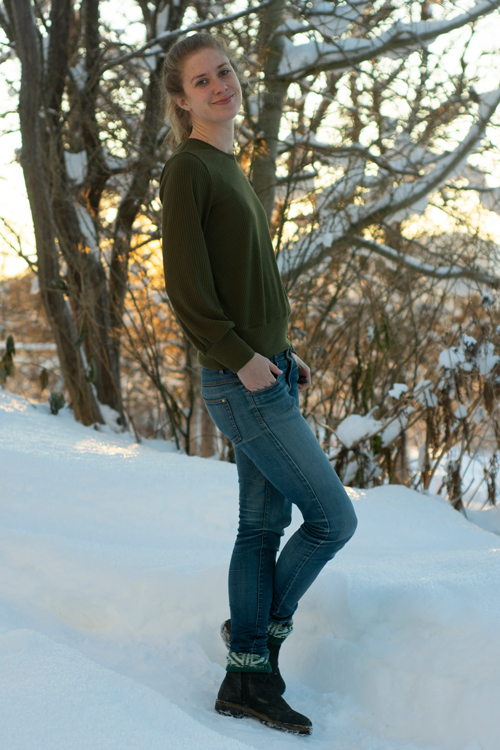 The Sheridan Sweater is a short banded sweater with wide sleeves. The sleeves can be left as bell sleeves, or they can be sewn as bishop sleeves with cuffs or inserted elastic. There are two different necklines, too: one regular crew neckline, and one higher neckline, similar to a wide mock turtleneck. And last but not least, there's a cropped length and a regular length, finished with a regular hem or a band.
I decided on sewing a regular length sweater with a crew neck and cuffed sleeves, using this rib knit from my local store Stofflykke. It's a cotton/viscose blend with good stretch and recovery and some drape. Not super drapey, but it's working well for this sweater.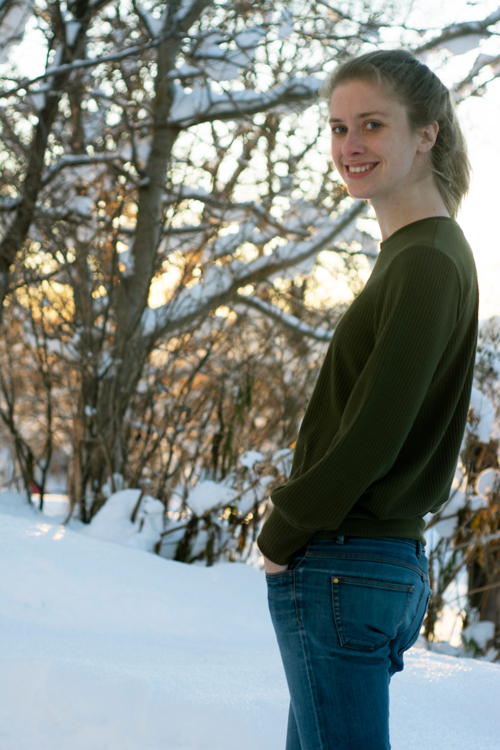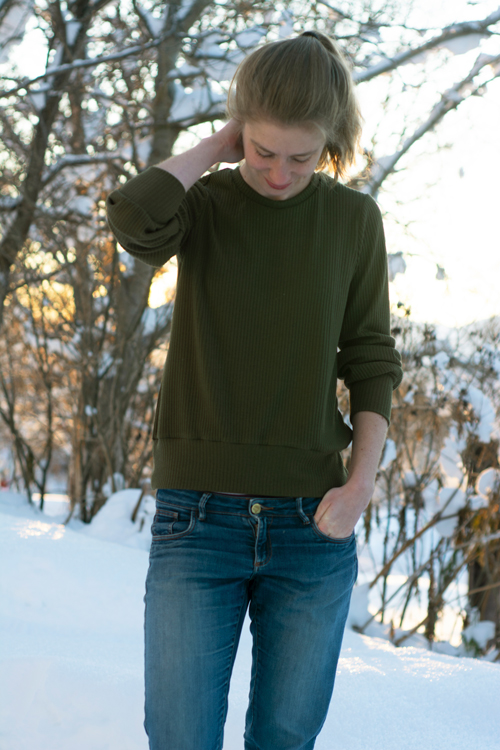 I sewed the sweater entirely with my serger – not counting basting the sleeves to gather  them before adding the cuffs. It's a quick and simple project, but I still managed to make a crucial mistake: Since the front neckline is rather high, I ended up sewing the seam of the neckband to the middle front of my sweater, instead of the middle back! Of course, I only realized this after serging the neckband to the sweater. I am usually a very particular sewist and I can't just leave mistakes like this. But this time around I caved and just left it. The structure of the rib knit makes it close to impossible to see the mistake, so for once (and only this time!) I will leave it like this.
Keep in mind that this is the first tester version, and there have been minor changes, making the sweater even better. Adrianna tightened the cuffs and the band a little and widened the sleeves. That way the blouson effect of the sweater is even more pronounced. And that's exactly what I love about this design! I have a fabulous wool interlock at home, and I might just sew another Sheridan, using the final pattern.
You all know that I think Adrianna is one of the best indie designers out there, and I completely trust her drafting and her thorough process before releasing a pattern. And you won't find many patterns out there with such detailed instructions, either! This is probably fan girl talk, but it's true, I promise!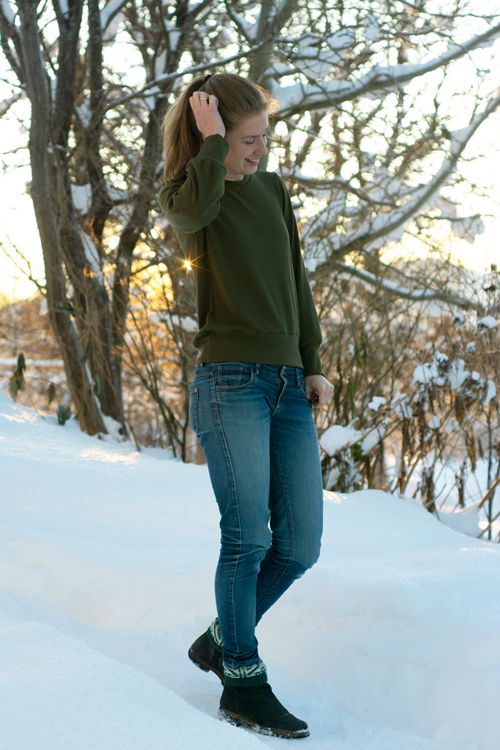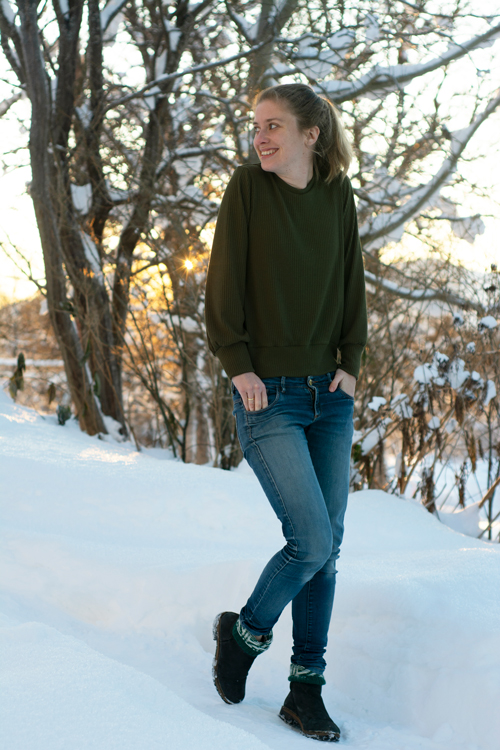 I will try to get one more blog post out before Christmas, but until then – have a wonderful advent and take care of each other.