Some weeks ago I saw a photo of a pair of pants on instagram, and I thought they looked really cool. They had been made by Yuki from Waffle Patterns, and to my surprise Yuki contacted me, telling me she was making a pattern for these pants and asked me to test. I didn't have to think twice!
The Pinda Pants are slim, tapered pants with  a mid rise waist and a fly front. The special thing about the Pinda Pants is that they have darts at the lower part of the pants leg, from the ankle and up to the knee, both on the front and back. The other special feature of the Pinda Pants are the distinctive pockets. I chose the patch pockets with zippers and pleated back pockets.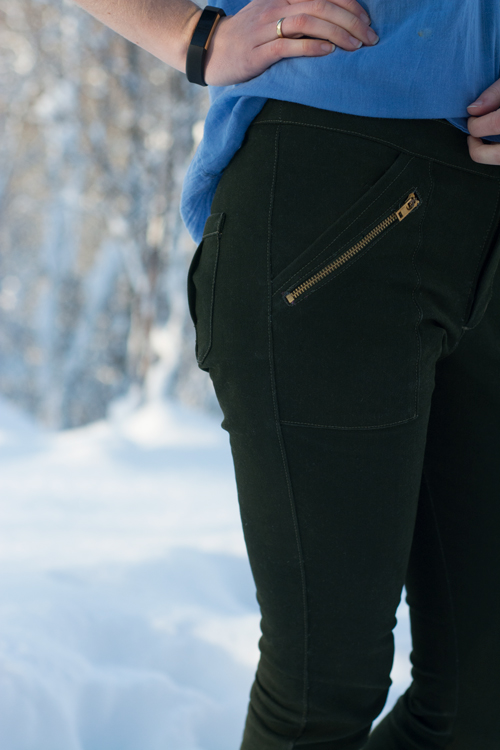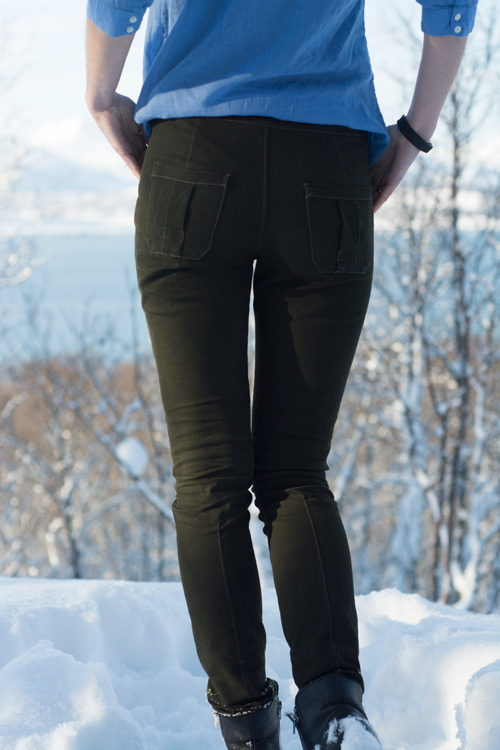 Other pocket options are plain slanted pockets, slanted pockets with fake pocket flaps, a thigh pocket and plain patch pockets at the back. Oh, and the pattern includes belt loops, too, although I opted not to add belt loops to this particular pair of pants. So there are plenty of possibilities to mix and match here!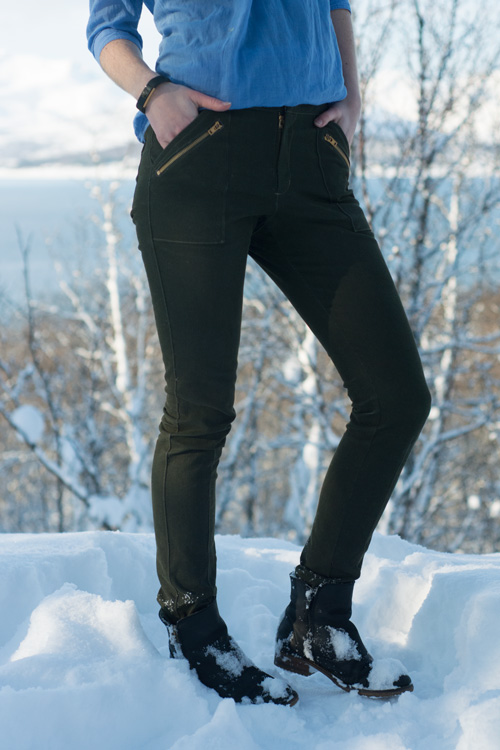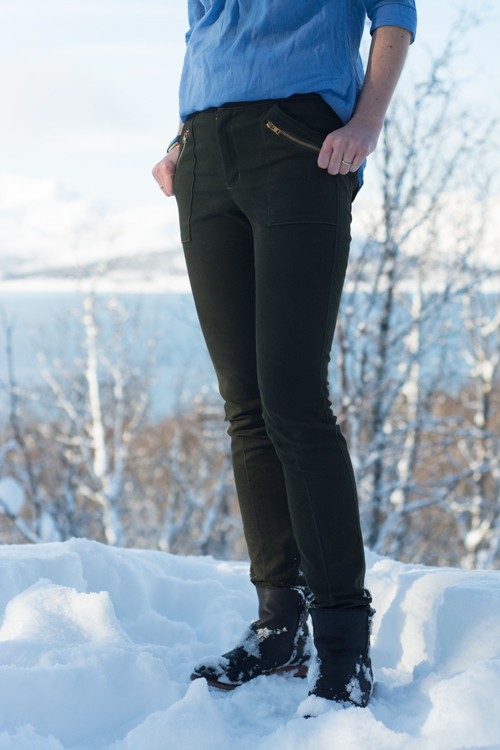 The Pinda Pants are designed for ankle length, but I lengthened my pants slightly, since I have to wear socks most of the time and short pants and socks just don't go together, at least when wearing sneakers.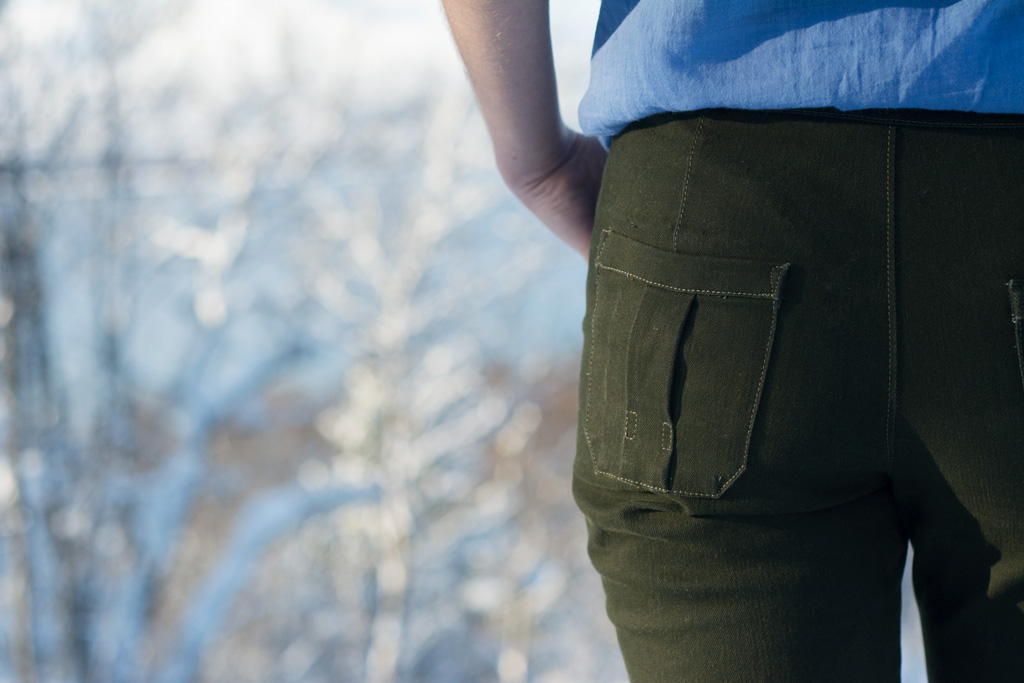 The Pinda Pants are designed to be sewn with denim or twill fabrics with stretch. When I saw this dark green stretch denim from Fabric Godmother, I instantly knew that this was the perfect fabric for this kind of pants, and that I needed to find golden zippers for the pockets. The stretch denim is pretty heavy weight and doesn't have too much stretch. It still works, since the Pinda Pants aren't that tight fitting, but I think a little more stretch would have been good to have. I needed to widen the calfs of my pants by about 1 cm to be able to wear them. Luckily I had basted the side seams together prior to sewing and topstitching the seams, so widening was an easy adjustment.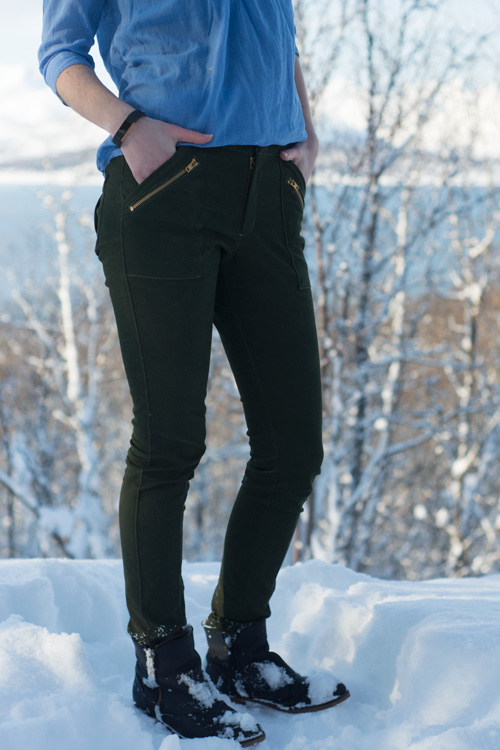 Yuki's instructions and illustrations are easy to follow and I didn't have any issues putting the pants together. Since this was a pattern test I didn't make any changes other then widening and lengthening the legs, and I think I achieved a pretty decent fit. I think I personally prefer the back pockets to sit a little higher, but the pockets look like this on Yuki's sample pieces, too, so I guess that's how they're supposed to look. I think having the pockets at this height makes my behind look a little flat? I might just sew the pockets a little bit higher on my next pair of Pinda Pants, or maybe I should remove 1/2″ or so from the heights of the pockets?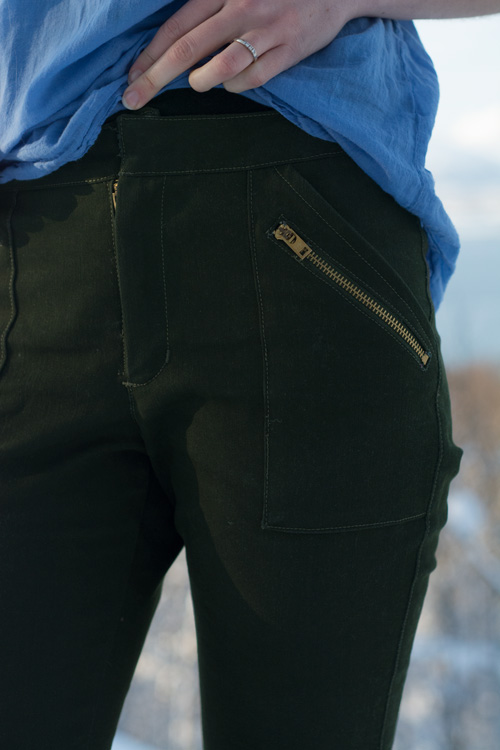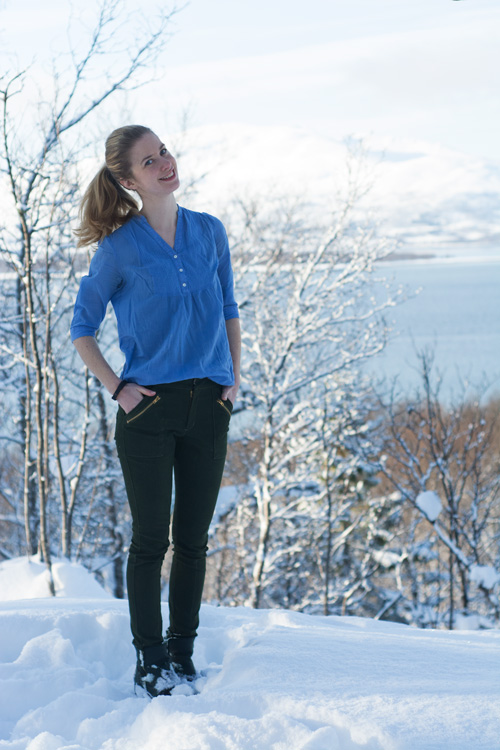 Anyway, I'm really happy with this cool pair of pants, and I already got several compliments while wearing these! I really want to make another pair in stretch twill, maybe in some kind of natural colour, adding these really cool pocket flaps to the slanted pockets.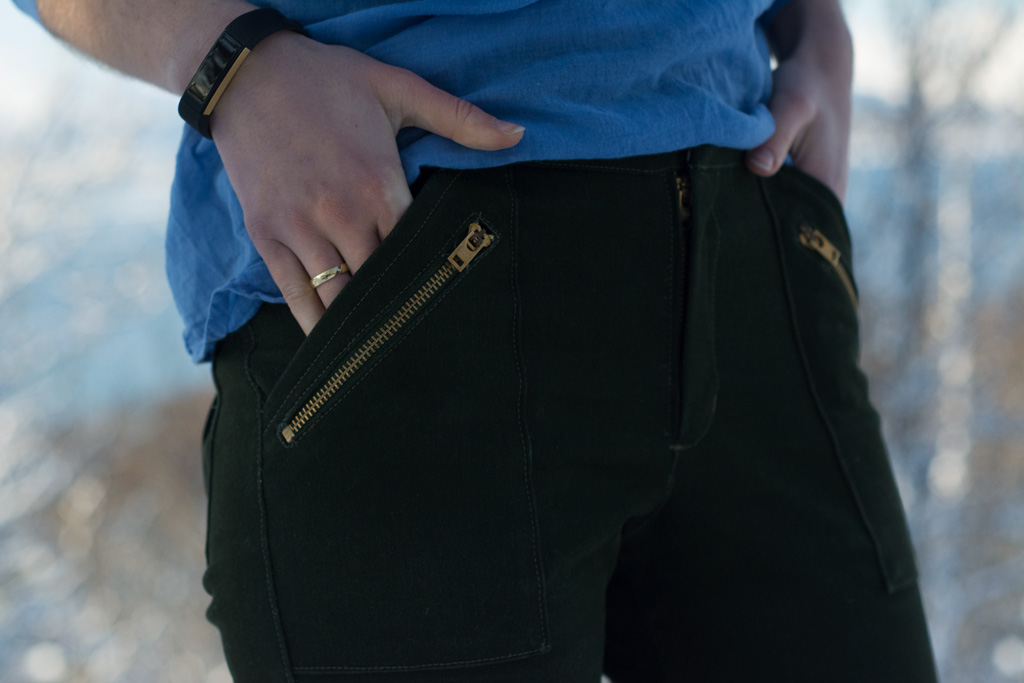 You can buy your copy of the Pinda Pants here, both the pdf pattern and the paper pattern are on sale for ten more days.