When Kennis from Itch to Stitch decided to translate the Lisbon Cardigan pattern to German and Annika from Näh-Connection decided to sell it in her shop, I was super happy – finally a reason to make a second Lisbon Cardigan! You might remember my first Lisbon Cardigan, made while testing the pattern. I wear the cardigan a lot and I promised myself to make many more Lisbon Cardigans, since they are sewn pretty quickly.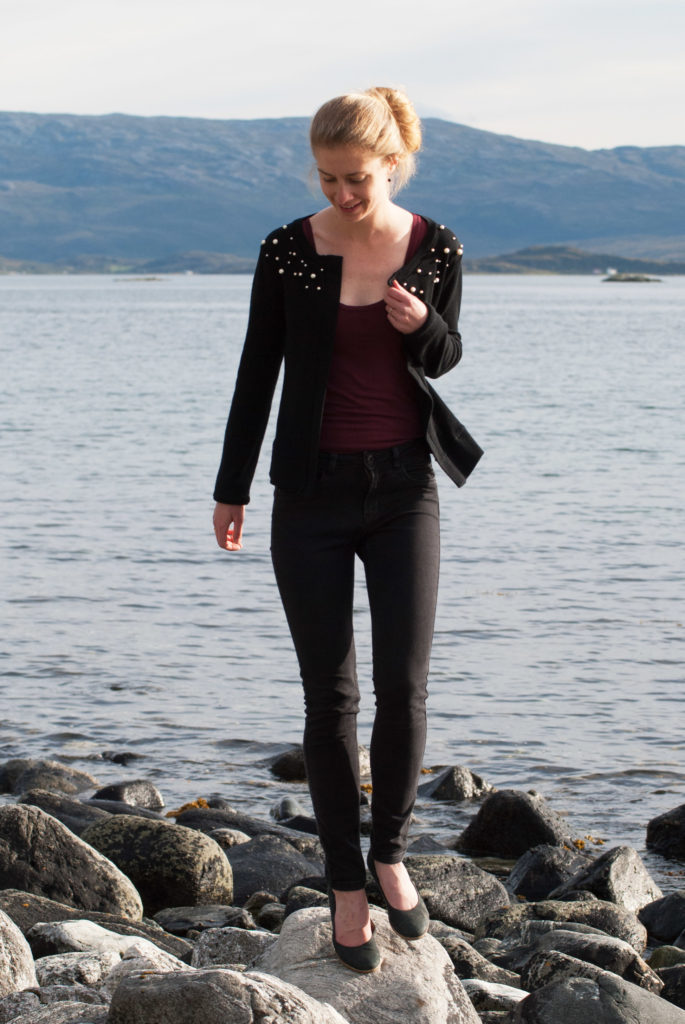 As always, things have been very busy, both sewing-wise and work-wise. Things are incredibly busy now, too, but I figured it wouldn't be a problem sewing a quick Lisbon Cardigan – and obviously embroidering it with pearls, since that' s not time-consuming at all (*insert irony here*)… I just got this idea of a black merino wool cardigan with ivory pearls around the shoulders and I wasn't able to let the idea go, or at least postpone it.
The cardigan itself was sewn within one afternoon. I knew that I liked the fit of the cardigan, but this time I decided to make the regular length, not the cropped length, as last time. The length turned out great, but now I would like to have a cropped version with pearls, too! I think that cropped cardigans are so much better for wearing them together with dresses and skirts, while regular length cardigans work better for pants. And this dressed-up cardigan would be perfect for wearing it over a pretty dress!
The only thing I should have changed is the sleeve length: I totally forgot that my printed pattern is the first tester version and that Kennis shortened the sleeves before releasing the pattern – they were so long! But instead of shortening the sleeves, I lengthened them, since I'm used to ending up with too short sleeves. The result are super long sleeves and I'm considering taking off the cuffs and to shorten the sleeves by 1.5″ or 2″. It's luckily an easy fix!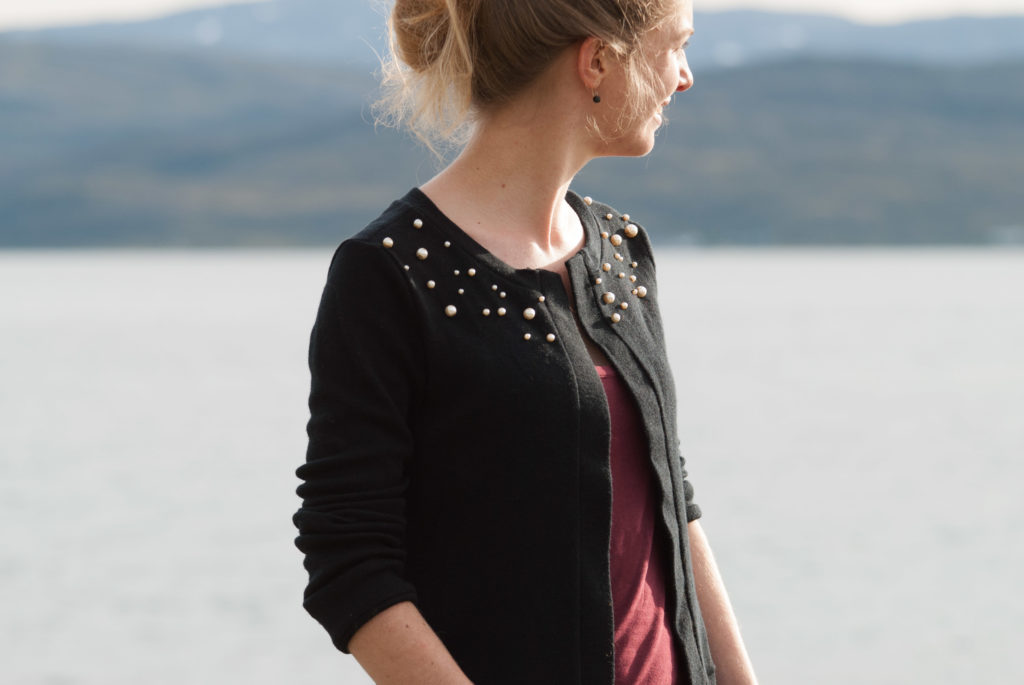 I used black merino wool for the cardigan, which I bought last spring at Hjartesaum. I just know that the wool is going to keep me warm and comfortable during the cold days ahead of us. I wanted to use real pearls for the embroidery, but I didn't find the right mixture of pearls within this short amount of time. I wanted to buy a selection of round ivory-coloured pearls in various sizes with drilled holes – they are harder to get than you imagine if you just have a couple of days.
Sewing by hand is not my forte, either, so I thought that it would be wise to use something cheaper at first. Maybe all the pearls are going to fall off in the washing machine! That's why I went for Czech glass pearls this time around, although I'd love to use real pearls in the future.
I fastened the pearls in a random order, just checking that the pearl density on both sides of the cardigan was about the same. I also made sure to pierce through the fabric right beside the pearls and not right under each pearl – the pearls can't move at all when sewn to the cardigan like that.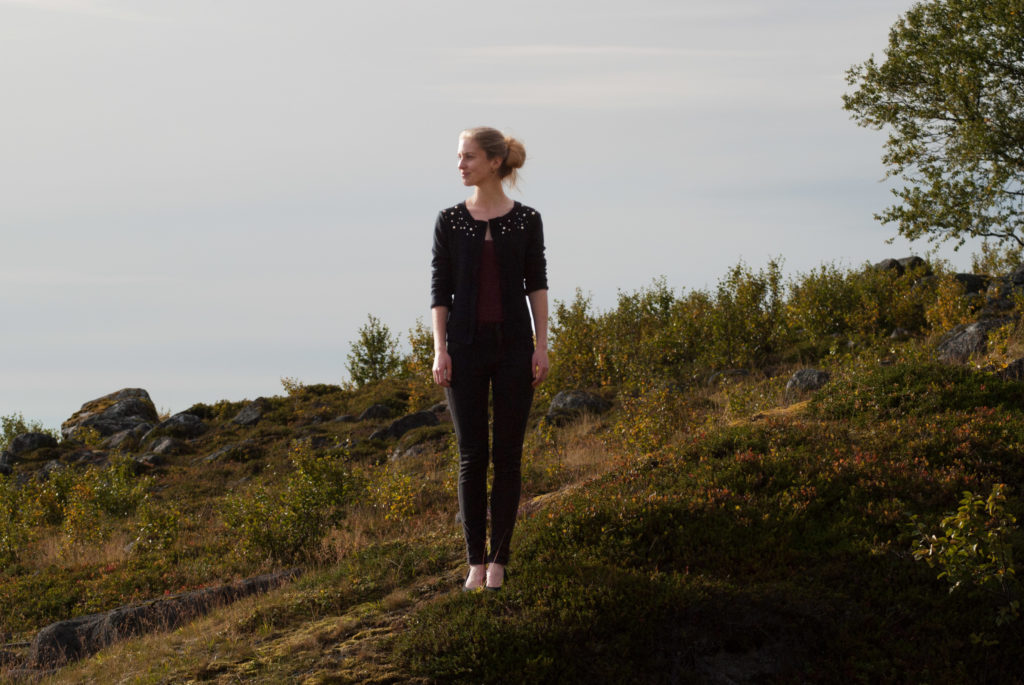 I nearly forgot one thing: I didn't make any buttonholes, as you can see. I just thought that the pearls deserved all the attention and that black buttons and button holes would distract from the pearls and the otherwise simple cardigan. I don't close my cardigans that often after all.
Oh, and the unexpected visitor, of course!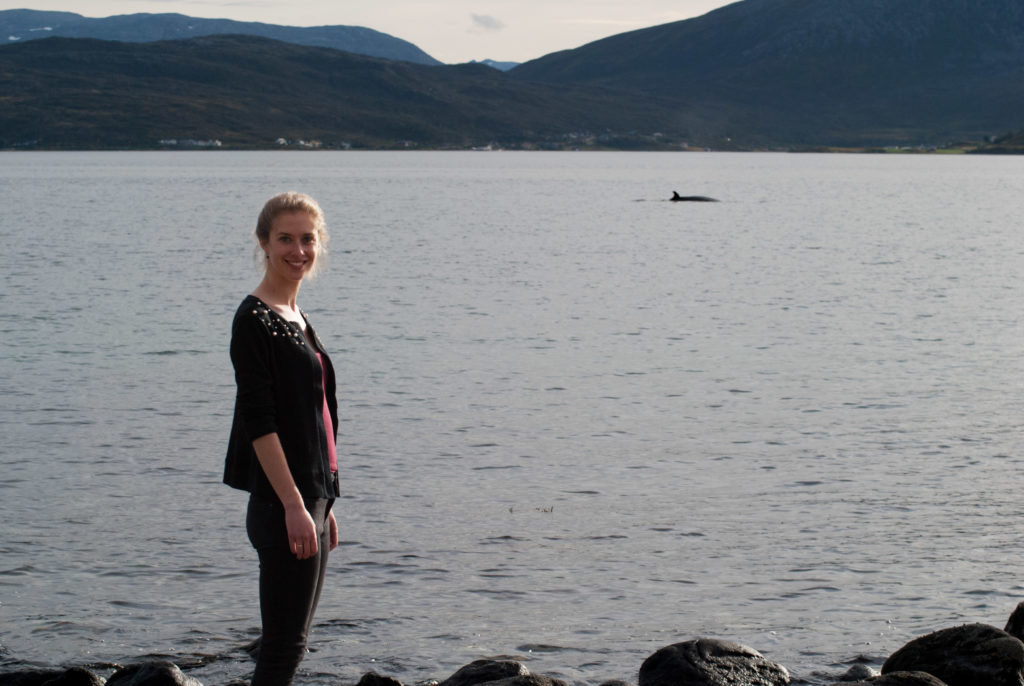 Do you see what's behind me on this photo? Yes, you're right, a whale! We took these pics at the island Ringvassøy, just north west of Tromsø. We drove there for a mountain hike and stopped at the sea on our way back to take these pics. I heard something behind be, some kind of blowing, and after a little while we realized it was a whale!
Whales aren't that unusual in Tromsø, but they're usually here during winter time and often in bigger herds. I have no idea what kind of whale that was, Bettina from Stahlarbeit guessed maybe a pilot whale, and I think that's absolutely possible (Any biologists specializing on whales among my readers?). I've seen whales before, but seeing one so unexpectedly, so close by and to end up with a picture of it really made my day.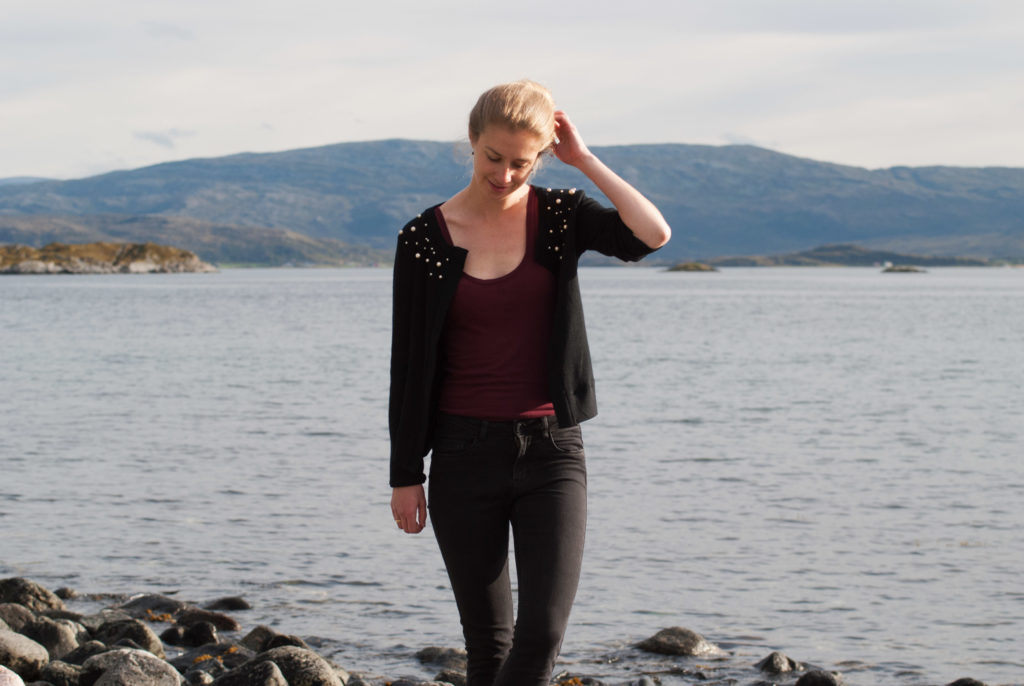 If you'd like to buy your own copy of the Lisbon Cardigan, you can do so: Näh-Connection sells the German version, and it's on sale right now. And for my English-speaking readers: You can buy the English version at the Itch to Stitch shop – where you can get 15% off when buying more than one pattern, since Kennis just released the Bonn shirt – which I'm going to show you in a couple of days!
– This blog post contains affiliate links, but all opinions are, as always, my own. The blog post is linked to the German blogger party RUMS.-