I've recently started to sew samples for the German fabric design label Lila-Lotta. Sandra, the designer behind the brand, is a designer for the German fabric brand Swafing, and one of the most caring and positive persons ever. She and Dagmar from Zwirnguin, who is helping her, put together a team of sewers to sew samples for the fabric lookbooks and other promotional materials. What I find really special is that Sandra doesn't just send us a few metres of fabric and asks us to sew something of it – no, she sends us huge surprise packages that consider the personal style of every one of us. And the packages are packed with so much love, and filled with twill tape, post cards, pearls from P. cookery, wrapping paper and so much more. We even got a huge Christmas present, filled with useful things from Prym – like a mini iron, scissors, a magnetic holder for pins and much more. Prym deserves a big thank you for cooperation with Sandra! We LOVED our Christmas presents!
You see – being in the Lila-Lotta team is something quite special. Some of us got some fabrics from Sandra's new spring collection, "On The Open Sea", which is available now. There are two lookbooks, full of lovely examples. There are waves, sea gulls, lighthouses, fish, whales and so much more connected to the sea. I have to say that I adore the whale story print!
I chose to make a Sugar Pop Top by Sew Caroline for the look book. Caroline was kind enough to send me a copy of her pattern a while back, so it was about time to give it a try!
I chose to use a flowy pink woven viscose fabric with tiny blue jellyfish for this top, adding a dark blue collar. "Bright pink" and "jellyfish fabric" doesn't really sound like me, but I love how being in the Lila-Lotta team makes me stretch myself a little more, stylewise. Why not try to use a few brighter colours from time to time, and why not experimenting with some more unusual prints?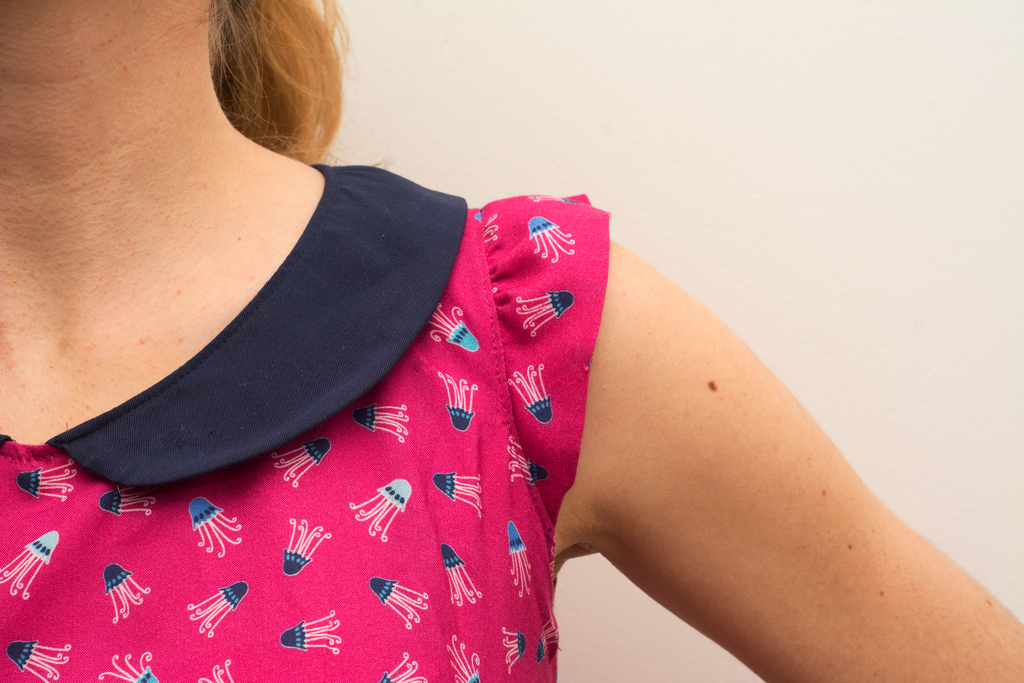 I'm always reaching for birds and flowers, printwise, but these tiny jellyfish are really fun, and I do think that this top can be used for a lot of occasions, especially when combined with more basic, darker and "boring" clothes. Let's not take ourselves so serious all the time! The viscose from Swafing is really light and flowy, it feels great on the skin and has a lovely drape. Perfect for blouses, scarfs and flowy summer dresses.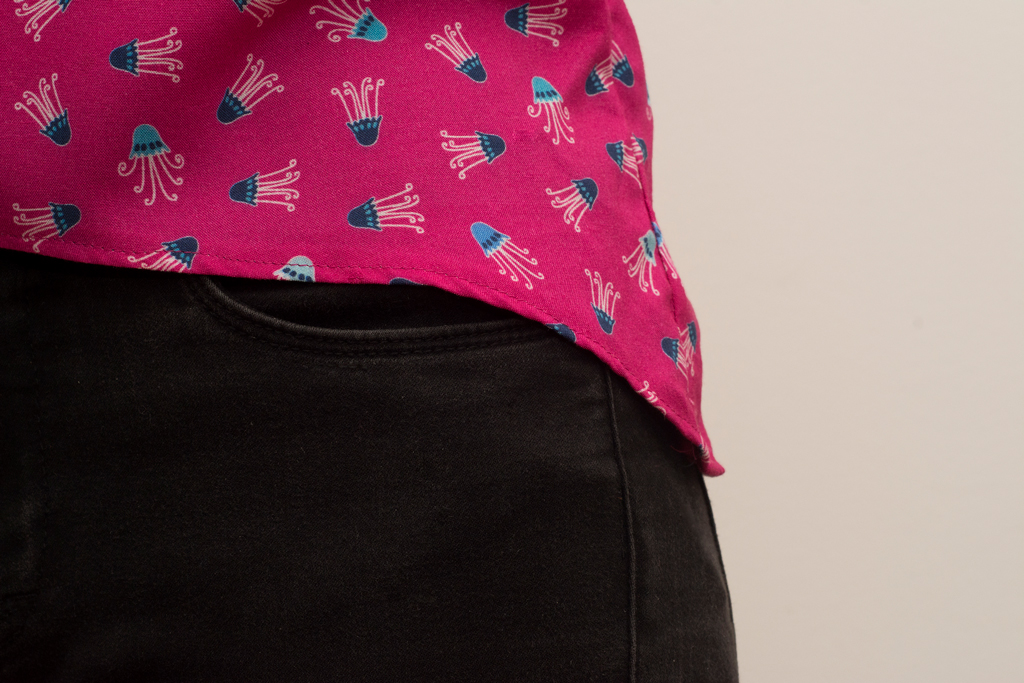 Unfortunately I did have some trouble with the Sugar Pop Top. I don't know if it was me or the pattern, but I had issues sewing the collar and I had to move the bust darts quite a lot. I really wanted to try sewing the top one more time using really stable fabric, to see if that makes things easier, but I didn't find the time. All in all I'm quite happy with the result!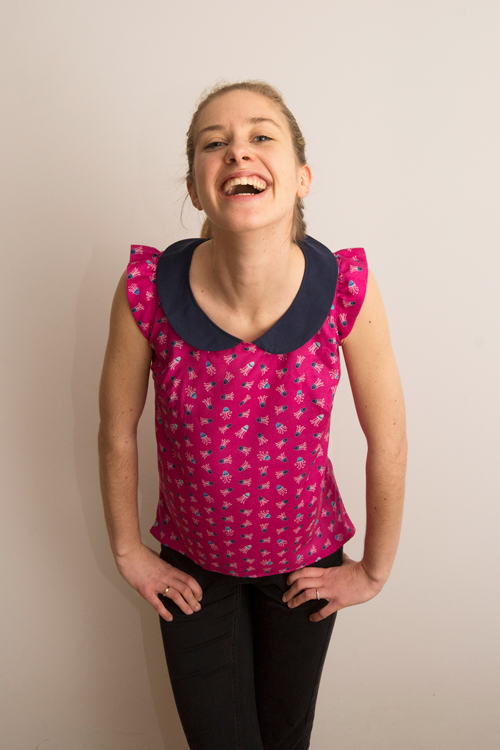 You might have wondered why I haven't taken my usual outdoor pics when photographing this top. Well, the pics were due at the darkest time of the year, where we don't have any sun for two months, and right before Christmas it doesn't even get light outside. So indoor pics were in order, and boy did I feel uncomfortable! Taking indoor pics is so much harder! I feel instantly awkward when standing in front of a white wall… But I am pretty happy with the result, the pics capture the fun nature of the top.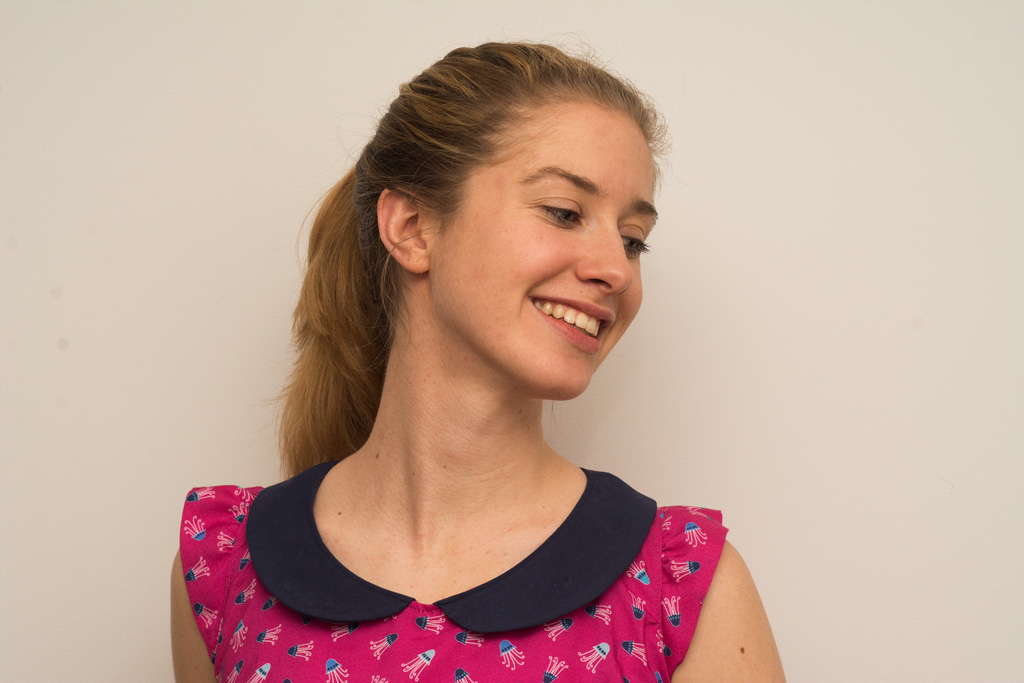 I'll show you another make using the fabric from the On The Open Sea collection in a couple of days!
 – This blog post is linked to the German blogger party RUMS. –