When Kristiann from Victory Patterns asked me to test her latest pattern, the Jackie Dress, I had to decline, although I loved the design. I didn't have the amount of fabric at home, I didn't have the time and I had a very specific idea for this dress: I had to be a floor length velvet dress. Kristiann loved the idea and sent me the pattern after its release, even though I hadn't tested. Thank you, Kristiann!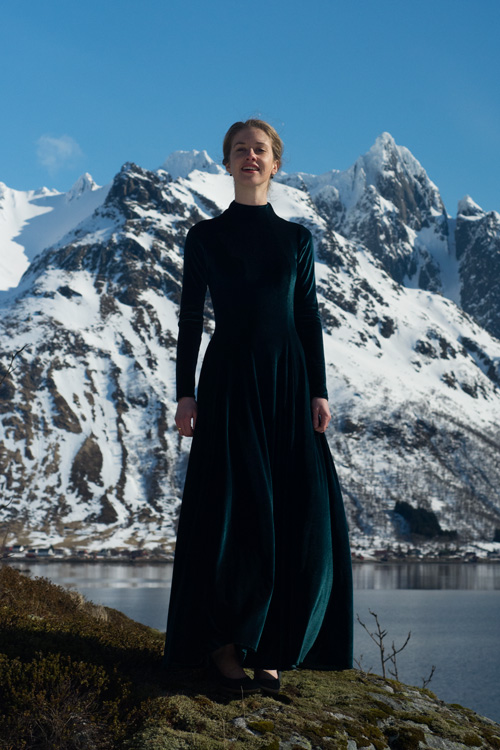 Making the Jackie with Fashion Revolution Week coming up really made me think about how I sew and what I sew. In general I take pride in making garments looking as nice on the inside as they look on the outside, even though it takes time and I have to re-do things. In general I want to make garments I actually wear. I have to admit that Jackie doesn't really check any of these boxes – it was something I just wanted to make, because I loved the idea.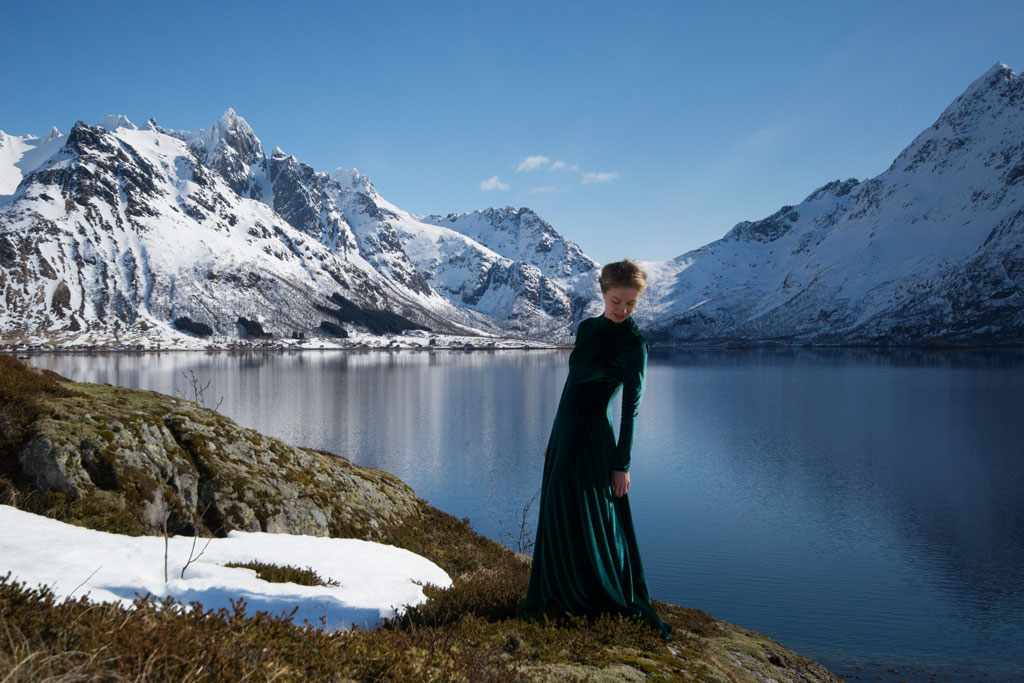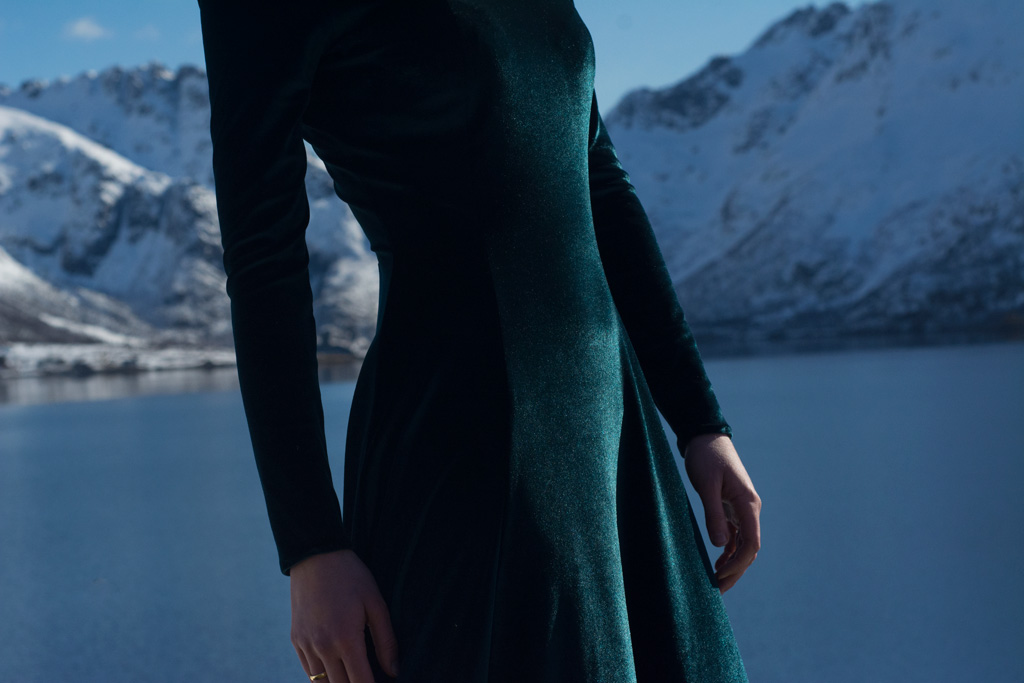 I found the perfect colour of stretch velvet at LA Finch Fabrics – and I had to order more than four yards for this dress! It's possible to find silk, bamboo and cotton velvet out there, but I am not sure how stretchy those are, and especially this amount of silk velvet would have been crazy expensive. The LA Finch Fabrics velvet is a polyester velvet, like most stretch velvets out there, and it feels nice on both sides, it's not too hard to work with and feels good on the skin. I have used three or four poly fabrics lately, something I dislike, but I promise you, all the next garments I have planned are going to be made of cotton and rayon, and I have dismissed quite a few fabrics recently because they were made of poly (like this suede shirting from Style Maker Fabrics that I'd LOVE to make something of!).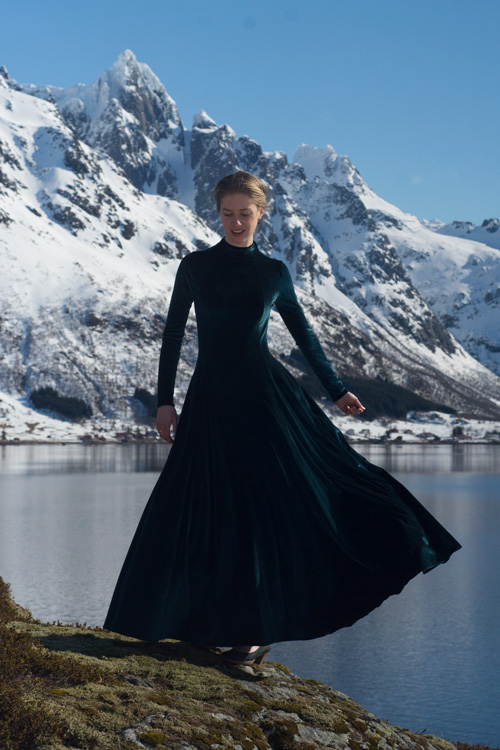 Jackie is a beautiful knit dress with long sleeves (it comes sleeveless, too), a high neck, princess seams and a wide skirt. It's closed by three buttons at the neck and has a little keyhole at the back – the perfect counterweight to a high neckline and long sleeves. The bodice and the skirt consist of six panels, without any waistseam, except for the middle back. The dress comes in two different lengths – knee-length and midi, but as you can see I lengthened it about 20 cm. I love wearing the dress, I love the velvet, I love how the dress skims my hips, I love how the heavy velvet twirls. But to be honest – will I ever wear this dress? Maybe once or twice for Christmas, but that's about it. There aren't too may opportunities to wear a floor length velvet dress, I'm afraid.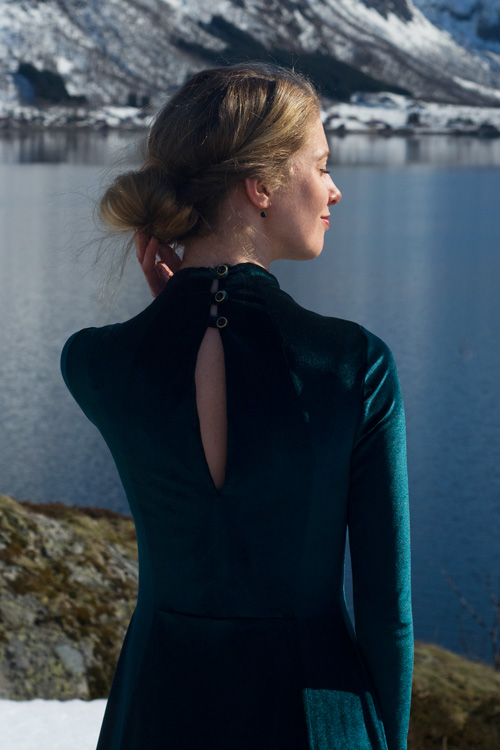 But looking at these pics makes me think that sewing this just for a photo shoot might have been worth it. But then I think about all the fabric I use, about Fashion Revolution and I kind of feel bad about using that much fabric on something that won't be useful. Something I just want. Yes, I don't participate in the fast fashion industry by buying RTW garments, but the amount of fabric I buy exaggerates the amount of garments I'd ever buy. Producing fabrics has an ecological impact, too, and fabric can be produced by underpaid workers, too – although I like to imagine that sewing cheap garments is more likely to be an exploitative industry than weaving fabrics. But still.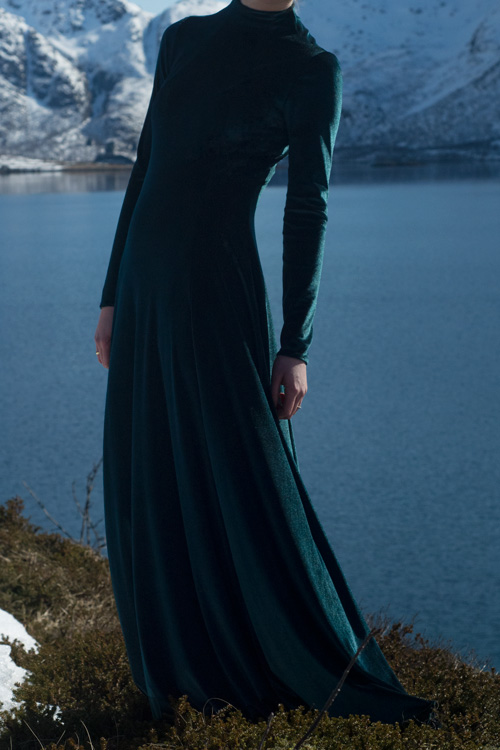 The other thing I feel kind of bad about is the fact that I am not really proud of my sewing. I hurried through sewing this dress, because I really really wanted to take pics of this dress in Lofoten, while visiting my in-laws during Easter. I was so careful while pressing the velvet, but I have a slightly visible pressing mark across the princess seams at the bust, which really annoys me. I also haven't finished the seams on the inside, since my serger isn't working and I didn't have the time to sew a fake overlock stitch after sewing all the panels together. Oh boy, those seams are long!! And on the one hand I think that a stunning dress like this really deserves a beautiful finish from the inside – I should have taken the time to make this dress the most perfect dress ever. On the other hand I think that this is mainly a photo shoot dress, and that it's ok not to have a perfect finish on something that isn't going to be worn that much.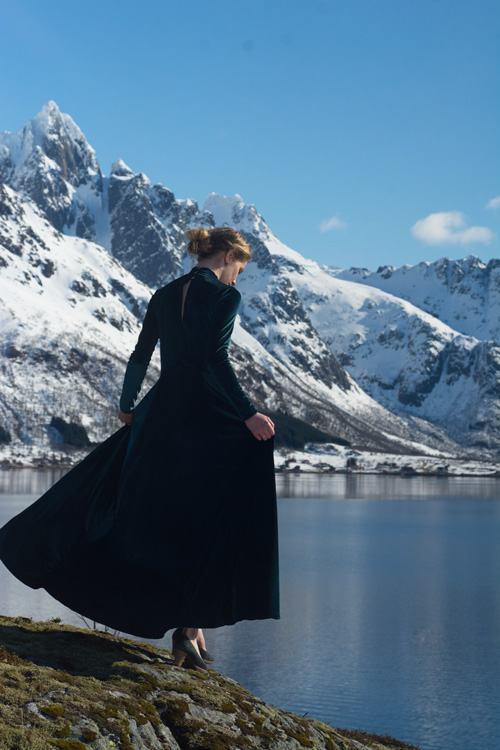 I opted to hem the dress by hand, and it took me forever. The skirt hem is more than four metres long! The original skirt isn't that wide, but when lengthening the dress I added length and width to the skirt instead of lengthening the dress at the lengthen/shorten lines. I just thought that some extra width wouldn't hurt, and I'm happy with that decision. When trying the dress on I realized that I cut it a little too short, so I only turned the hem once and opted for a tiny hem. My handsewing isn't the best, so even though I tried really hard to end up with invisible stitches from the outside, my hand stitching just shows a little, and I would have preferred a wide a luxurious hem for this dress. I give myself a thumb up for hemming the dress by hand, but I'm not too happy with my hand sewing and the tiny hem.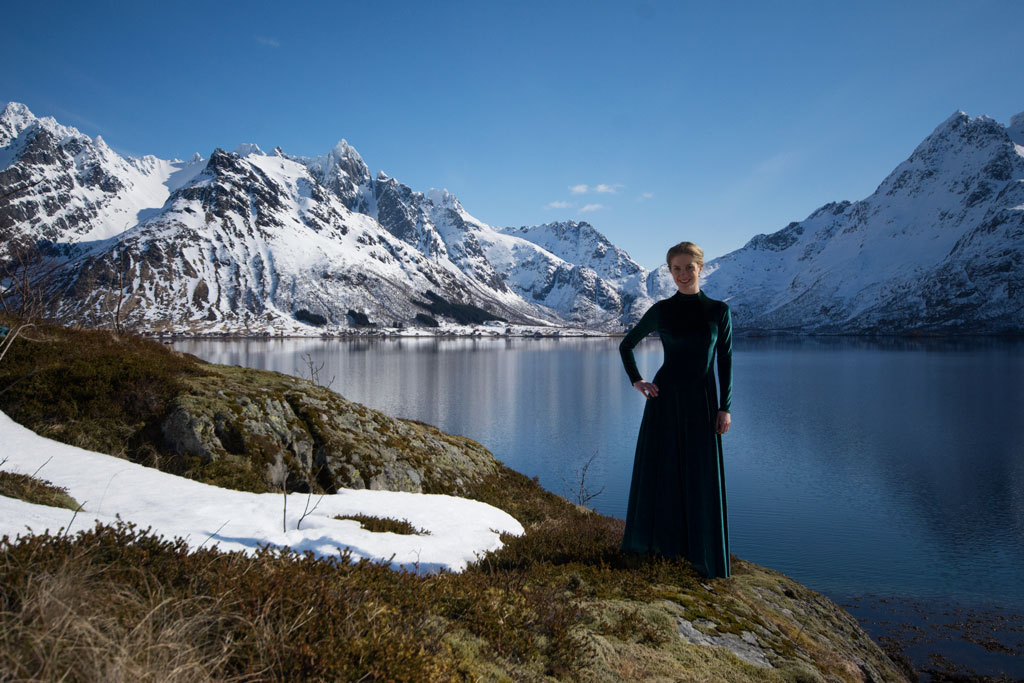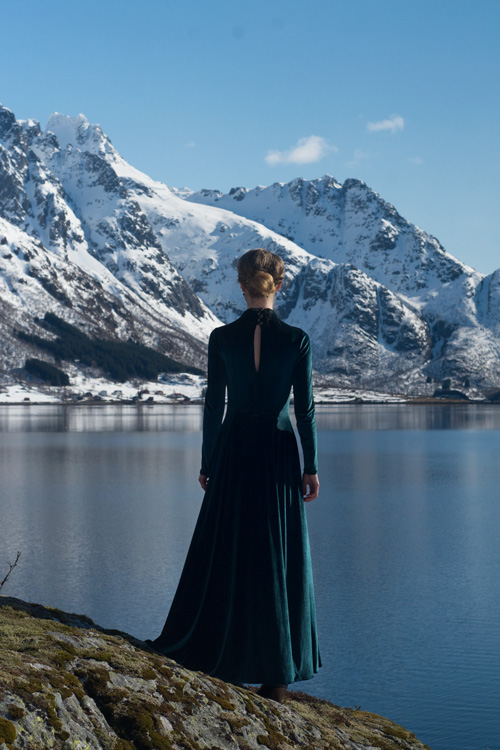 I hemmed the sleeves by hand, too – hemming tight knit sleeves by hand isn't working too well, either – hand stitches just aren't stretchy and I don't like how they restrict the stretch of the fabric while putting the dress on and off. The facing is sewn to the outer fabric by hand, too – and I was really disappointed by the fact that I could see the stitches on the outside. I think it's a combination of sewing with velvet and the fact that the heavy knit fabric pulls down, it just pulls on the stitches, making them more visible. I get some pulling lines at the sides of the back waist seam, too – right there where the velvet isn't held up by the facing anymore. Otherwise I'm pretty happy with the fit of this Jackie dress! I made the smallest size and didn't change anything but the length of the skirt and the width of the sleeves – my upper arms are tiny.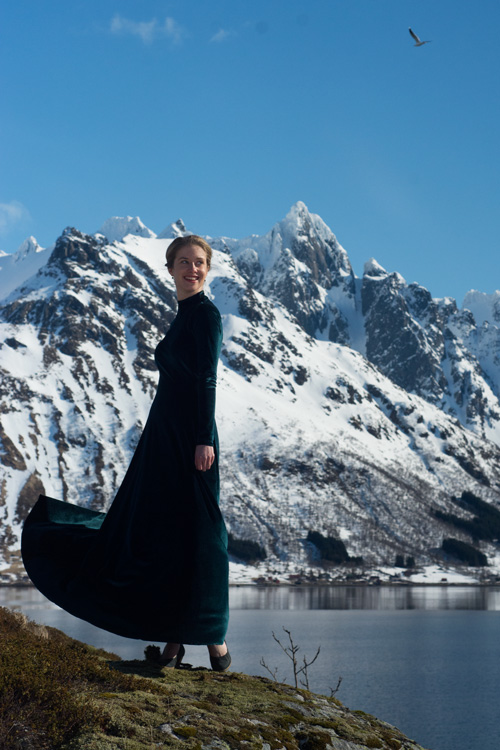 I am aware of the fact that this blog post sounds a little depressing (sorry about that!), but it has nothing to do with the wonderful pattern, and looking at the pics I'm very close to saying that the amount of fabric, the fact that it's poly and my finishing techniques don't matter at all – everything was worth it to get these pics. But I think that I'm at a point where I basically don't need anything more in my closet, apart from a pair of pants or two, underwear and maybe a coat. But I love sewing, I love being a maker, I love taking part in the sewing community, I love trying new patterns. Somehow I think I should slow down, be a little more like for example Sasha from Secondo Piano – sew less, be even more thoughtful about the fabrics I buy and the garments I make. And then I think that this is my hobby, this is what I love doing, and it should be okay to make more than I need, just because I love doing it.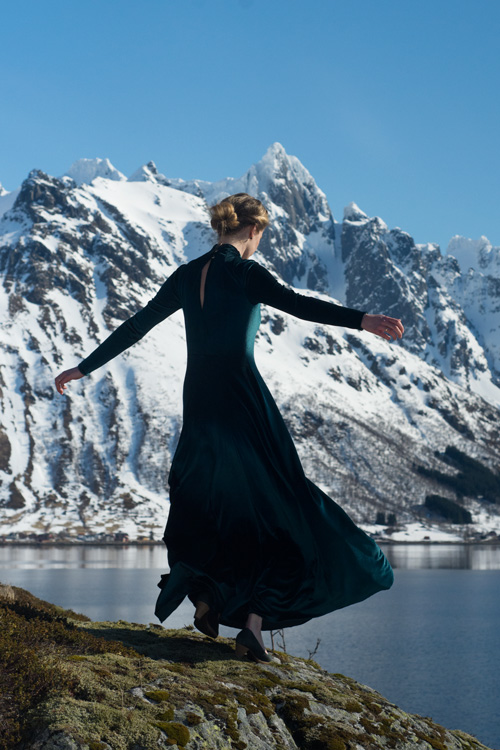 We'll see where this is going to lead in the future – I am a "yes"-person, I love saying yes to testing, to blog tours, to sewing communities, to sample sewing and everything else, so changing my habits may be hard.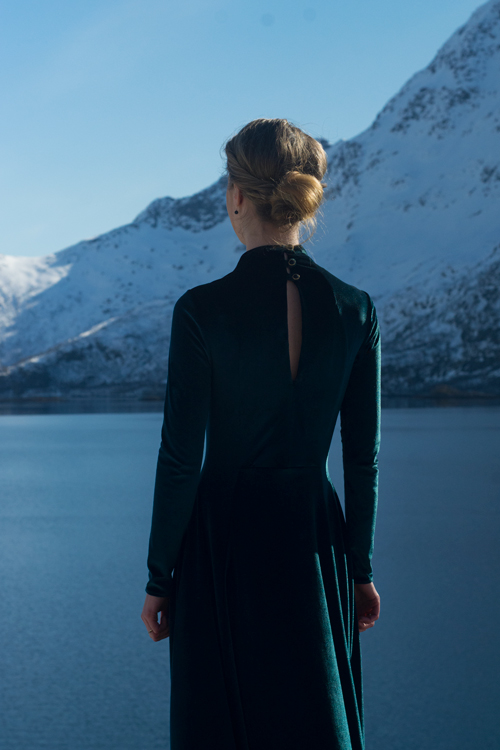 I'd love to hear from you out there who are sewing a lot, too. Have you reached a point where you don't need anything more? Are you conscious about what you are sewing? Do you care about a beautiful finish? Do you take your time while sewing, or are you hurrying to start your next project? Do you participate actively in testing, sample sewing, blog tours and so on, and how does this go along with a "conscious" sewing habit?  Write me here, on Instagram, on facebook or shoot me an email – let's discuss these issues in honour of Fashion Revolution Week 2017!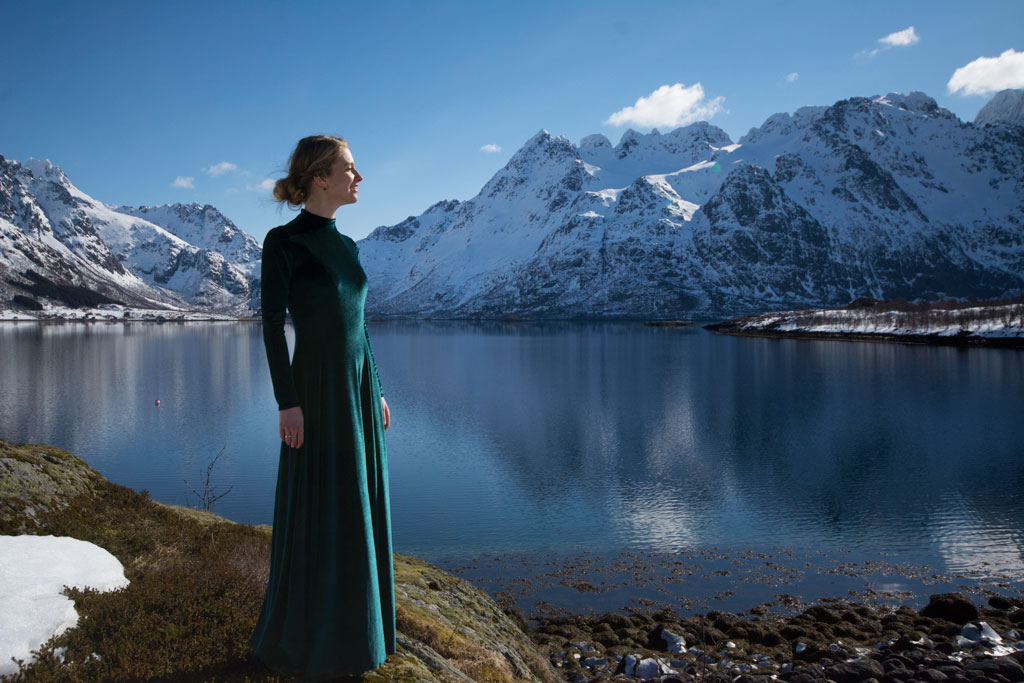 – This blog post is linked to the German blogger party RUMS. –