Two (or actually three!) garments, lots of details, lots of pics and a lot to tell – I can promise you that this isn't going to be my shortest blog post! But hang on there, I have lots of pics for you, and as you told me on instagram: There can't be too many pics! (And that was such a relief to hear! Because I had a really really hard time choosing just a few of the 300 pics I had…)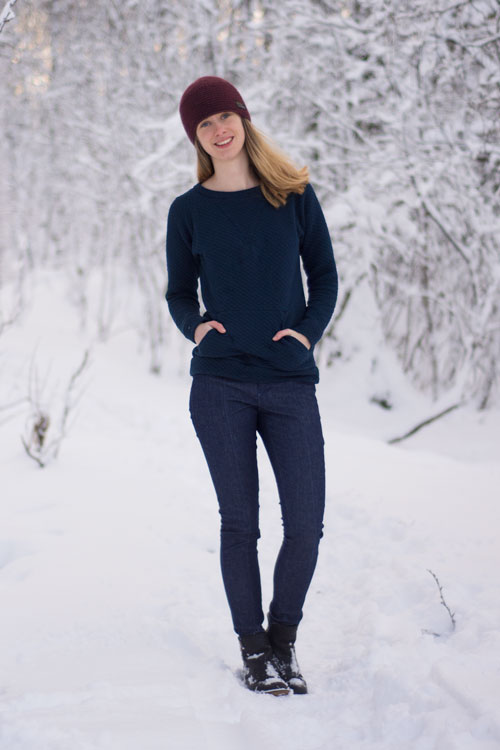 Today I'm showing you my two latest makes – the Jamie Jeans by Named Patterns, and the Geodesic by Blueprints for Sewing. Both makes are a little more complex and there's a lot to say, so I'll just start with the Geodesic Sweater, and talk about my Jamies afterwards.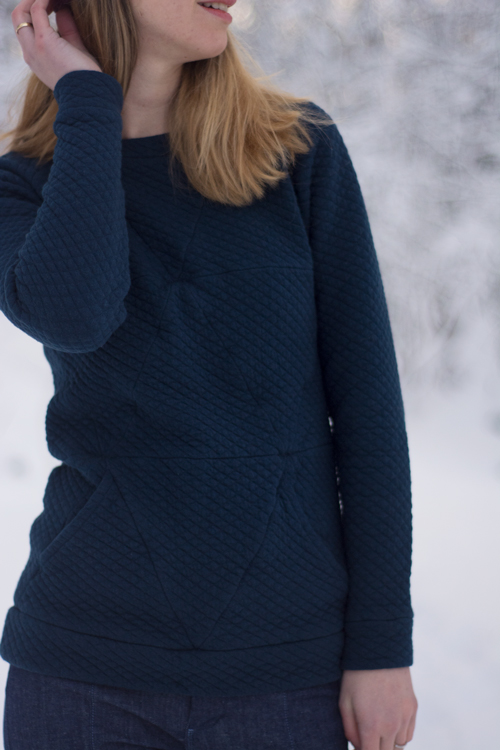 The Geodesic is a sweater that is inspired by the Geodesic Dome, you can read more about it here. But explained shortly, the Geodesic Dome is a round dome structure created by triangle shapes – it's extremely light and durable. Since the Geodesic is constructed by using triangle shapes, it's not that much of a stretch to see where the inspiration comes from.
The Geodesic comes in two lengths: cropped and low hip length, the latter one comes with fun pockets, added on top of the lowest row of triangles. Although the Geodesic is a pretty basic sweater, it's not a super quick make, since the front and back are put together of full and half triangles. Adjusting the Geodesic isn't that easy, either, since the triangles aren't that easy to alter. Lengthening and shortening is made by lengthening or shortening the bottom band, for example.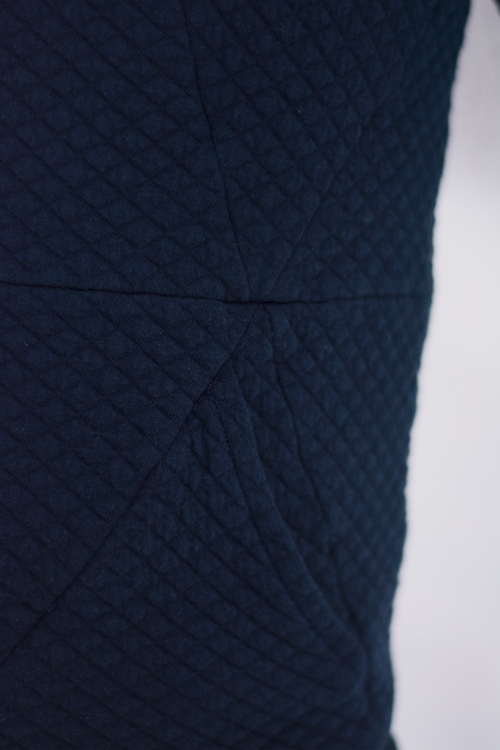 I used an ecological certified quilted cotton jersey from Lillestoff for this sweater. Somehow I found it intriguing using a fabric with geometric shapes to make a sweater pieced together of geometric shapes. I got the fabric a while back from Eulenmeisterei in Germany.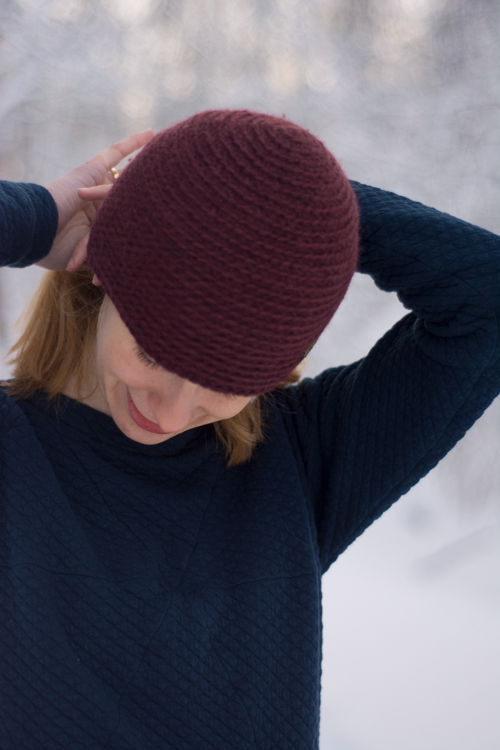 I really wanted to make the Geodesic the minute I saw it, but to my surprise I actually didn't enjoy the sewing process that much. Clipping so many triangles wasn't that fun, and piecing them together wasn't, either. And I know that most people who made the Geodesic loved piecing it together! So I guess it's established that I am really not a quilter. I enjoy taking one step at a time, moving on to the next sewing step. Not doing the same step over and over.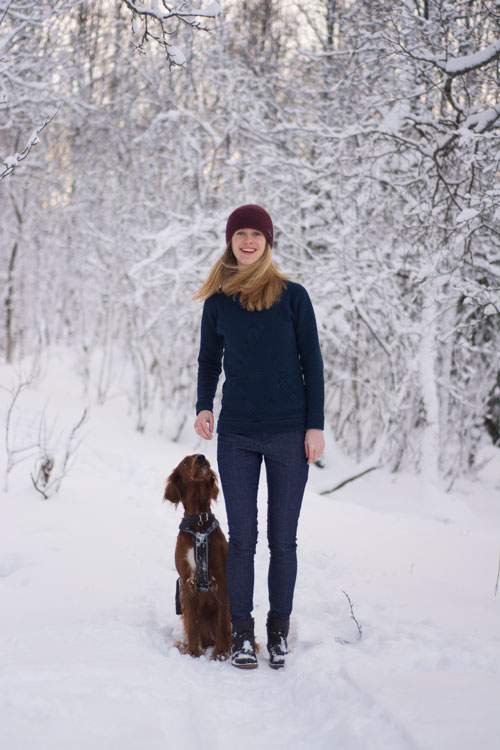 Additionally I think that my fabric wasn't the easiest choice, either, since I had to take care that both the diamond shapes and the grain line of the fabric was just right, and the edges of this quilted double knit fringed quite a bit. The sweater is sewn with just 1/4″ seam allowance, and everything really needs to line up perfectly to look good.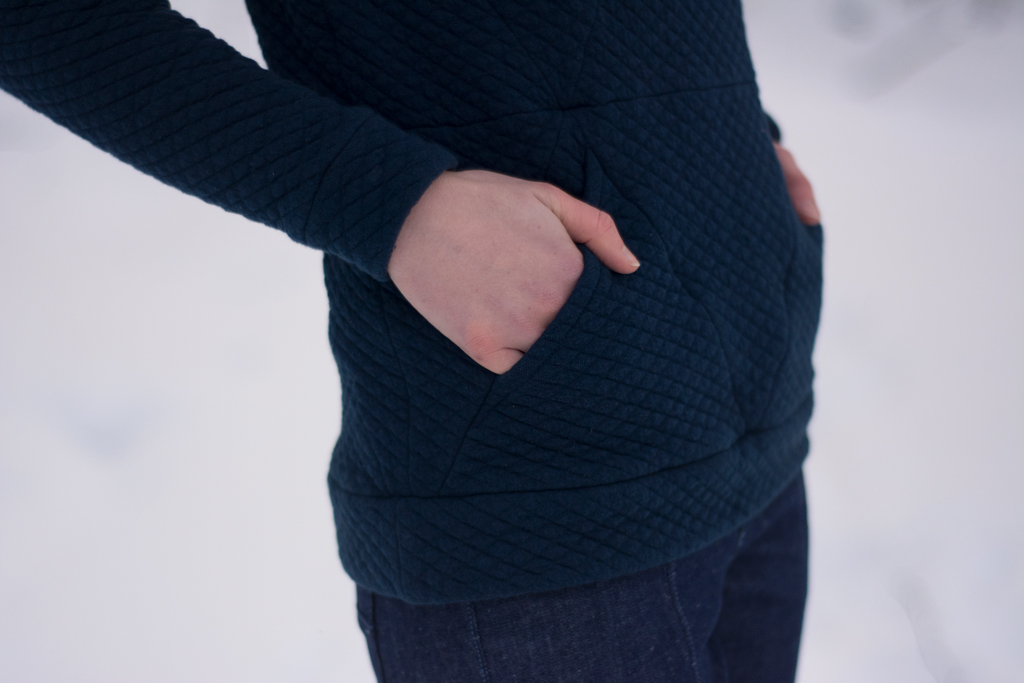 I basted every seam before sewing it with a stretch stitch, and I think that's really a good piece of advice for anyone of you wanting to make a Geodesic. I still had some troubles with the corners where all the triangles meet, I got a little "bulk" at some points, you can see it on some of the pics. It's not bad, but still visible. Had I used a different fabric and had I had a bigger seam allowance, I might have tried clipping the corners right to the seam to get everything to lie flat. But having a dark blue fringing fabric with a dark blue seam and a tiny seam allowance made clipping into the edges a bit of a risk – especially since you're not able to just take the seam in a little more to disguise the mistake.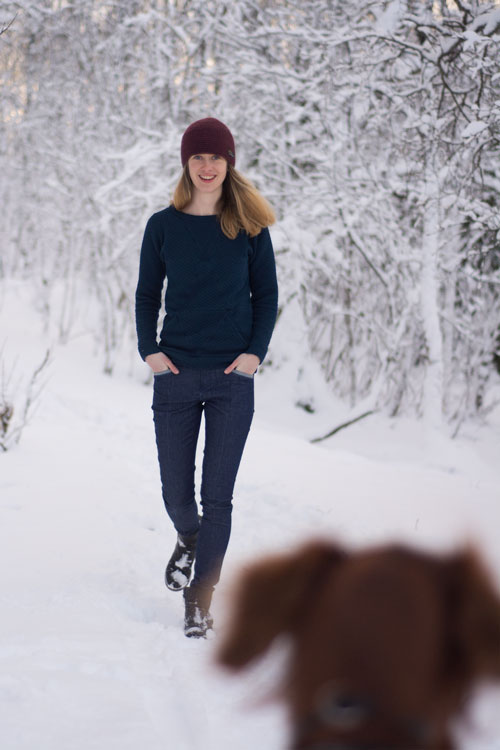 I know that I sound a little negative right now, but that's just because I didn't enjoy the process of sewing the sweater that much. And after all, it was 2 a.m. in the morning the night before I wanted to take pics, so who can blame me for not loving sewing the same seams over and over again? But luckily I had to keep going, since this is an Indiesew blogging team post. Because I really like the result! Minus the "bulks" I managed to get, but that's fine. I really like wearing my Geodesic, I like the fit, I like the fabric and I like how special it looks with all the triangular shapes. Yeah for pushing through and finishing!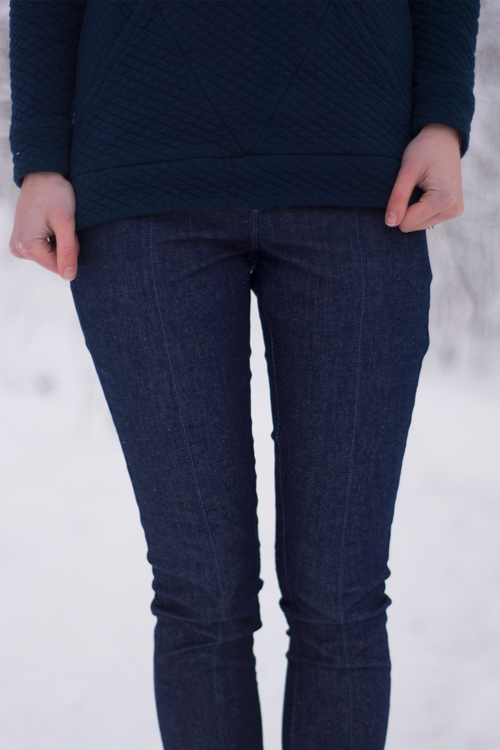 I previously just had the intention of sewing the Geodesic for this post, but I like the idea of having a whole outfit, and I had this fabulous slub stretch denim from Indiesew lying around, so I decided "last minute" to make a pair of jeans, too. My closet is overflowing with garments I made within the last year, and well-fitting pants are one of the few things I still need in my wardrobe. So I just went ahead and made a pair of Jamie Jeans by Named Patterns.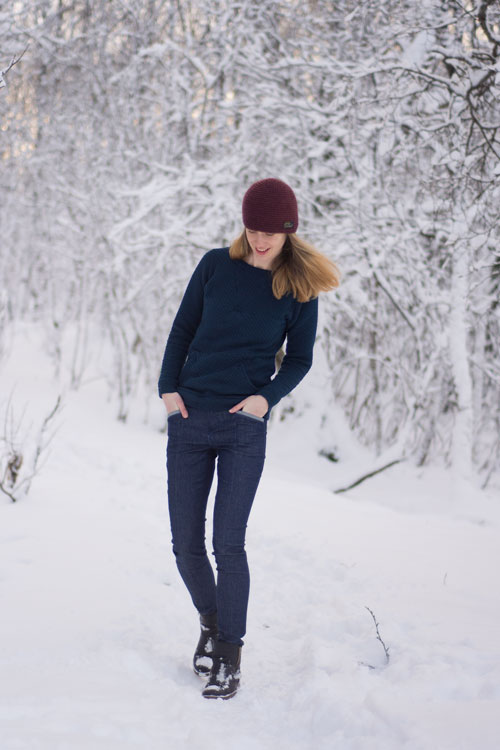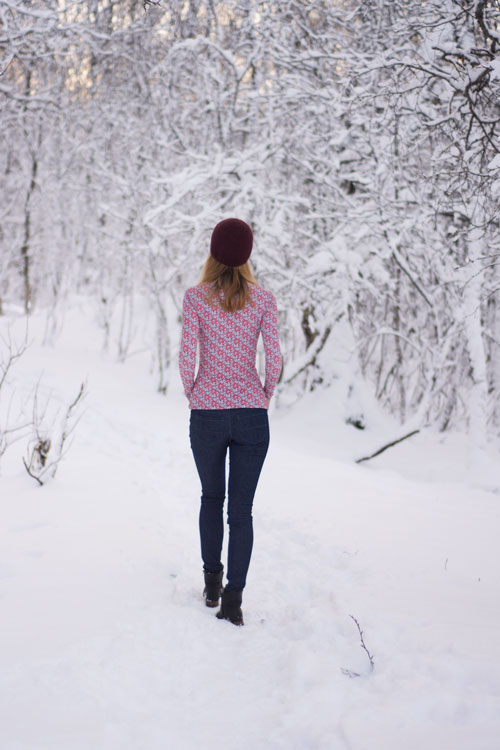 The Jamie Jeans are skinny jeans with a regular rise, slanted pockets, a two-pieced back pocket and an "extra" seam down the front leg. The slub denim from Indiesew (there's still some left!) was the perfect fabric for this pattern, since it's not too thick and has about 20% stretch. Allie from Indiesew wrote a sewalong for sewing (and fitting!) the Jamie Jeans, and it really is of great help when sewing the Jamie Jeans for the first time. Named Patterns are good patterns, but the instructions aren't the longest I've seen, so Allie's tutorial helps a lot if you can't sew a fly in your sleep.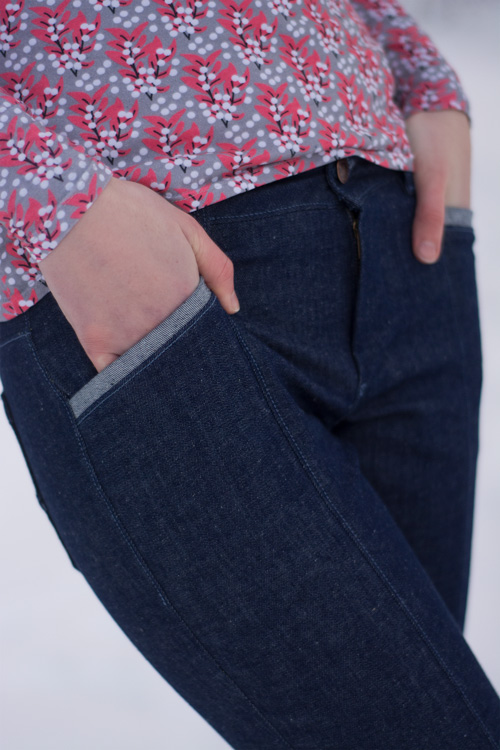 I chose to make a size 32, graded to a size 34 at the waist. I used Allie's method of basting the jeans together and fitting it before sewing the "real" seams. Luckily the Jamie Jeans fit pretty much right the first time around! I just made the jeans about 5/8″/2 cm slimmer around the knee, a little wider at the calf, and a little slimmer right below the waistband. Other than that I am really happy with the fit – you can see on the picture below that there isn't any gaping at the back, even when sitting down like this! Yeah!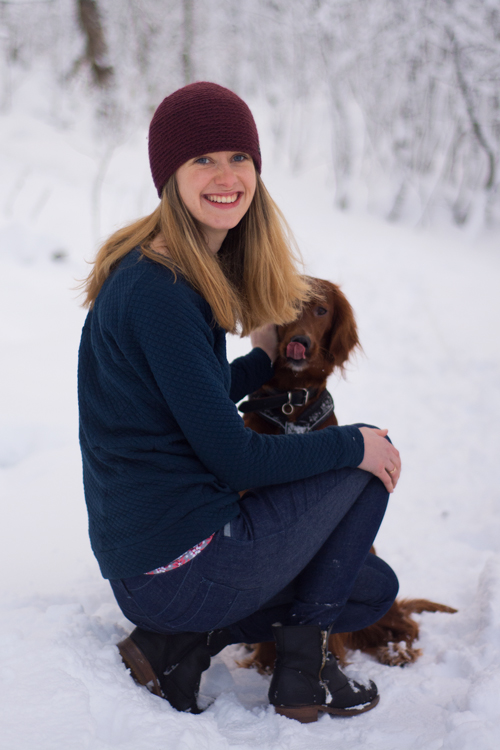 Although the Jamie Jeans are definitely jeans, they're not "real" traditional jeans, if I can phrase myself like that. I can definitely recommend this pattern for people sewing jeans for the first time, since a few things are a little quicker and or simple than with jeans like the Birkin Flares. Traditional jeans have two sets of pockets at the front, both with topstitching that needs to be really neat. The same goes for the back pockets, which are mostly decorated with topstitching. And don't get me started on the fly with a double row of topstitching that need to be exactly parallel! You can see my point, don't you? The thing is that the Jamie Jeans take a few short cuts here and there, regarding the design of "original" jeans, which makes them a little quicker to sew than other jeans patterns.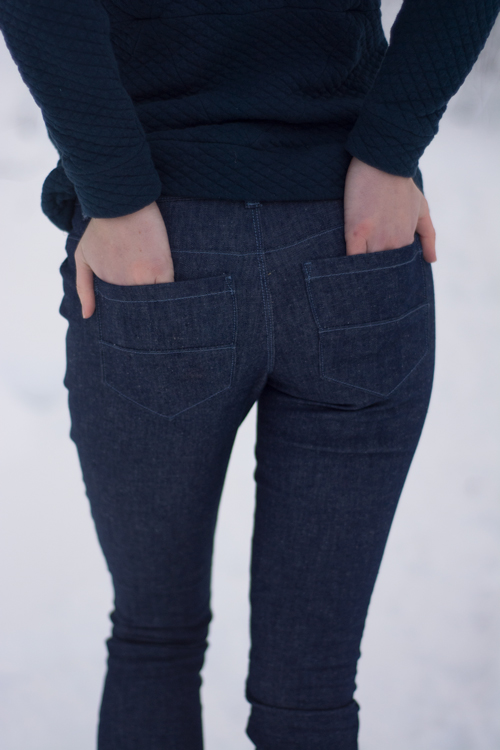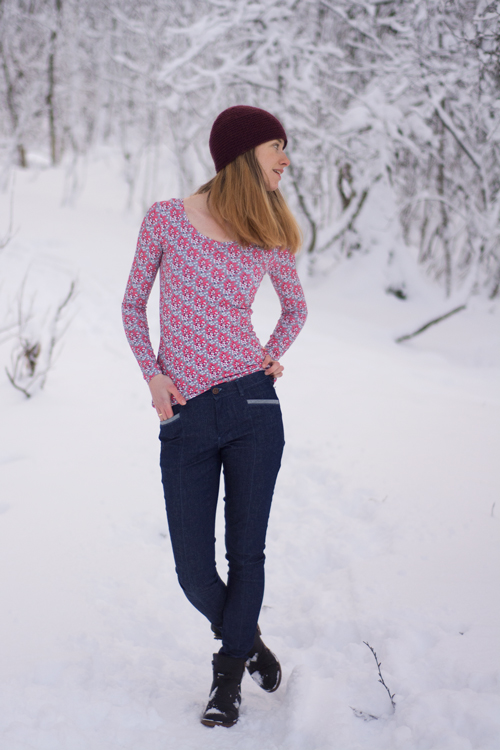 I really wanted to show you the lovely Art Gallery fabric I used for my pocket bags, but that's really hard with this kind of slanted pockets, especially since both pocket bag sides are sewn into the seams! I really like this print from Leah Duncan's collection Morning Walk, and knowing that it's there, in my pocket, makes me happy.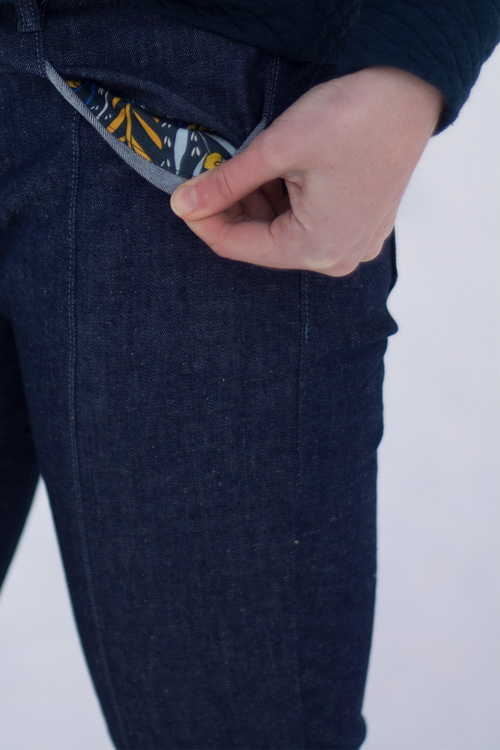 A few of you asked on instagram about my neat topstitching: This time was the first time that I tried an edge guiding foot. Or, to be honest – I didn't. I only have a blind hem foot and a 1/4″ foot, but both do pretty much the same job as an edge guiding foot: they guide you're fabric along the edge of the fabric, and it worked perfectly for topstitching my Jamie Jeans. I can only recommend trying this whenever you want some really neat topstitching!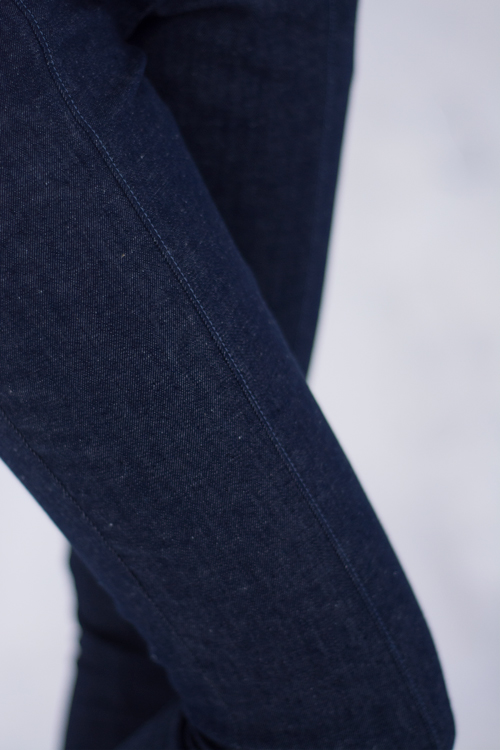 I am really happy with my Jamie Jeans, I only messed up a little at the waistband. You can see that the corners are a little uneven, and that I forgot to check which way my button was facing before adding it. Duhhhh! And I forgot to hammer my belt loops flat before attaching them to the waistband, so my bar tacks look a little… let's just call it funny… But apart from that everything turned out as expected and I'm sure that I'm going to wear these a lot.
By the way, the pink top that I'm wearing is another Agnes Top by Tilly and the Buttons – I just love that pattern! I am a sample sewer for Jolijou, a fabric designer from Swafing, and the top was one of my samples for her newest collection, "Berry Dreams". The print reminds me of cherry blossoms in the snow, so I thought it was quite fitting for this winter wonderland photo shoot. I'll share another make made of fabric from this collection in a little while! You can have a look at the lookbook for this collection here and you'll allready get a sneak peek of my other make!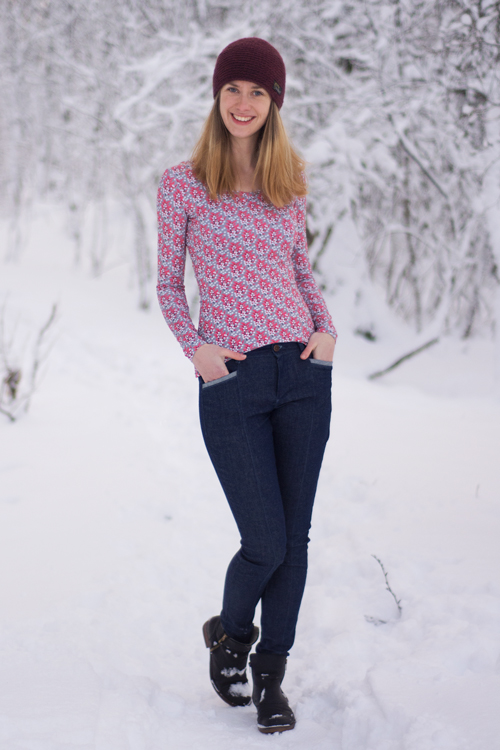 Pew, I think this was the longest blog post ever, and I'm sure there's still much more to say about the Geodesic and the Jamie Jeans! Just let me know if there's something more you'd like to know about these patterns and fabrics!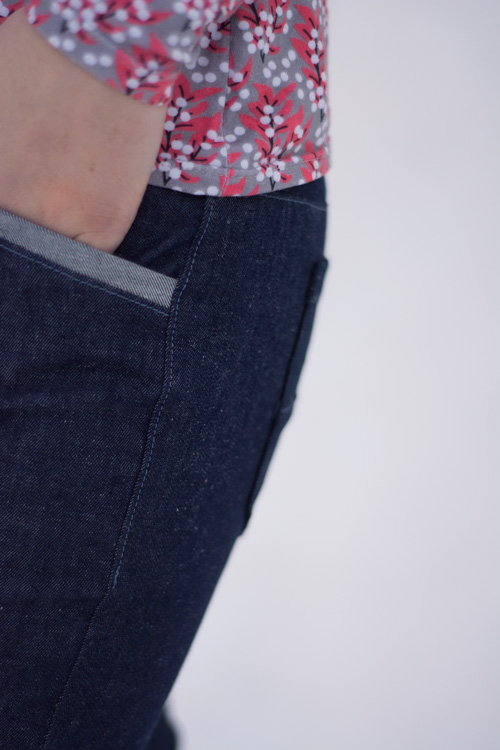 – As part of the Indiesew blogger team, I got the patterns for the Geodesic and the Jamie Jeans for free. Being a sample sewer for Jolijou I got the fabric for the Agnes Top for free. However, all opinions are, as always, my own. –