Wrap dresses and skirts seam to be hot this season! I have never owned a wrap dress or a wrap skirt, but after recently showing you my new Diana Wrap Dress, I now present to you the brand (well, it was when I started writing this… you can see that I still have long hair in the pictures!) new Nita Wrap Skirt from Sew DIY.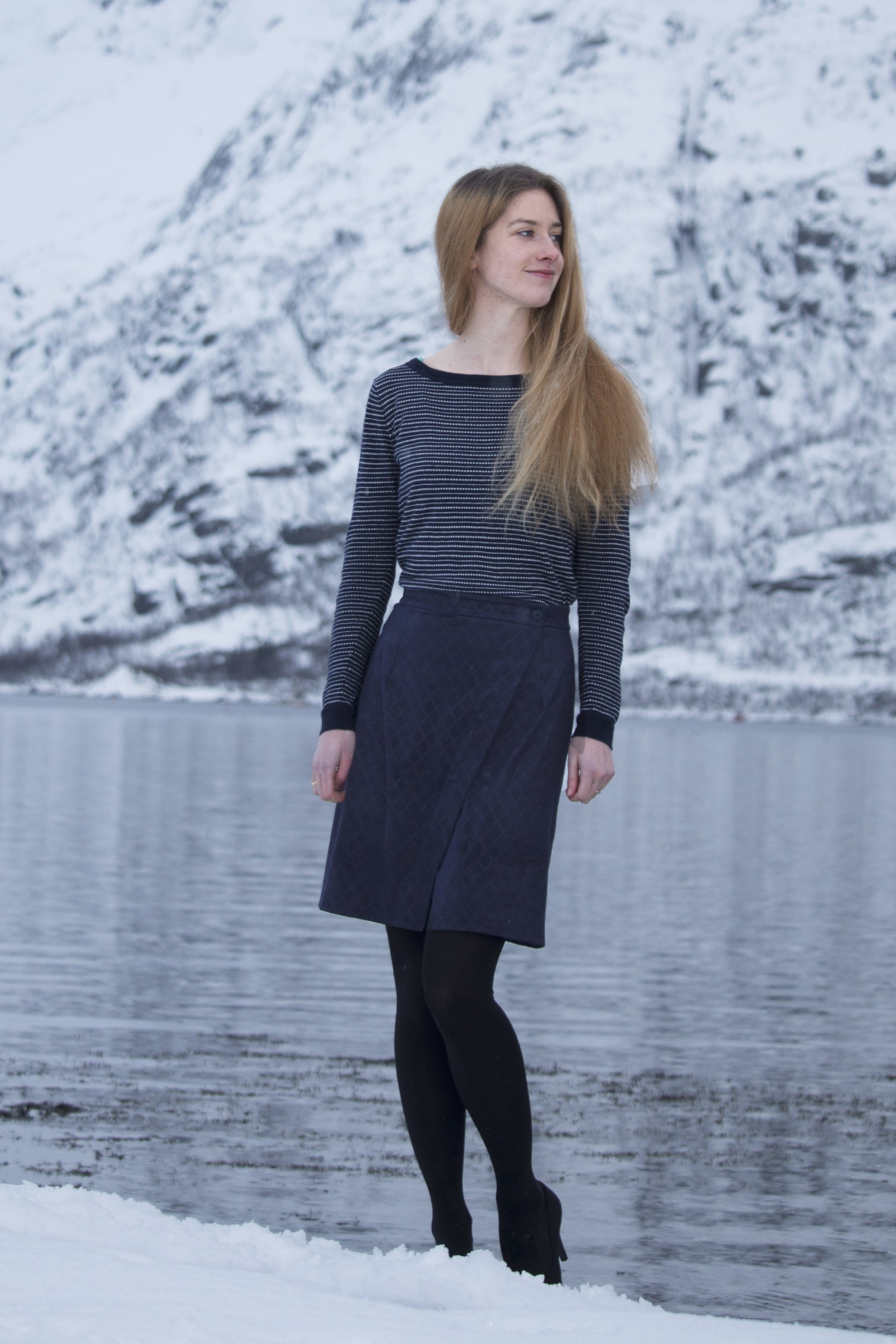 Beth from Sew DIY was so kind to let me test this skirt for her and it made me ever so happy about! I more and more realize another good thing about pattern testing (other than a free pattern and being part of an amazing community): It challenges me to sew garments I wouldn't have sewn otherwise. Either because they intimidate me (hello Cheyenne and Salamanca!) or because I'm not a 100% sure about the style – which was the case with the Nita Wrap Skirt, but also the Diana Wrap Dress or the Florence Kimono, for example. And every. single. time I ended up being surpised at how much I liked the pattern and am relieved  that pattern testing got me to try them.
The Nita Wrap Skirt comes in three different lengths – mini, midi and maxi – and with three different closures – button, tie or d-ring. I knew pretty quick that I wanted to make the mini version with a button closure in a fake suede with diamond shapes I had in my stash – a perfect skirt to wear with thick tights in wintertime! And – whom am I kidding – pretty much year round over here. At least during spring and autum. Yes, we still have snow!
The pattern consists of four pieces – two fronts, a back and a waistband. And three more pieces if you line the skirt, which is an option, too. I skipped the lining since the suede is so thick and stable and doesn't fray at all. Raw edges, no finishing, yeah! The skirt is sewn pretty quickly, even though handling the suede isn't so easy, since it's hard to press and my sewing machine had some issues with making nice stitches. I'm sure my brand new Skyline s7 would have handled it like a dream! But luckily the fabric and the colour don't make it too obvious.
Lying in the nature of a wrap skirt, it's really easy to adjust the fit of the skirt – just sew the button a centimeter to the right or left and you have a perfectly fitting skirt!
I feel pretty fabulous wearing this skirt, since it isn't too short, but still feels quite sexy because of the slit. But I'm glad that this is a winter skirt that's supposed to be worn with tights – the slit can open up very high! Especially when sitting it shows a lot of leg. But I guess that's in the nature of a wrap skirt, too?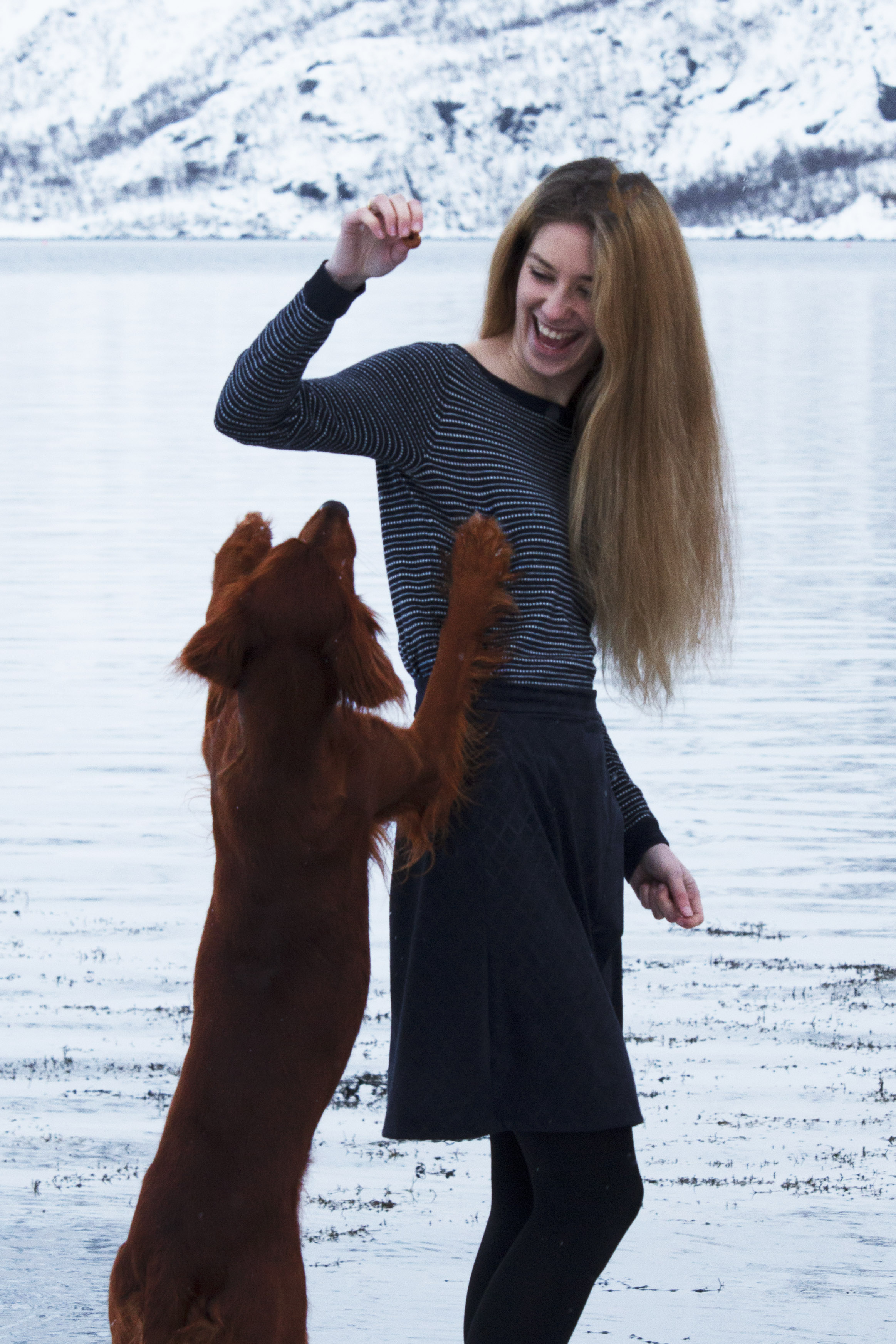 I took my photos (or, to be accurate, my dear sister-in-law) while visitng my parents-in-law in Lofoten. They live in the most amazing location and the photos were taken right by their house. Oh, and the pretty red-haired lady is our dog, Sara. I always wanted to include her into a photo shoot and this time felt just like the right time. I am of course bribing her with dog treats… 😉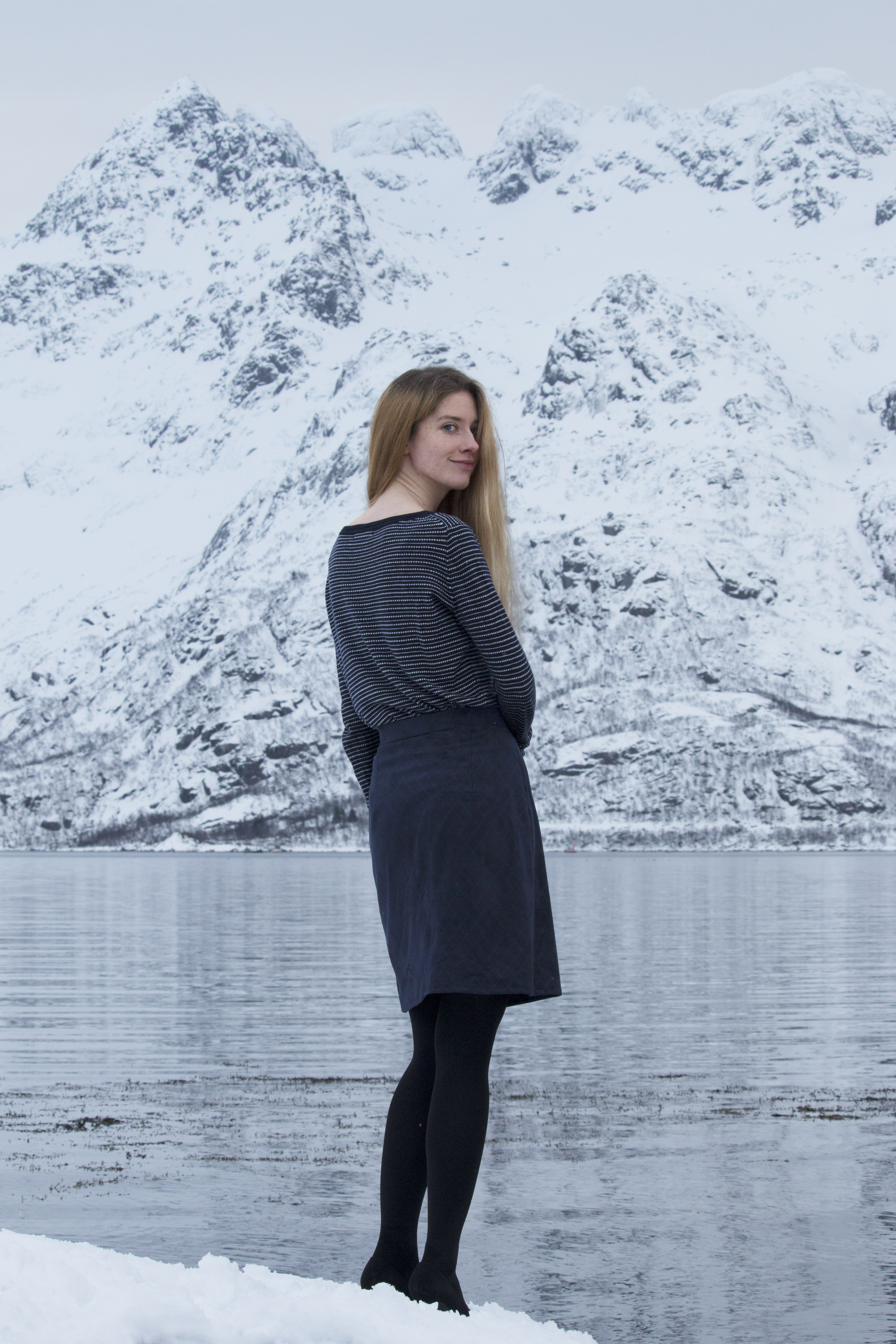 Head over to Beth's blog to see other tester versions, they are such an inspiration!