Now that I've started to sew garments that are maternity friendly, I'm always trying to consider if these garments can work after maternity, too, or how I could adapt the garments to make them work later. I just don't want to make a ton of things that I will only be able to wear for so few months! However – there is one exception: The Erin Maternity Skirt by Megan Nielsen. It looks so flattering that I just knew that I needed one of those in my wardrobe.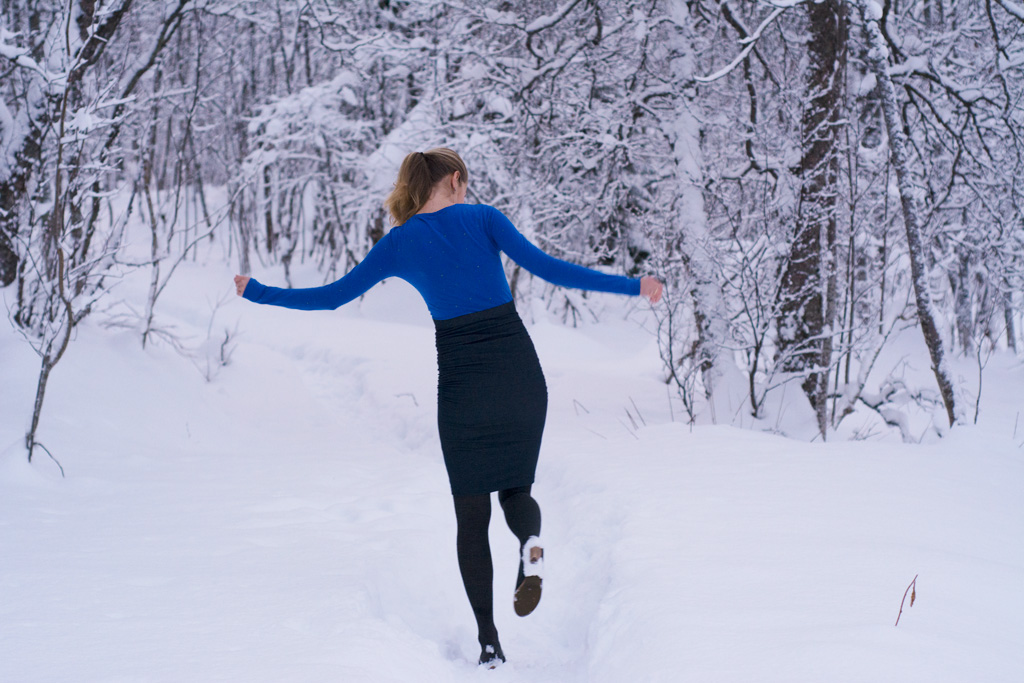 The Erin Maternity Skirt is a skirt for stretch fabrics that is worn right at the empire waistline and hugs your curves all the way down to your knees. It has ruching at the sides to add space for the growing baby belly and the option to add a flounce to the bottom of the skirt. You can make a knee-length skirt or a midi-skirt.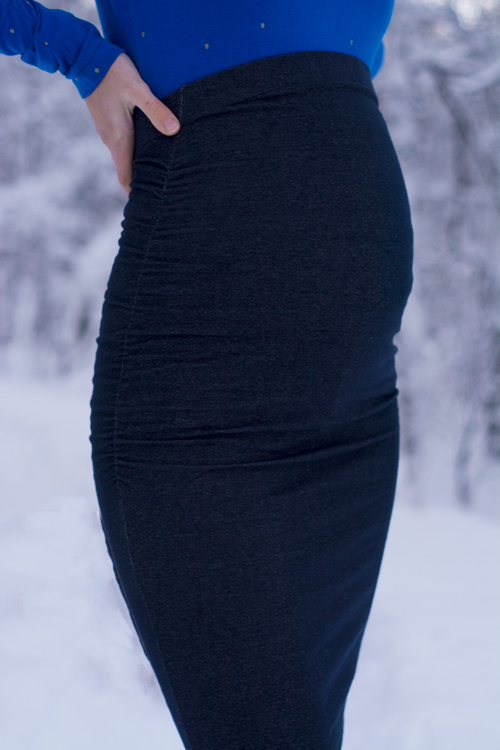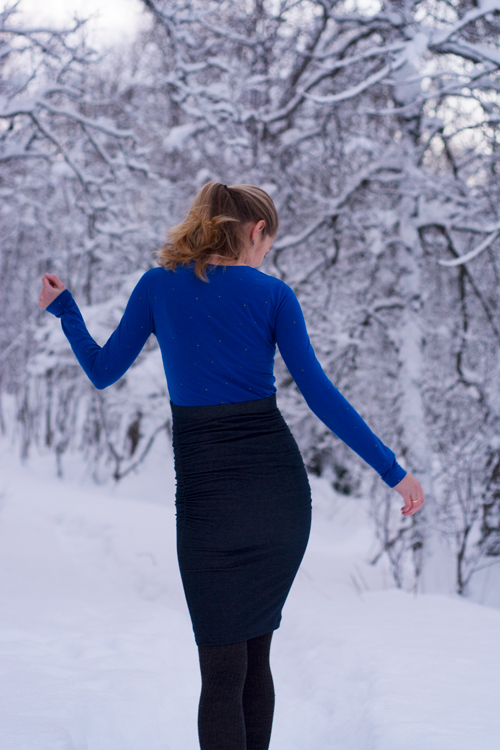 When looking through my stash, I knew right away that I had the perfect fabric: a dark blue denim sweat from NOSH organics. This sturdy sweatshirt fabric has a great recovery and looks a little bit like a denim fabric. It isn't too thick and has a lovely structure. The only disadvantage (for my project, not in general!) is that it isn't the stretchiest knit fabric out there. Without having checked these numbers exactly, my guess is that it has somewhere around 30 to 40% stretch.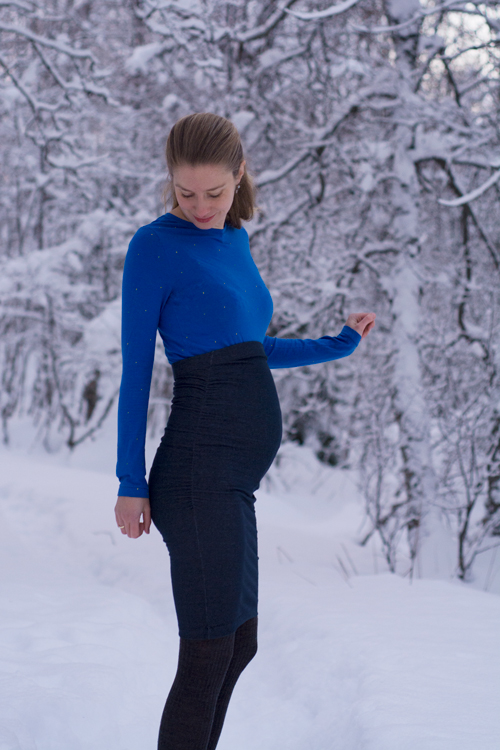 I knew that this might be a little optimistic for this skirt, but I went for it anyway. The colour, the structure and the thickness of the fabric where just too perfect not to use it! I basically never use regular jersey fabrics for tight-fitting skirts or dresses, it just feels too revealing. The denim sweat was thick enough, and the colour and the structure make it possible to dress this skirt both up and down.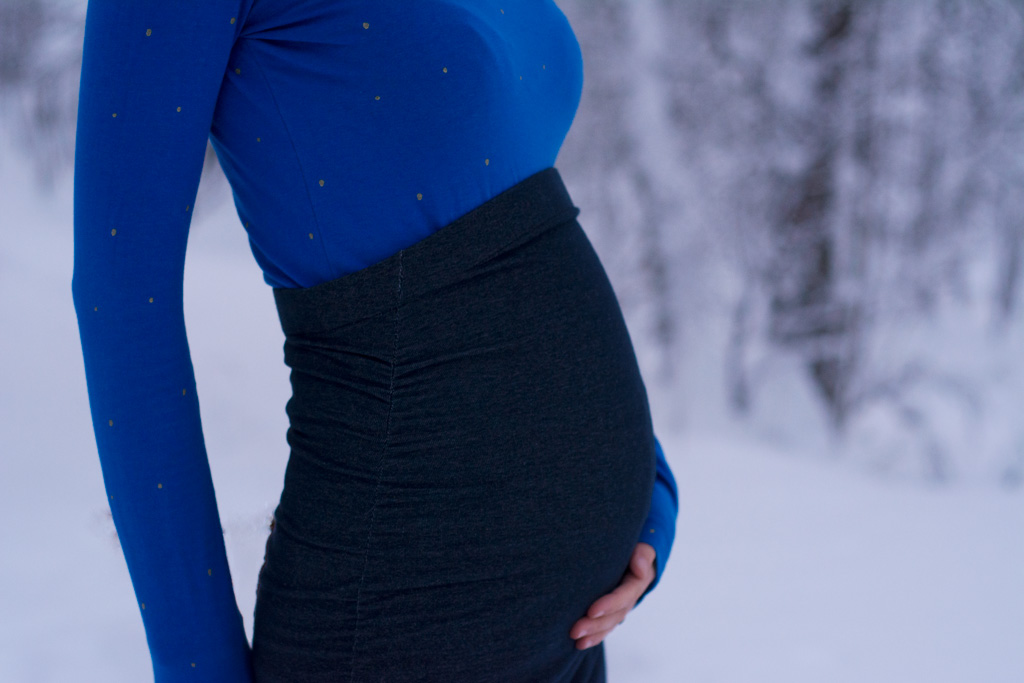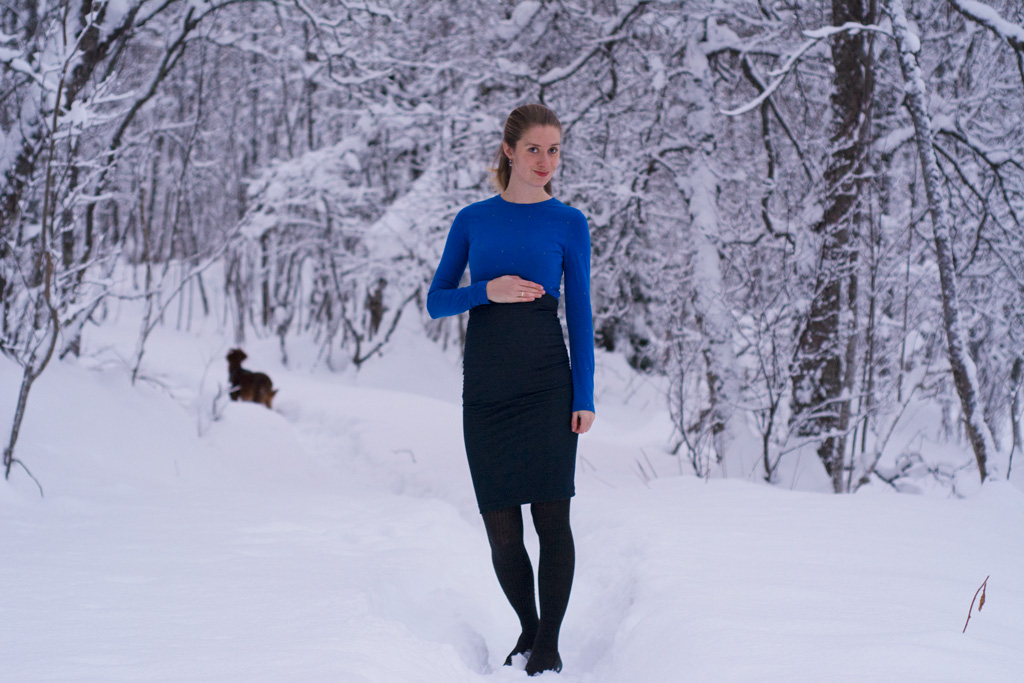 When I bought the Erin Maternity Skirt pattern, I was a little surprised when I saw that the skirt only consists of a front and a back pattern piece – and a flounce, if you're making that version. I can literally not remember a single time I have bought a pattern consisting of only two pieces! On the other hand: I have no idea how to draft for a pregnant body, so having the extra fabric just at the right places makes buying the pattern definitely worth it.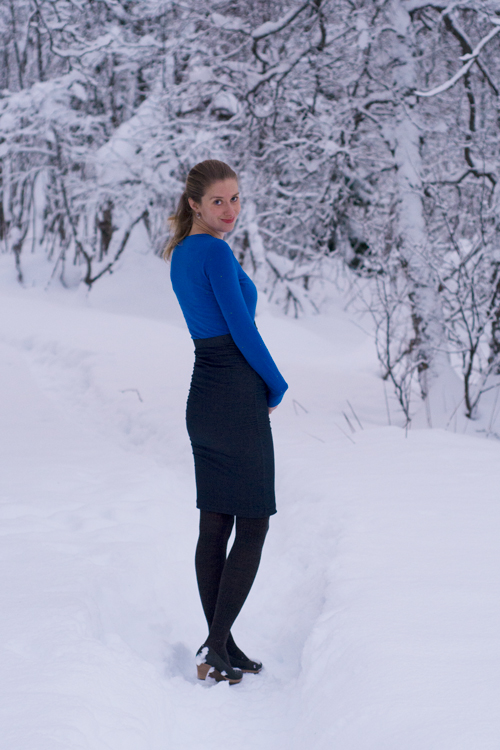 The construction of the Erin Maternity Skirt is rather simple: Sew up the sides, fold the top and sew it down, insert an elastic, add elastic to the sides to get the ruching, fold up the hem and sew – done. I actually really like that I have two big pieces of fabric, only sewn together. That way I can easily re-use the fabric for some baby outfits once I can't use the skirt anymore! And since it's sewn so quickly it's not really too bad to take it apart again, either.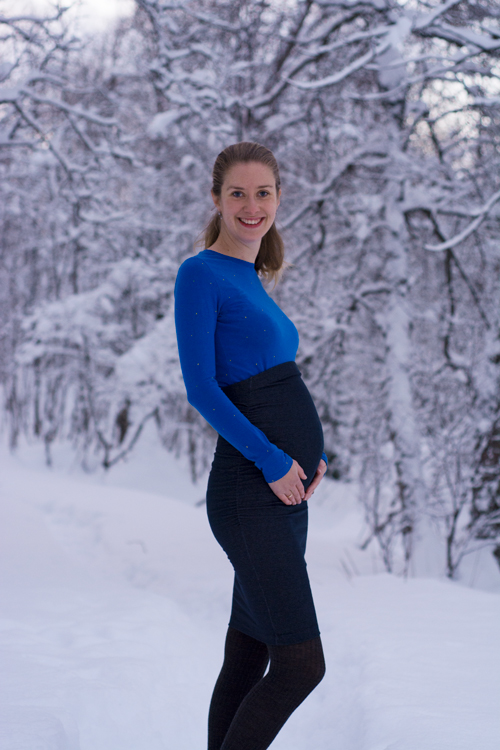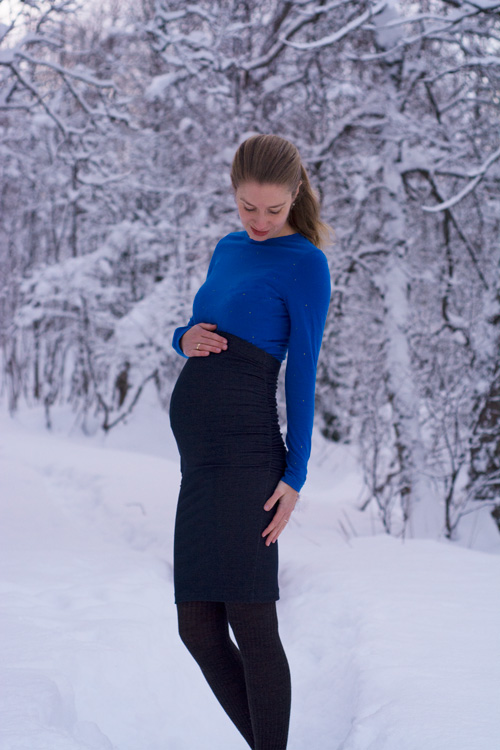 I think that I made a poor choice when choosing the kind of elastic seam for sewing the waistband: I chose a straight elastic stitch, and it isn't really stretchy enough. Since my fabric doesn't have a ton of stretch, I really do need all of the stretch I can get – and with this seam it's a little hard to get the skirt off my hips, and I'm sure later on over my belly, too. I did serge the edge, too, and I haven't found the perfect settings for a really elastic serger stitch yet. So the serged fabric edge is a little restricting, too. I think I will re-sew the waistband. Because unpicking a close to invisible straight stitch seam is SO fun! Am I right? But I do think it will be worth it. I used an elastic threestep zigzag stitch for the hem and the stretch is so much better. So although a threestep zigzag stitch might not be the most elegant stitch to choose for topstitching, I really think it's necessary for this skirt and my choice of fabric.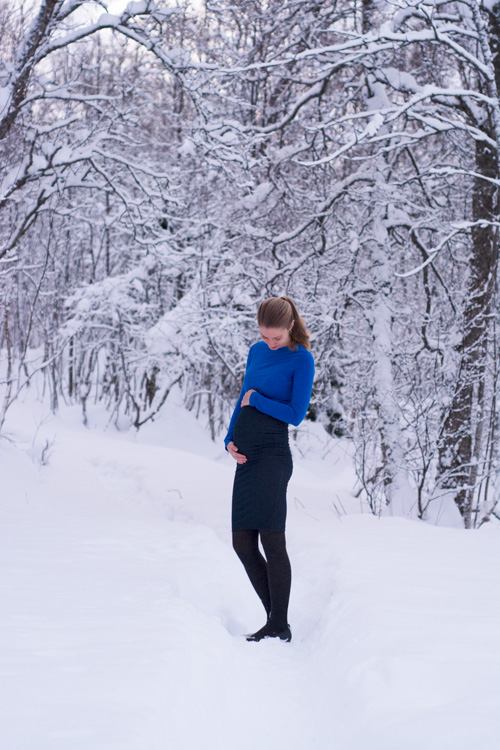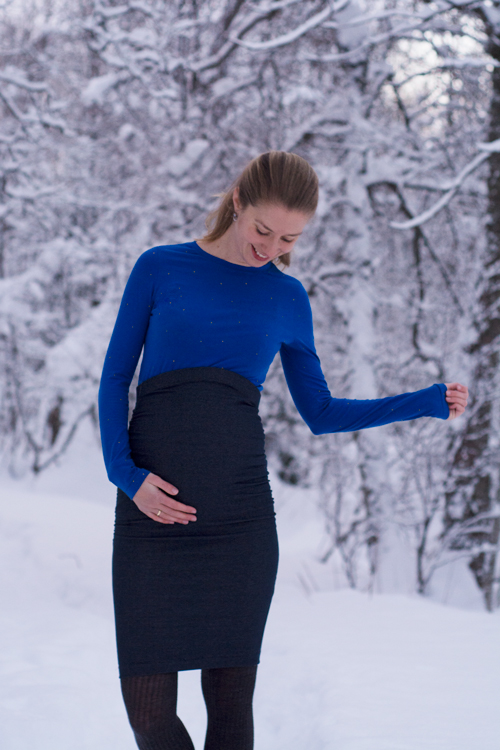 Anyway – I love how this skirt hugs my baby bump and the rest of my curves, and how it makes me feel really good about myself! Even though the fabric is a little restricting, I still think choosing this NOSH denim sweat was perfect for the kind of look I wanted to achieve. I really need to buy some more of this – have you seen all the colours available? I especially love the gun metal colourway and would love a pair of jeans-like leggings made of it.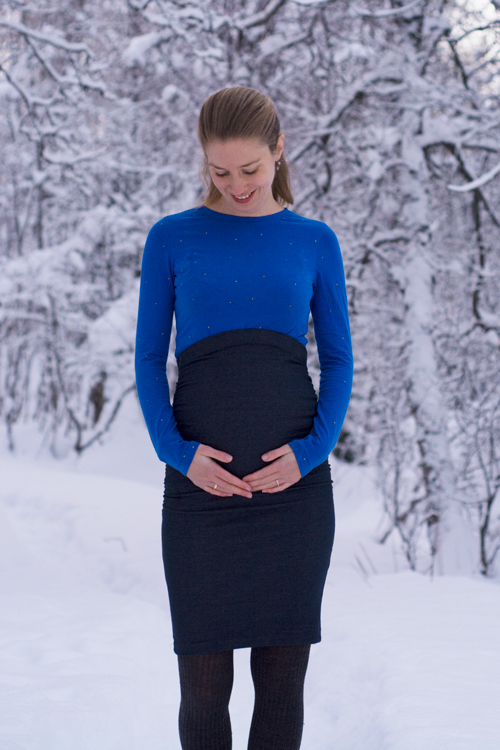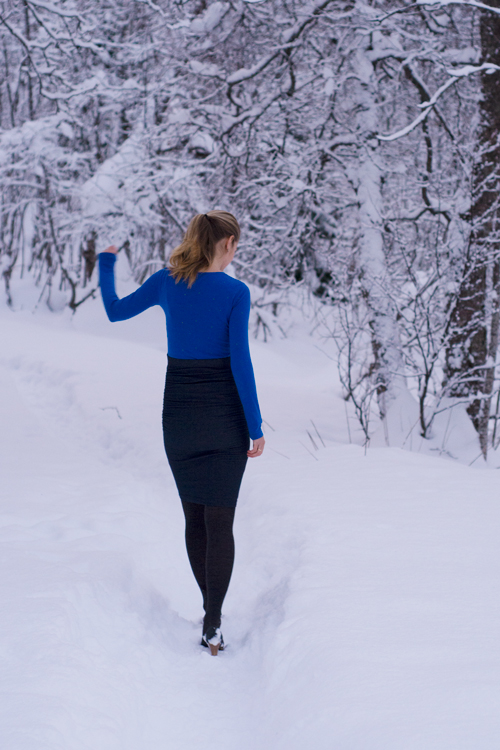 By the way – the top is me made, too! I can't tell you anything about the pattern, since I made it ages ago for a never released pattern, but I can tell you about the fabric: It's an old print from Chat Chocolat, bought from Faberwood. I love the fun blue with the tiny golden dots – a little fun, but not too much. 😉 The jersey is a little bit thicker, making it lovely to wear. And it's keeping up it's shape really well so far! And thanks to the Erin Maternity Skirt I can still wear my old tops, even if they start getting a little short!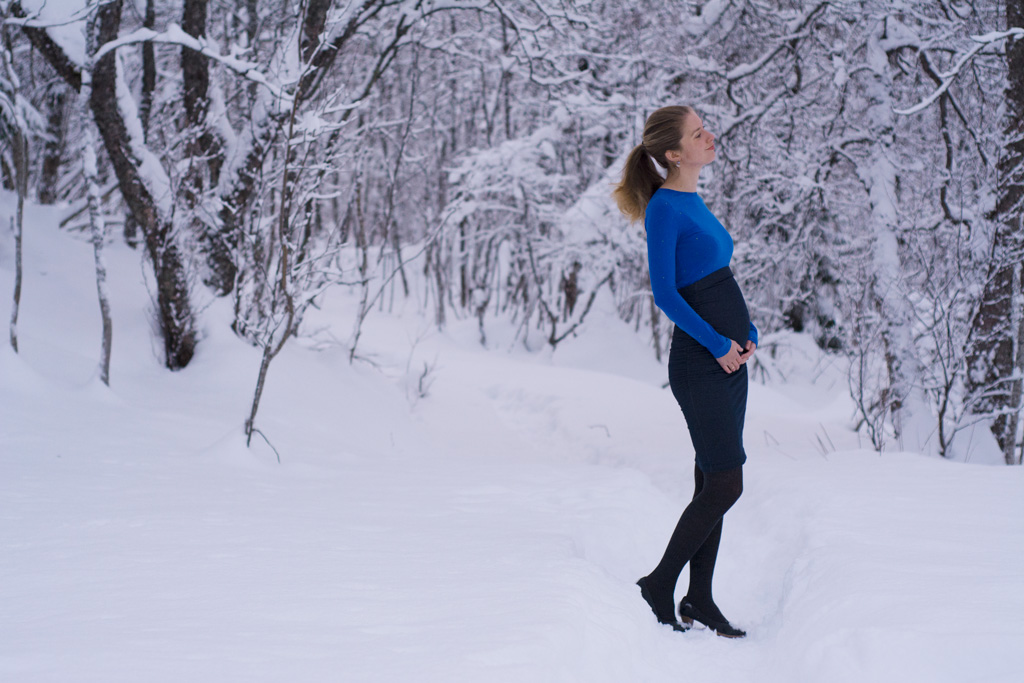 And last but not least – the giveaway! I have a little Christmas present for you – a 45 Euro giftcard from NOSH organics! Just check by my instagram account (@mariefleurine) later tonight and you will find a post that you can comment on to win the giftcard. Good luck!
– The fabric for the skirt was provided to me by NOSH Organics for free. However, all opinions are, as always, my own. –