My friend Eveline from Tilia Patterns released her third pattern a while ago – the Carvi Sweater. Testing was in the middle of moving, so I couldn't join – but I proofread the pattern and got a copy as a thank you. Now I finally had the time to sew a Carvi, too. I love the look of the squared neckline, combined with the balloon sleeves and long, slim cuffs. There are also options for sewing the Carvi with a round neckline, a wide turtle neck and cuffed 3/4 sleeves.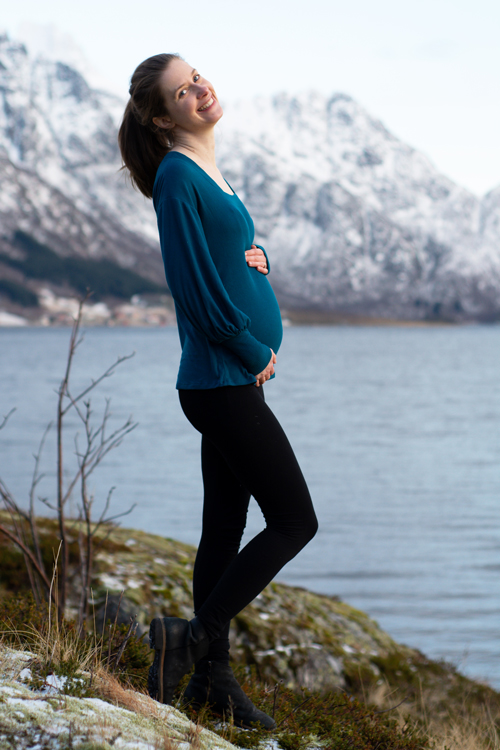 The Carvi can be made with a variety of thicker or thinner knits. I chose a thin and stretchy modal rib knit from my stash. It's a fabric Allie from Indiesew once sold before closing the shop and the quality seems to be great. It's super soft, has (so far) great recovery and the colour is just gorgeous. I had just enough to make the Carvi.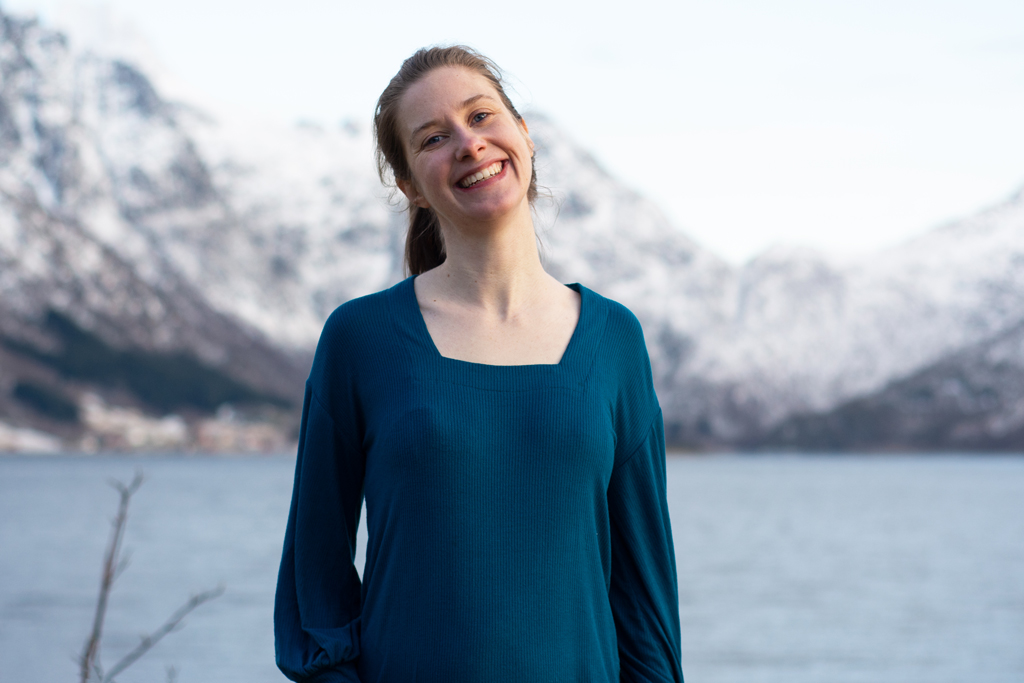 Sewing the Carvi is done quickly – the only tricky part may be to sew the facing to the squared neckline. It worked out nicely, but I have to admit that that's always a sewing step I don't like too much. I remember dreading this step when sewing this and this version of the Fringe Dress/Top by Chalk and Notch, too! And topstitching the facing on a very stretchy knit doesn't make the step easier, either. I wish I had the Seraflex thread from Mettler I mentioned in this blog post in the right colour for this make, too. The thread gives seams a bit of stretch, even when sewn with a straight stitch and I think that would have been a great option here. Instead, my thread is regular Seralon thread from Mettler, which works nicely for now, too, since the neckline isn't stretched a lot.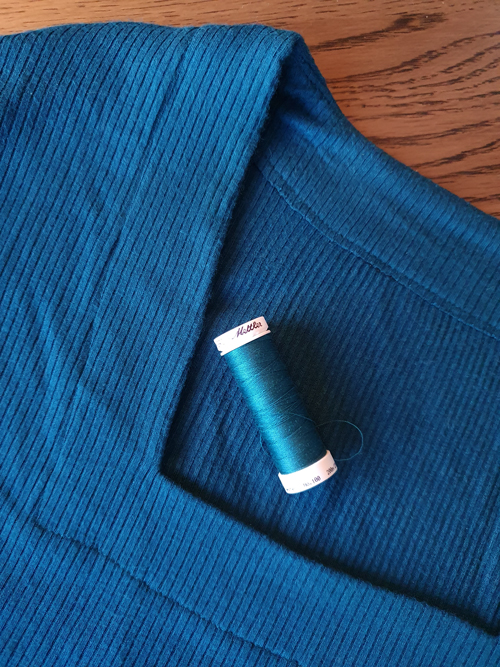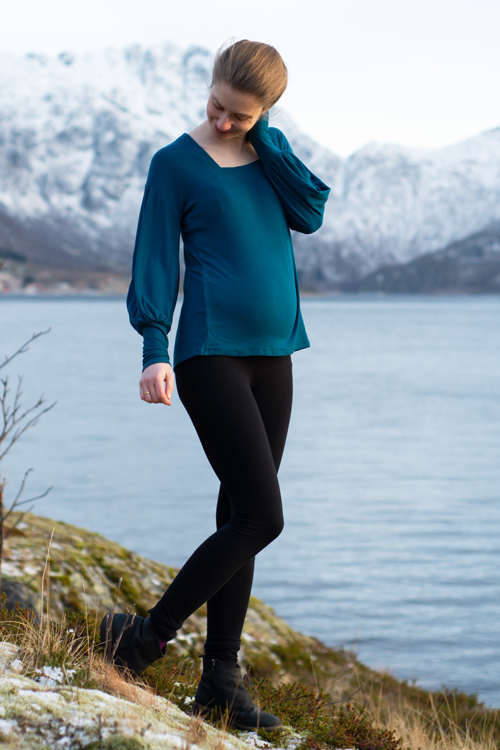 I've been sewing and testing alongside Eveline for a couple of years now and I know she has great experience regarding "best practice" (as I might define it!) for PDF sewing patterns: The patterns are layered, they can be printed in letter and A4 format, they come in both English and German, the layout of the instructions is tidy and the illustrated instructions are thorough enough to guide everyone through the sewing process. She also includes instructions for basic adjustments like lengthening/shortening or doing an FBA/SBA. In other words: Her patterns include everything you might wish for when buying a PDF pattern.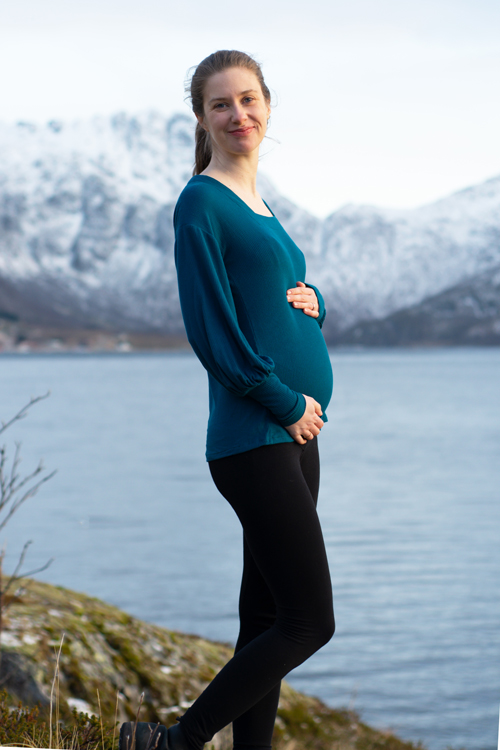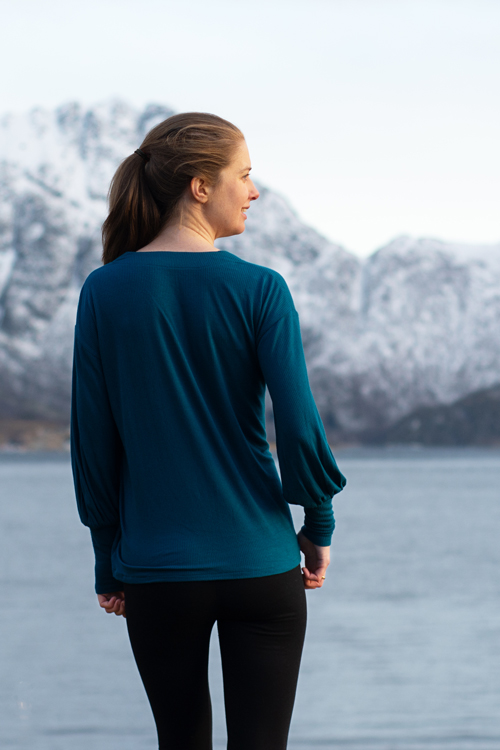 Eveline suggested to size down in case you're in between sizes, and especially when using such a thin and stretchy knit. You might have noticed my baby bump, so my current measurements put me closer to a size 36 than 34, which is more of my usual size. Nevertheless I chose to make the smaller size, making no other alterations than lengthening the top a couple of cm. I am taller than the height Eveline's patterns are designed for, and on top of that the sweater is designed to end close to your high hip. I am happy with the current length, but I could have added some more length to it to make it work longer throughout my pregnancy. One more change I made was adding a thin strip of interfacing along the seam allowance of the shoulder seams. Since the sweater has dropped shoulders, stretched out shoulder seams aren't a huge problem. But my knit is super stretchy I decided to stabilize the shoulder seams to prevent the shoulders from dropping even further.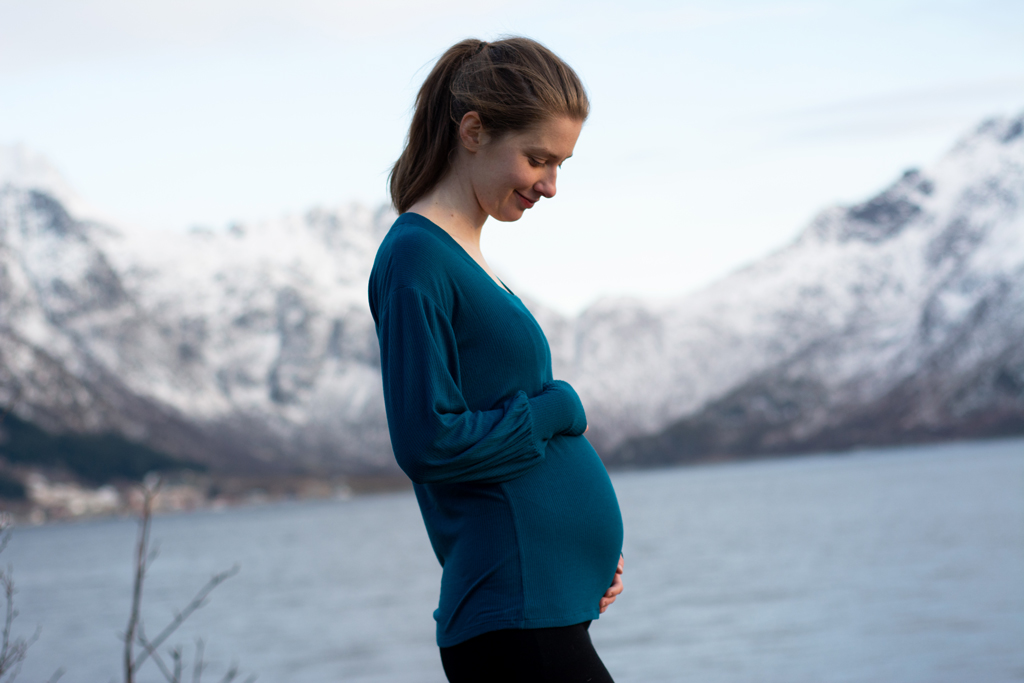 I am incredibly happy with my Carvi sweater and might need to make more! The balloon sleeves with the slim cuffs  are my favourite part. It's just something about the feeling of long and tight cuffs against your wrists, especially during a cold winter day. It just makes you feel extra warm and cozy, doesn't it? And even though the Carvi is designed with a boxier shape in mind, I am already thinking about hacking the Carvi into different bodice and neckline shapes, leaving the pretty sleeves as they are now. We'll see!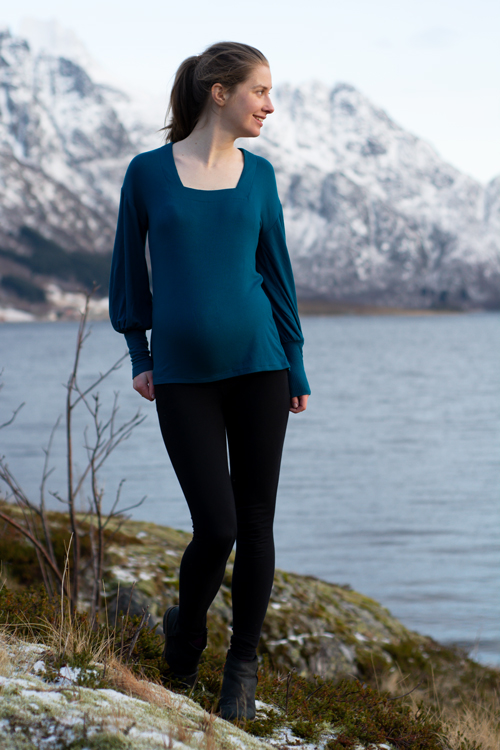 Eveline also offered me to give away one copy of the Carvi – head over to my Instagram account to participate, I'll post the details tomorrow!
– My copy of the Carvi Sweater was given to me as a thank you for proofreading, without any obligations to sew it. The thread I'm using when sewing on my sewing machine is from Mettler Amman and was given to me for reviewing purposes. However, all opinions are, as always, my own. –