I can't believe I haven't blogged since September! But autumn has been busy – we bought a house, packed everything, organized a ton of things, moved, got settled in the new house, a new town, a new daycare – you name it.
I wasn't sure if I should share this project on the blog, since it's "only" oven mitts and nothing fancy. Well, it's not a real garment, but at least it's something to wear, and at least it's a start for blogging a little more often.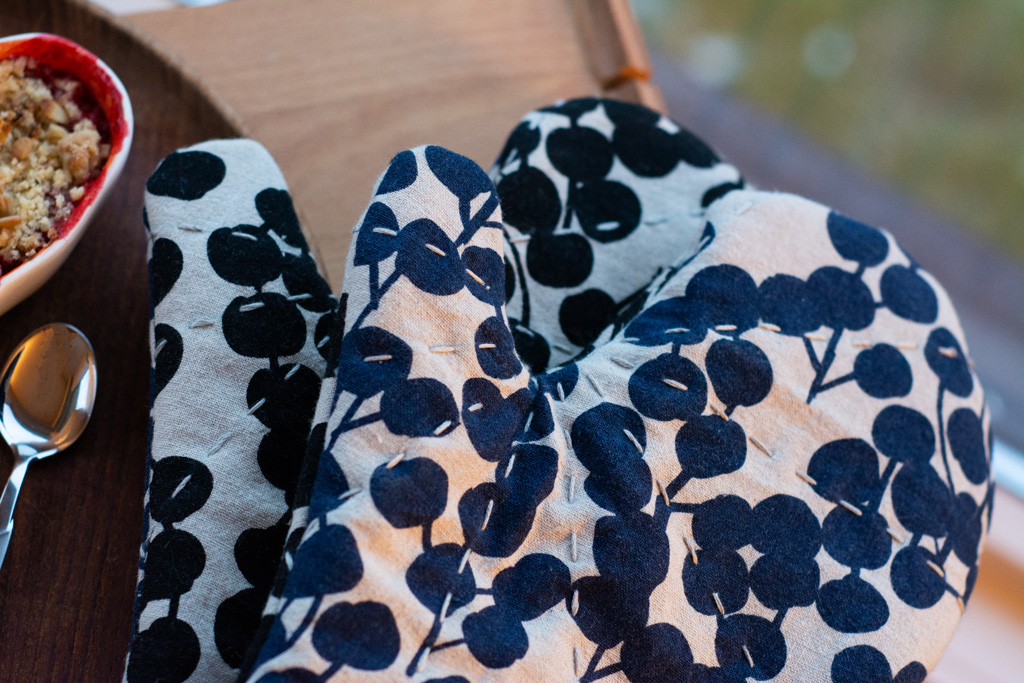 While moving, I threw our old, store-bought oven mitts away. They were so old, dirty and, as mentioned, not even home-made, even though oven mitts are such an easy and fun project. So throwing them out really spurred me to making a new pair – and since it's such a small project, it was perfect to get me going once we settled in the new house. My new sewing room is still a storage room, but for now sewing in the living room is just fine.
I asked for pattern recommendations for oven mitts on Instagram, and one pattern that was mentioned several times was the free oven mitt pattern by Bombazine. I decided to try the pattern and looked through my stash for fabric. I have SO much fabric, even though I sold quite a bit before moving, and it really makes me happy to actually use some of it that has been lying around for years. For these mitts I settled on using canvas from Miss Matatabi. I remember ordering it right after I started sewing – a fat quarter of each colour! What was I thinking?? What was I supposed to do with a fat quarter? Now I know – storing them for six years before making oven mitts of them. And I  couldn't be happier with the choice of fabric – so everything happens for a reason, right?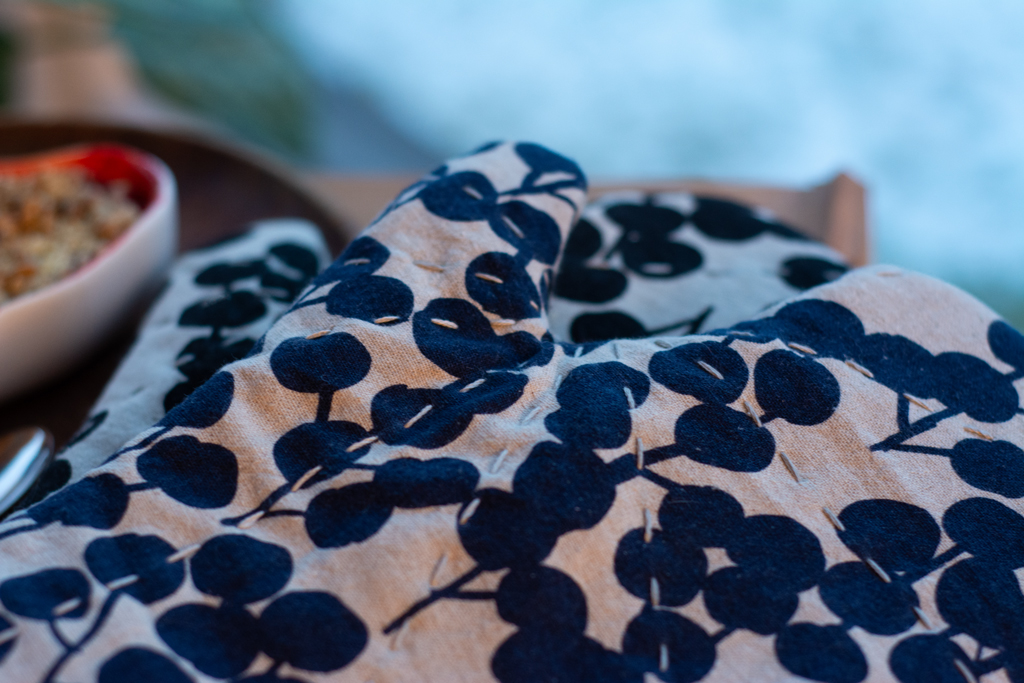 The pattern recommended thick wool fabric as insulating interlining. I wasn't sure if it would work well enough, but didn't want to order heat insulating interfacing, either. So I repurposed an old Bento Tee, sewn with boiled wool:
This was one of my early sewing projects and actually sewn quite nicely. But I don't really wear the sweater, since my lack of experience made me use wool fabric that was a little too thick and too stiff to make a nice sweater. Now, this Bento Tee can live on in my oven mitts, and I have a blog post to remember it. (I actually appreciate my blog more and more as a memory book for all my projects – there's so much I wouldn't remember without it!) I even have enough fabric left for at least one or two more sets of oven mitts. The lining is a Cotton + Steel cotton fabric from their basic line, used years ago for a dress for a little girl. I am glad I could finally use the scraps for something!
Someone on Instagram was kind enough to let me know that these mitts are on the smaller side – perfect for many women's hands, but maybe too small for bigger (male) hands. And I most definitely didn't want oven mitts only I could use! Would have been a great excuse for my husband – "I am so sorry, I can't take dinner out of the ovn, the mitts don't fit me!". So I made the mitts slightly bigger and about 5 cm/ 2″ longer.
The pattern instructions tell you to quilt the outer fabric and the interfacing together – either by hand or machine. I don't usually sew a lot by hand, but after browsing Instagram for other Bombazine mitts, I really liked the look of hand quilted oven mitts, so that's what I did. I chose a simple pattern with straight stitches and quilted all four mitten pieces together with nine straight lines, all going outwards from the thumb. I quite like the result!
Sewing the rest of the oven mitts is pretty straight forward and explained very well – sew together two of each outer pieces, adding a loop if you wish to do so, sew together the lining, leaving a little gap, sew the outer and inner pieces together at the wrist, turn the mitts right sides out through the gap in the lining, close the lining – and done! Every time I need just a little bit of sewing thread in the right colour, I am so thankful for the big case of threads in every colour Mettler sent to me – I don't even know yet where to buy thread in our new town, so having quality thread in every colour available is extremely convenient.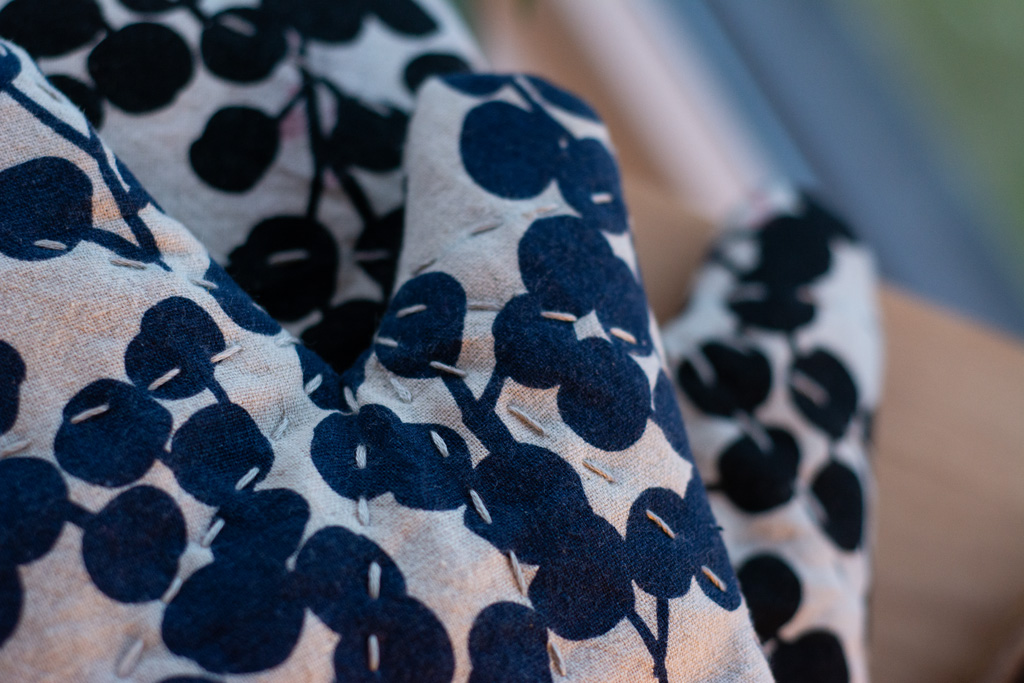 The mitts don't feel very thick and "fluffy", so I was extremely curious to test if they insulate well enough. After two days without using the oven, I used my lunch break (hooray for home office!) to make a quick strawberry crumble, using leftover strawberries and topping them with crumbles. It felt like three wins at once – delicious lunch, testing the oven mitts and a nice prop to take a few photos of my mitts. The result: The oven mitts insulate surprisingly well! I will definitely use the rest of the Bento Tee for oven mitts, too, instead of ordering new interfacing.
Thank you for reading, and I hope I inspired you to make your own pair of oven mitts!
– For this project I used sponsored thread from Mettler. However, all opinions are, as always, my own. –